Rising Food Costs Was Top Financial Challenge for Americans in 2022: How To Save on Your Next Grocery Trip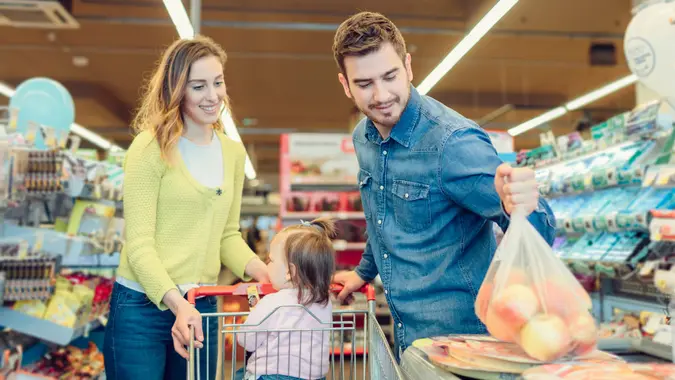 vgajic / iStock.com
Inflation has been a huge topic this year, with rising gas prices often the focal point. But rising food costs are a severe strain on the budgets of many. In fact, over 42% of respondents to GOBankingRates' Year in Review survey said that rising food costs impacted their finances the most in 2022.
Take a Look Back: 2022 Year in Review
Important: 3 Easy Tips To Turn Your Credit Woes Into Wows
That figure was much higher than the 24% who said gas prices had the largest impact. And it makes sense — the latest CPI inflation data shows that prices for food at home are up 12% in the past 12 months. That's even bigger than the increase in food costs away from home, so you'll have to be savvy if you don't want to derail your budget.
Despite this news, there are many ways you can keep your grocery costs under control. Reducing the impact of rising food prices is possible with the right moves. Here are some of the best ways to save on groceries.
Make a List
Making a list before heading to the grocery store can help you remember everything you need. However, it can also help you stick to your budget.
Make Your Money Work for You
By making a list and keeping to it, you can avoid overspending. Some of the things you might buy if you don't have a list might be marked up more than others. Even if they aren't, if you buy things you don't need, they might spoil before you use them. Know what you need before you go, and only buy those things.
Use Coupons
It may not be a revolutionary idea, but using coupons can still be an effective way to save money on groceries. Chances are, you've received coupon mailers before — these can still be a solid source of savings. If you are trying to make your budget go further, look through them and see if there are any coupons for items you regularly buy. If so, you can easily save a few extra dollars.
Take Our Poll: Do You Think You Will Be Able To Retire at Age 65?
Buy Generic
Generic items may not look as enticing as the name brands — their packaging is often drab, and they might have mundane names like "toasted oats." But they are cheaper, and the quality of generic items is often just as good as the name brand. It's worth giving the generic a try and seeing what you think. You can always switch back to the name brand if you aren't happy with the quality.
Make Your Money Work for You
Know When Items Are on Sale
Grocery stores frequently have sales, and those sales might follow a predictable pattern. If you know when your grocery store has certain items on sale, you can plan your trips based on those sales. Try to go when several things you frequently buy are on sale, as it will allow you to maximize your savings.
Join a Loyalty Program
Joining a loyalty program is a no-brainer if you typically shop at the same store. Joining usually only takes a few minutes and allows you to take advantage of members-only discounts.
Chances are, you have noticed displays that advertise a certain "price with card." You can only access these prices if you join your store's loyalty program. If you see those labels on many items you often buy, make sure to become a member and take advantage of those savings.
Buy in Bulk
Buying in bulk can be a budget-friendly decision in some cases. For example, you might have a large family that goes through a carton of oats faster than you can say "steel cut."
Make Your Money Work for You
Other items might be worth buying in bulk even if you don't have an enormous family. The aforementioned oats don't really go bad, so you don't have to worry about how quickly you'll go through them. More examples like this include dried beans, dried fruits and honey.
Get a Rebate or Discount App
Various rebate and discount apps let you make the most of your money when shopping for groceries. These apps can work in a few different ways.
For instance, some let you earn cash back by scanning your receipts after you buy groceries. Others find and automatically apply digital coupons, which is helpful if you buy your groceries online. You might buy groceries online if you have them delivered or if you buy them in advance and then pick up your purchase. However you do your shopping, these can be an overlooked way to save a little bit extra.
Plan Meals With Overlapping Ingredients
Items like potatoes and tomato sauce are versatile ingredients you can use in dozens of meals. If you plan several meals that use some of the same ingredients, you can cut back on the number of things you must buy. You can buy these items for even more savings when they are on sale.
More From GOBankingRates
Make Your Money Work for You