Save on Groceries Using the 'Hidden Basket Method' — How It Works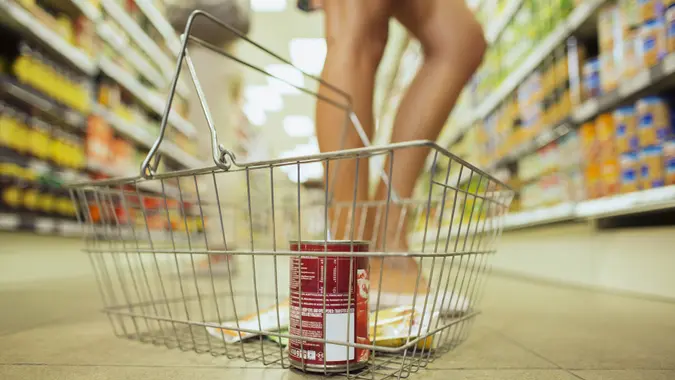 Dan Dalton / iStock.com
Although inflation has trended down in recent months, food can still cause sticker shock. Food-at-home prices in February rose 10.2% from the previous year, according to the latest Consumer Price Index report — much higher than the overall inflation rate of 6%. Some grocery staples have soared even higher, including white bread (prices up 22% year-over-year), flour (21%) and butter (31%).
There are plenty of ways to cut your grocery store food bill. These range from buying generic and using coupons to taking advantage of loyalty programs and discount days.
Or, you can grab a basket and a shopping cart at the supermarket and use the "hidden basket method."
As The Daily Meal explained, this method involves using the cart to hold items on your grocery list and the basket to hold items not on your list. If it sounds like a lot of trouble, then think about this: How many times have you gone to the grocery store to pick up a few items on your grocery list, only to leave with double that amount because you couldn't resist those mouth-watering (and pricey) cookies, cheeses and shrimp platters?
Make Your Money Work for You
"With just a grocery cart and another grocery storage method, we can make sure that we only leave with the items we truly need — and leave those delicious but pricey baked goods behind in the bakery section," The Daily Meal noted.
Okay, the basket isn't really "hidden" — it's there in plain sight. But you can pretend it doesn't exist until it's time to pay. This way, you can separate what you need and don't need to help determine how well you're sticking to your budget. Sometimes, you might have a little more margin to buy the extra items in your "hidden" basket. If not, just haul them back to the appropriate shelf.
When you reach the checkout lane, you'll have the cart items scanned first. If you come in under budget, add in some of the basket items until you hit your budget.
Grocery Costs 2023: Is Inflation the Only Reason Prices Are Soaring?
Beware: Expert Warns Food Stamps Scams Becoming 'National Disaster'
A similar method to save money is to ditch the cart and just use a basket. This might not work so well if you're buying gallons of milk and 15-pound turkeys, but on quick shopping trips when you are determined to limit your purchases and spending, using just a basket can help ensure you only have room for the items you really need.
Make Your Money Work for You
As The Daily Meal put it: "Baskets clearly make phenomenal price control devices at the grocery store."
More From GOBankingRates
Make Your Money Work for You