The Best Secret Menu Items You Can Get for $10 or Less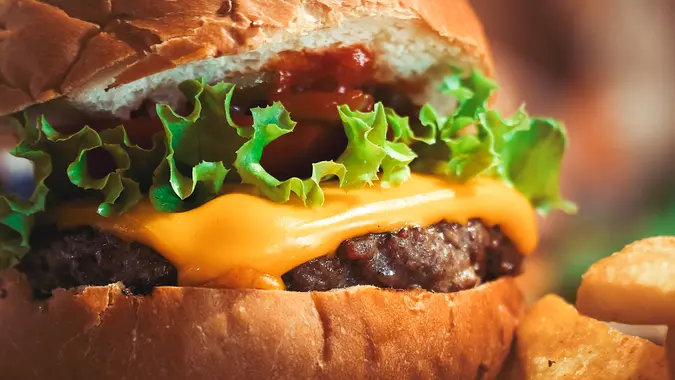 Enes Evren / Getty Images/iStockphoto
Sometimes the best menu items…aren't on the menu. This is your guide to some of the best food items you won't find posted that are sure to satisfy your cravings for something new. Plus, you'll feel cool because you're ordering from a selection only VIPs know about. Check out some of the best kept and tastiest secrets that are easy on the wallet, too. 
See: 10 Popular Products That Costco Doesn't Sell Anymore
Check Out: 25 Secret Money Traps at Target, Walmart and Other Big-Box Stores
The Incredible Hulk at Taco Bell
Price: $1.89
This secret menu item is made for guac lovers. The Incredible Hulk is the Beefy Five-Layer Burrito, but instead of nacho cheese, sub in guacamole. There's also no inner shell, so there's less of a crunch, but it's super gooey and good. 
4×4 Burger at In-N-Out

Price: $5.50
The In-N-Out menu is pretty straightforward: hamburger, cheeseburger, fries and shakes — but you can put a little twist on your next order. If you order a 4×4 burger, you can get four pieces of cheese sandwiched between four juicy 100% pure beef patties. This tall order also comes with lettuce, tomato, onions and spread. Too much? You can make the 4×4 a little smaller by ordering a 3×3. 
Make Your Money Work for You
Read More: How Much Money You'll Spend on Food in Your Lifetime, By State
Chicken Stuffed Star at Carl's Jr.

Price: $6.29
Your mouth won't know what to do with this monstrosity. It's basically a double cheeseburger with a chicken sandwich in the middle. It also comes with onions, lettuce, cheese, and sauce. It's a little pricier than the other items on this list, but you probably won't have to eat again for a few days . 
Patty Melt at Five Guys
Price: $5.99
Sometimes nothing hits the spot like a patty melt and Five Guys always delivers. The Five Guys Patty Melt is the Grilled Cheese with a burger patty stuffed in the middle. You can add whatever toppings you like to make just right for you.
Read: The Items That You Should Continue To Stock Up On
Frings at Burger King

Price: $1.19-2.29
Make Your Money Work for You
Never again do you have to make the choice between fries and onion rings at Burger King. What a relief. When you ask for "Frings," you'll get half fries, half onion rings, and all your needs met. Comes in value, small, medium and large sizes. 
Burritodilla at Chipotle
Price: $4.99
The name explains it all: it's a burrito with a quesadilla shell stuffed with cheese. Most stores will know what you're talking about with the name, but if they don't, just ask for your burrito to be grilled up like a quesadilla. Hot tip: order with half the filling so it doesn't overflow and get too messy.
Related: 16 Ways To Save Money on Food Now That Prices Are Rising 
Apple Pie McFlurry at McDonald's
Price: $2.69-3.39
Just like Gram used to make. When you order this, you get a slice of the McDonald's apple pie blended right into your usual McFlurry. It's perfect for when you want apple pie à la mode on the go. 
Almond Joy Coffee at Dunkin' Donuts
Price: $2.59 (medium)
Make Your Money Work for You
If you want that sugar high plus caffeine high combo, welcome to paradise. This used to be a regular Dunkin' item, but now you have to be in the know to know. It's an Original Blend Iced Coffee along with a flavor shot of coconut, a flavor shot of toasted almond, two pumps of milk, and a mocha flavor swirl. 
Be Aware: 40 Supermarket Buys That Are a Waste of Money
Meat Mountain at Arby's
Price: $10.00
If you love meat, you'll love this secret meal. Get an Arby's sandwich piled high with chicken tenders, ham, roast turkey, corned beef, angus steak, brisket, roast beef, crispy bacon, swiss and cheddar. It's almost a foot tall and definitely going to be a sandwich you remember, whether it be good memories or bad.
More From GOBankingRates:
Make Your Money Work for You