SNAP Benefits 2022: Beware of These Scams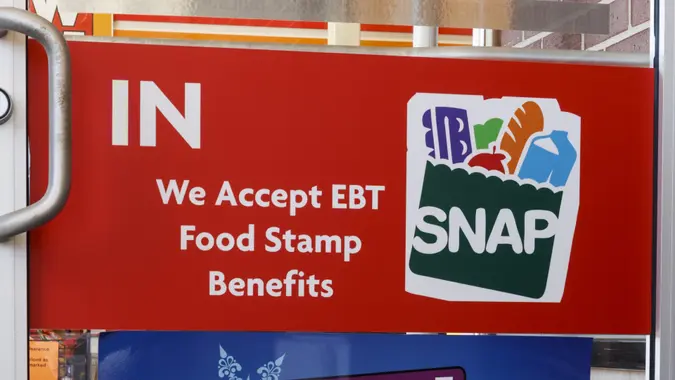 jetcityimage / iStock.com
The Supplemental Nutrition Assistance Program (SNAP) — the largest federal nutrition assistance program, which provides benefits to eligible low-income individuals and families via an Electronic Benefits Transfer (EBT) card — has been subject to several scams. 
Food Stamps Schedule: When Can I Anticipate October 2022 SNAP Payments?
See Why: This Credit Score Mistake Could Be Costing Millions of Americans
Indeed, just like any other debit or credit cards, these cards are not immune to fraudsters. Now, authorities are warning Americans to be cautious and on the lookout for several of these scams.
"Targeting the vulnerable exposes the worst in humanity," said Rafal Los, head of services GTM at cybersecurity company ExtraHop. "Digitization of financial services brings both a benefit to recipients but creates opportunity for criminals. In this case, those who need it most have the most to lose. The challenge is building awareness and educating a vulnerable segment of the population that doesn't typically have consistent access to technology."
Make Your Money Work for You
Here are three scams to beware of and ways you can protect yourself.
Skimming Scams
Skimming is the use of an electronic device to steal card information from a card reader and create a fake card to steal money or benefits.
In August, for example, the Connecticut Department of Social Services issued a warning to residents who receive SNAP and/or cash EBT benefits to protect their cards from skimming scams that have impacted some retail and grocery stores around Connecticut. 
These skimming scams intend to get credit, debit and EBT card information, as well as personal identification numbers (PINs). 
"Skimming can happen anywhere you swipe your EBT card," Massachusetts.gov notes. "Most of the time, that means EBT or credit card machines and ATMs." 
In EBT and credit card machines, it recommends looking for overlays that are bigger than the original machine. As for ATM machines, overlay devices also can be attached to the card reader or the keypad. 
The DSS says it recommends changing the PIN for EBT cards periodically to prevent theft.
Make Your Money Work for You
Phishing 
Another type of scam is phishing.
According to the Federal Trade Commission (FTC), imposter or phishing scams are on the rise nationwide. The most common attacks start with a phone call, text or email, said Chris Kearney, chief information officer at TruWest Credit Union.
The FTC explains that in phishing scams fraudsters usually ask consumers to provide personal identifying information, which is then used to open new accounts or invade consumers' existing accounts. 
For example, in these types of scams, people may receive scam text messages regarding their DSS benefits.  
In addition, the Food and Nutrition division of the Department of Agriculture notes that the text might say you were chosen to receive food stamps or SNAP. 
Generally, the text message directs the person to call a number where they are asked to provide their EBT card number and PIN, according to the DSS notice, which added, "These messages are not coming from DSS. DSS does not currently send messages to clients via text message."
DSS recommends deleting the text and blocking the sender. In case you already provided EBT information, DSS says to immediately call 1-888-328-2666 to cancel your card and request a new one.
Make Your Money Work for You
Website Scams
The Food and Nutrition division of the Department of Agriculture warns of website scams. The department says to be aware of some websites mentioning food stamps and promising some kind of monthly payments. 
It warns to not share your personal information with links provided through email. Instead, if you have questions about SNAP, visit the department's website or contact your local SNAP office. 
In April, for example, the Orange County, California, Social Services Agency (SSA) warned EBT card users to be cautious about potential scammers trying to obtain confidential information through fake websites.
"Counterfeit websites that look similar to the state's EBT website attempt to obtain personal information, including but not limited to an EBT card number and/or PIN, Social Security number, bank information and/or date of birth," the SSA said. "Please be advised this information may be used to withdraw funds from recipient accounts." 
The Orange County SSA reminded customers that it never asks for personal information in a text message or via email.
How Can You Further Protect Yourself?
Congressman Andrew Garbarino — ranking member of the House Subcommittee on Cybersecurity, Infrastructure Protection and Innovation — said cybercriminals have grown increasingly sophisticated in their methods for launching incursions. 
Garbarino said, "Absolute vigilance is necessary to reduce system vulnerabilities, which is why I would encourage everyone to visit CISA.gov [cybersecurity and infrastructure security agency] to view free resources and guidance available for individuals, businesses, local governments and more on how to protect against these kinds of attacks." 
According to TruWest Credit Union's Kearney, beware of phone calls, texts or emails asking for your EBT information. 
"Take a breath before you click, tap or respond in any way," he said. "Were you expecting a message? Is there an artificial sense of urgency? Rather than respond, go directly to the source. Visit ebtedge.com or contact customer service over the phone." 
Then, Kearney recommends downloading the ebtEDGE app on your smartphone to monitor your account activity, set up alerts and freeze your card when you do not need it. Unlock your account when you are headed to the store, then freeze it again until your next trip. 
"Staying engaged and in control of your EBT account reduces your risk of being a fraud victim," he said. 
He also recommends setting a reminder to change your PIN every month before your benefits arrive. 
"This ensures that only you have the PIN and can access your funds," Kearney said. "If your card number has been stolen in the past month, they will not be able to use it and access funds without the new PIN."
More From GOBankingRates
Make Your Money Work for You