SNAP Benefits Cuts for Kids Will Not Happen While 'Pushing Tax Cuts for Billionaires,' Says Sen. John Fetterman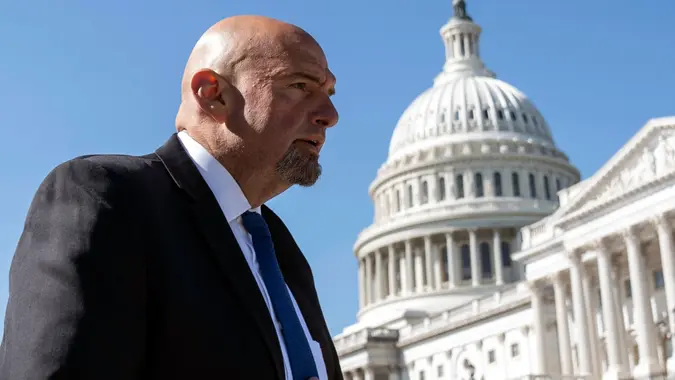 WILL OLIVER / EPA-EFE / Shutterstock.com
In response to the pandemic, the U.S. Department of Agriculture (USDA) permanently boosted SNAP benefits. While some lawmakers say that this comes at too steep of a price to taxpayers, others are fighting to expand access to those in need.
In an effort to fight inflation, the USDA expedited an update to its Thrifty Food Plan, increasing SNAP benefits by 21%. However, Republican lawmakers say this increase comes at great taxpayer expense, per WTAJ-TV.
As part of a new debt limit negotiating proposal, House Speaker Kevin McCarthy called for expanding the age bracket of people who must meet work requirements to participate in SNAP, per Politico. Sens. Chuck Grassley and Joni Ernst, both Republicans, claimed the program is being abused in some states by unemployed, abled-bodied adults without kids, according to a separate WTAJ-TV report.
"The pandemic cannot be used as an excuse," Grassley said, while Ernst said: "We do have to maintain program integrity."
Make Your Money Work for You
But expanding SNAP work requirements could jeopardize food assistance for millions of low-income households.
"Cut SNAP for families and kids while pushing tax cuts for billionaires? Not on my watch," Pennsylvania Sen. John Fetterman tweeted on April 16.
Take Our Poll: Do You Think the US Should Raise the Medicare Tax on High Earners To Help Save the Program?
The Center on Budget and Policy Priorities (CBPP) pointed out that more than 10 million people, including 4 million children, would be at risk of losing some of their food benefits under increased work requirements regarding SNAP. The CBPP added that the bill's approach is based on the false assumption that people who receive benefits do not work and must be prompted to do so.
Sen. Fetterman will chair his first hearing in the Subcommittee on Food and Nutrition, Specialty Crops, Organics, and Research on Apr. 19, according to WTAJ-TV. This hearing will focus on strengthening SNAP through the upcoming Farm Bill.
More From GOBankingRates
Make Your Money Work for You
Make Your Money Work for You