Your Step-by-Step Guide To Spend Less and Get More When Grocery Shopping

6 min Read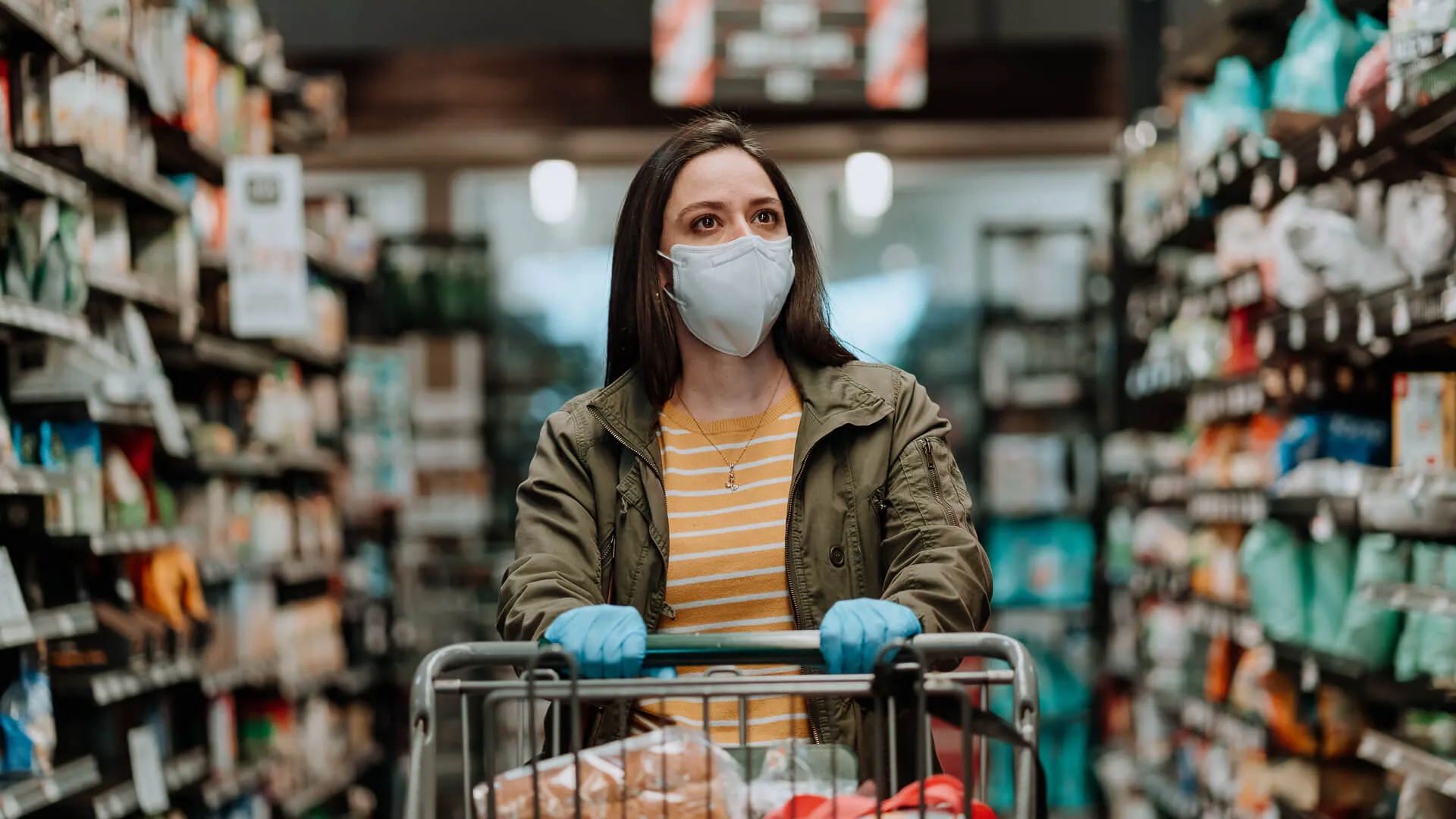 When you're looking for ways to save money, don't forget to look to your grocery shopping habits, which may be so ingrained you don't even think twice about them. The average American spends between $314 and $516 per month on groceries (and that's the average — many families spend quite a bit more).
Read: 40 Supermarket Buys That Are a Waste of Money
Saving money may require some lifestyle changes in how you plan, prepare and cook your meals. It may mean changing up where you shop, the brands you buy and the quantities. If you're doing a lot of ordering online due to the pandemic, you may also be paying service fees you could avoid by doing curbside pickup instead. If you're willing to put in a little footwork and change around your grocery shopping and meal-making habits, you'll find these 10 steps will swiftly save you money and possibly help you eat better, too.
Last updated: March 19, 2021
Make Your Money Work for You
Check Your Pantry and Fridge First
There are always things you notice you're running out of, often fresh produce, meat or dairy products. So you hit the store and stock up on these items only to get home and realize you bought pasta and beans you didn't need or forgot some other essential. Making a second trip not only means you're likely to spend more money, but it's also inefficient. Checking your pantry and fridge before you go shopping and making a list will cut down on overspending and second trips, according to The Kitchn. If you're ordering online, many delivery services charge a service fee just for delivery, so having to do a second order could be unnecessarily costly.
Meal Plan
Meal planning is an essential way to limit your purchases to only that which you know you'll eat during the week. It's too easy to fall into the habit of thinking you need to purchase all new ingredients to plan your meals, but try being creative and building meals off of what you already have — particularly staples like rice, pasta, beans and frozen veggies, and then add in only those fresh items that are absolutely necessary when you go to the store or order online.
Try It: 10 Easy, Budget-Friendly Dinners That Will Last All Week
Double Your Recipes (To Avoid Waste)
When you make one meal, you often have just a few leftovers that can easily languish in the back of your fridge and go to waste. The food magazine Eating Well suggests that by doubling recipes, you often have enough for a second meal the next night, which can stretch your ingredients further and waste less.
Savvy Shopper: Is a Costco Membership Worth It? Here's a Breakdown
Make Your Money Work for You
Shop Store Brands and Generic
We all have comfort or favorite brands that we go to for certain products, but most grocery stores will have their own store brand items of similar quality for a cheaper value. These "generic" versions are often cheaper than name brands, according to money expert Dave Ramsey. He compared store brand to name brand items for three simple recipes of spaghetti, tacos and a chicken casserole and showed that buying all generic/store brands would save $20 per week, which adds up to $80 per month or $1,040 per year. Significant savings.
Save More: 20 Ways to Pay Less at Costco
Stock Up on Essentials in Bulk
Depending on where you buy in bulk and what items, often you can get discounted pricing by buying bulk products, particularly things with a long shelf life (and sometimes meat). However, Eating Well warns to be careful and savvy and check the "unit price." Unit price refers to how much the item costs per unit (typically ounces or pounds). Comparing that to the unit price of a prepackaged or smaller version of the same item will help you see if you're getting a deal.
Related: How To Save Money During COVID-19
Use Coupons and Coupon Apps
There are a number of coupon types you can find to bring down your grocery costs, from those you cut out of mailers to store loyalty programs, where you earn discounts and points that translate to cash back. Apps like Ibotta actually make coupon shopping into a game. However, The Kitchn recommends you only clip coupons for items you regularly buy. Otherwise, if you're buying something new, even at a discount, it's still money you probably wouldn't have spent.
More Coupons: 10 Coupon Hacks To Make the Most of Your Savings
Make Your Money Work for You
Buy Less Meat
Americans eat a lot of meat. As of 2018, nearly 223 pounds of it per year, according to the U.S. Department of Agriculture. Meat tends to be pricier than other sources of protein such as vegetables, grains and beans, and costs add up quickly. According to the blog Living Well Spending Less, eating just a couple of vegetarian meals per week could save you as much as $1,000 per year. 
See: These 16 New Food Companies Are Changing the Way We Eat
Shop Store Sales
While coupons are useful, seeking out store sales may be a better strategy for getting your food at the lowest possible price. Living Well Spending Less recommends looking for sales that are between 30% and 50% off. Stores may incentivize shoppers to buy new or less popular items, as well, which can be a boon for you. 
Make Freezer Meals
If you have the energy to make a bunch of meals in bulk before the week begins, say, over the weekend, and the space to freeze them, you could actually save a lot more money, according to experts like Jessica Fisher of Good Cheap Eats blog and Dave Ramsey. Making a bunch of meals for the week means fewer trips to the grocery store or online orders, hence a likelihood that you won't spend as much. It also means you're more likely to buy food in bulk and save money, and less likely to waste food, which is like throwing money away.
Pay With Cash
If you did a pantry inventory and made a list, and go to the grocery store with only as much cash as you estimate needing, you'll be forced to limit your spending by what you have on hand. It's a simple strategy that can curb impulse buys and keep you within your budget, according to Dave Ramsey. 
More From GOBankingRates
About the Author