Using Buy Now, Pay Later for Groceries Has a Surprising Advantage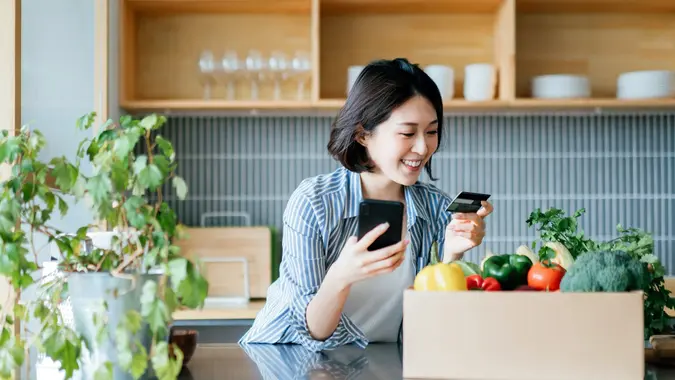 AsiaVision / iStock.com
Historically, shoppers used buy now, pay later (BNPL) apps to finance big-ticket items. However, according to Adobe Analytics, groceries' share of BNPL orders increased by a whopping 40% in early 2023. By comparison, electronics order share dropped by about 14%.
So, Why the Shift?
Rising food costs have compelled consumers to get creative when shopping for groceries. One latest strategy is using BNPL services to make eating at home easier on a household budget.
BNPL apps like Klarna and Afterpay allow consumers to spread out their grocery bills over four interest-free payments. That way, they can take advantage of sales and stock up on non-perishable goods (or frozen items if they own a spare freezer).
When money's tight, it makes sense to load up on affordable, nutritious food. Some of the best groceries to buy when you're broke include rice, beans, pasta, oats, canned fish and frozen fruits and vegetables.
What's the Downside?
Because consumers won't have to pay interest (most of the time, presuming they make payments on time), turning to this financial tool can often make more sense than whipping out a credit card. However, BNPL apps have downsides, too.
Make Your Money Work for You
For one, users still take on debt — even if it's short-term. Plus, the ability to spread payments out over time makes overspending easy. Ultimately, consumers may struggle to pay off their BNPL debt, especially if they have multiple open orders simultaneously.
Take Our Poll: How Much Salary Would Buy You Happiness?
Other Ways To Save
If you're not keen on using BNPL services, you can still save money on your grocery bill. Consider:
Buying generic goods.
Planning your meals in advance and only purchasing those ingredients.
Using cashback apps like Ibotta.
Picking up your food orders instead of having them delivered.
You should also shop around to find the best deals in your area.
More From GOBankingRates
Make Your Money Work for You