8 Trader Joe's Foods That Should Be Budgeted Into Your Weekly Shopping List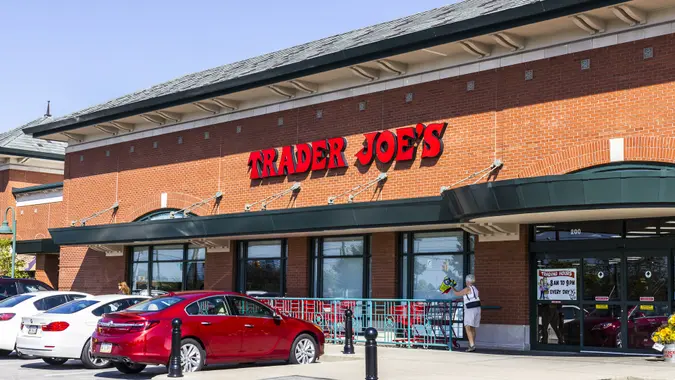 Jonathan Weiss / Shutterstock.com
Trader Joe's is an excellent place to shop for staple groceries because of their often more affordable prices on things you regularly eat. But it's also an exceptional place to shop for items you don't find every day, from pre-prepared foods to cheeses, spices, beverages and so much more.
Check out these eight foods you should always make room for in your grocery budget — your taste buds will thank you.
Unexpected Cheddar Cheese
Trader Joe's is known for having a selection of delicious and unusual cheeses you can't find anywhere else but a high-end deli. According to the blog Trader Joe's Rants, everyone should put Unexpected Cheddar on their shopping list. The blog calls it a "knock-it-out-of-the-ballpark item" and is unsurprised that this cheese is a constant bestseller.
Trader Joe's website describes the cheese as having an "unexpected flavor turn" that starts out creamy and then changes texture to something more like an aged parmesan. This delicious fromage is just $3.99 for 7 ounces.
Steamed Pork & Ginger Soup Dumplings
If you love an Asian flair to your meals, check out these pork and ginger soup dumplings, known as xiao long bao, which originally come from the Jiangsu province of China. Delish considers these one of its favorite Trader Joe's products.
These delicious dumplings are traditionally made in a bamboo steaming basket, and can be added to hot soup, though you can also just enjoy them a la carte! They're $3.49 for six ounces.
Make Your Money Work for You
Cold Brew Coffee Concentrate
Cold brew lovers are almost religious about their coffee, and Trader Joe's aims to please with this cold brew coffee concentrate that is, true to its name, never heated. One blogger, The Every Girl, called it her favorite find when sampling coffees from Trader Joe's, saying, "It is smooth and slightly sweet and doesn't taste too acidic, and this will be a forever staple in my fridge."
It's $8.99 for 32 fluid ounces.
Mac and Cheese Bites
Some of Trader Joe's products are perfect because they can serve as both a snack, an appetizer for a party or event, or a side meal that you can easily add something green or protein-filled to without much thought. These popular mac and cheese bites fit that bill.
These bites dealt with a supply chain problem, so Trader Joe's took the opportunity to reformulate and reintroduce them. They have a blend of seven cheeses, and the improved version also comes with lighter, panko-style breading. Delish calls these one of their favorite Trader Joes products. Pick up a box for just $3.99.
Dark Chocolate Peanut Butter Cups
If you've got a sweet tooth, Trader Joe's has an excellent supply of tasty treats to more than satisfy that urge. One of the most popular, which won the Sweet Treat Award in the store's 2021 Annual Customer Choice Awards, is the dark chocolate peanut butter cups.
Unlike cheaper competitors' brands of peanut butter cups, these achieve the right balance of sweet and salty, probably because they don't use artificial flavors. The absolutely perfect candy is just $4.49 for a 16 oz. container.
Make Your Money Work for You
Everything but the Bagel Seasoned Smoked Salmon
Everything but the Bagel Seasoning has been exciting foodies for a while now, with its mix of dried garlic and onion, poppy seeds, and black and white sesame seeds. Trader Joe's gave it a pescatarian flair with their prolific Everything but the Bagel seasoning Smoked Salmon.
Trader Joe's Rants says the seasoning adds "a nice top note" to the salmon with its "buttery texture." It's just $5.99 for 4 ounces.
Mandarin Orange Chicken
Chinese-inspired dishes are typically full of flavor and protein, which can definitely be said of Trader Joe's frozen, pre-prepared Mandarin Orange Chicken meal. The website describes it as "Tender chunks of juicy chicken in a crispy breading with a sweet and spicy orange sauce."
One blog, Freezer Meal Frenzy, described the dish as "phenomenal," praising how, if you cook it in a pan, you get a slightly crispy outside with a juicy inside. This delicious bagged meal is just $4.99 for 22 ounces.
Cheddar Cheese & Uncured Bacon Egg Bites
Playing on the popularity of Starbucks' sous vide egg bites, Trader Joe's offers their own variation, including these cheddar cheese and uncured bacon egg bites. They are gluten free, fully cooked and ready to pop in the microwave for quite possibly the easiest breakfast since pop tarts (healthier, too).
Each package holds two egg bites, which Trader Joe's says is made with "cage free eggs, cottage cheese, and butter" for a "soufflé-like texture." Price may vary between stores, but they are typically around $3.
More From GOBankingRates