20 Uses for Leftover Bread That'll Save You Some Dough
Many classic recipes, including soups and salads, give day-old bread a new purpose.
Day-old, leftover or stale -- whatever you choose to call bread past its freshness date -- has a lot more going for it than potential breadcrumbs. That lonely half-loaf of French bread is practically begging for one last shot before it hits the compost pile.
Sauces, puddings, thickeners, pizzas and stuffings are just a few unexpected ways to use stale bread. Several vegetable dishes also put it to good use, so when you stock up on produce this spring, give them a go. Consider trying these 20 ingenious ways to reinvent leftover bread.
Refresh It
If you have a day-old loaf of leftover bread, ideally one with a hearty crust and dense crumb, like pain de campagne or Italian, rehydrate it -- it will spring back to life and make you regret all the stale loaves you tossed out before.
First, go against nature and hold that hard loaf under running water, according to Bon Appetit. You might resist at first, but keep going and saturate the exterior. Try not to get too much on the cut side, but if you do, it won't hurt the process.
Next, set the bread on a sheet pan and place it a warm oven -- around 300 degrees Fahrenheit. Heat the bread until it has the texture and crumb of fresh bread, about six minutes for a half-loaf and eight minutes for three-fourths of a loaf.
Don't Miss: Organic Foods That Aren't Worth Organic Prices
Make a Summer Pudding
Want to try a tasty summer recipe? Combine fresh berries with stale bread and get to work on a summer pudding as soon as the season's harvest hits the market. Use any mix of berries you like here -- currants, strawberries, raspberries and blackberries all work. The juicier, the better.
Slice the bread lengthwise into one-half to three-fourths-inch-thick slices and trim the crusts, according to BBC Food. Line a loaf pan with plastic wrap and add a layer of bread on top of it, trimming as needed. Next, add a slice to each side of the pan, trimming as needed.
Add two pounds of cleaned berries and one cup of sugar to a saucepan, followed by a couple tablespoons of water. Simmer the maceration for three minutes, stirring occasionally. If you're using soft berries, such as raspberries and blackberries, add them after you boil the other fruits. You can also add liqueur, such as kirsch or crème de peche, to the berries.
Spoon some of the berry juice over the bread to give it a good soak. Next, add a layer of about one-third of the macerated berries to the top of the bread, followed by another slice. Continue alternating bread and berries until you run out of bread -- don't add berries to the top of the last slice of bread.
Cover the top slice of bread with a layer of plastic wrap and set a weight on it, such as a can of beans. Let the pudding chill overnight in the refrigerator before turning it out and serving.
Go Swiss
The elegance of French dishes comes as much from the beauty of the language as they do ingredients. Take casse-croûte, for example -- a one-pan dish made with stale bread, Gruyère, ham and fried egg that, translated into English, simply means "snack."
A casse-croûte is little more than an open-faced croque-madame made with stale bread refreshed with chicken stock or, if you want to elevate the dish a bit, beef stock and brandy, according to Bon Appetit.
In an oven-safe pan, toast one side of a thick slice of day-old bread in butter and drizzle about a tablespoon of stock over it to hydrate it. Drape thick-sliced ham and Gruyère over the bread and crack an egg on top. Broil the casse-croûte until the egg cooks to the desired doneness.
Go French
If you're still making French toast with fresh bread, you're wasting bread. If you have a loaf of day-old bread handy, use it to experiment with some French toast variations.
To make vegan French toast, MinimalistBaker.com recommended mixing one heaping tablespoon of ground chia seeds, one-half tablespoon of agave nectar, one cup of almond milk and one-half teaspoon each vanilla extract and cinnamon into a batter. Chill the batter for 20 minutes, then make French toast as usual.
To bake French toast with streusel topping, cut 10 slices of day-old bread corner-to-corner in triangles and set them pointed-side up in an oven-safe pan. Pour a four-egg French toast batter over them until saturated and let it chill for a couple hours to overnight. Sprinkle a basic streusel topping over the toast and bake it in a 350-degree oven until set, about 35 to 40 minutes, according to CompletelyDelicious.com.
Go Italian
It's practically a misdemeanor to throw out stale bread in Tuscany, so Italians use it for panzanella. Not really, but if you're tossing stale bread and you've never made panzanella before, it is a culinary crime.
Perfect for summer, this bread salad comes courtesy of Tuscany, the land of Chianti, bistecca alla fiorentina and ribollita soup, so you just know it's going to be hearty and rustic. Start panzanella by cutting a loaf of day-old Italian bread into 1-inch cubes and toasting them with olive oil in a 300-degree oven.
Let the bread cool and toss it with six or seven tomatoes cut into wedges, one sliced cucumber, one-half of a thinly sliced red onion, three cups of loosely packed and torn basil leaves. Season to taste with salt, pepper, shaved Parmesan and drizzle with olive oil.
Thicken Rustic Soups
Rustic soups almost always get thickened with a rustic thickener. Instead of the beurre manié and liaison commonly used to thicken fine, elegant soups and sauces, hearty soups get rice, potatoes or stale bread.
Ribollita, a Tuscan favorite, combines a basic stew -- beef stock, red wine, potatoes, onions and carrots -- with cannellini beans, Swiss chard, one cup of chopped bacon and about one-half cup of pesto.
After the stew finishes, place a handful of 1-inch bread cubes in each bowl and pour the stew over them. Other soups and stews to thicken with leftover bread include pappa al pomodoro, chowders and sopa de ajo, a Spanish garlic soup topped with a poached egg.
Celebrate Like You're in Sicily
Give stale bread a new purpose with sfincione, a classic Sicilian pizza that uses breadcrumbs to create a stunning gratin-like topping with a pleasant crunch. For the proper texture, you need 2 ounces of caciocavallo or Parmesan cheese for every loaf of stale bread.
To make the breadcrumbs, toast a loaf of sliced day-old bread at 300 degrees until golden brown. Break the bread into pieces and pulse it in a food processor with one-fourth cup of olive oil and 2 ounces of caciocavallo or Parmesan cheese until it has a powdery consistency.
Next, build the pizza. Traditional sfincione calls for a classic Italian red sauce with finely diced onions, red pepper flakes and eight finely chopped anchovy filets.
After saucing the dough, top with 4 ounces of grated caciocavallo cheese, the cheesy breadcrumbs and a drizzle of olive oil, and bake at 450 degrees for about 35 minutes. You can also use this breadcrumb topping for lasagna, macaroni and cheese, broccoli -- anything that benefits from a savory, satisfying crunch.
Savor the Flavor
The chicken has been good to us. Fried chicken, coq au vin, General Tso's chicken, all the egg-based dishes -- the list could go on almost forever. The least we can do is savor every last bit the kind bird has to offer. Enter the breadcrumb.
So much flavor comes out of a roasted chicken. Next time you roast a whole chicken, coarsely grind a half loaf or more of day-old bread.
In the roasting pan, make a bed of breadcrumbs to rest the chicken. Then add your veggies -- diced potatoes, onions, carrots and the like -- around the breadcrumbs.
Lay the chicken on the breadcrumbs, and bake at 350 degrees until it reaches 165 degrees in the thigh. When finished, mix the breadcrumbs with the veg for a natural stuffing.
Build a Better Crouton
Making basic croutons is easy -- cut stale bread into cubes, coat with olive oil and bake until golden brown. But while you have that leftover bread practically begging for a purpose in life, try out these exciting crouton variations.
For Parmesan croutons, toss fresh-from-the-oven croutons with a little grated Parmesan cheese -- about one cup per loaf. Spread the croutons on a lightly oiled baking sheet, and bake them at 400 degrees until melted and browned, about four to six minutes, turning as needed.
To make rustic sourdough croutons, tear day-old sourdough into bite-sized pieces. Heat a couple tablespoons of olive oil in a pan over medium heat. Add one-half garlic clove and the croutons, and fry until crispy and golden for about five to seven minutes. Toss the croutons with freshly chopped thyme as soon as you take them out of the oven.
Top French Onion Soup
Day-old bread makes a better crouton for French onion soup than toasted fresh bread. Day-old bread takes a bit longer to rehydrate in the soup and softens to a pleasant al dente bite right after you melt the cheese.
To make croutons for onion soup, slice day-old bread into one-half-inch rounds that fit neatly inside of the crocks you'll serve the soup in. A cookie cutter or cup can help here.
Heat the broiler. Arrange the crocks on a sheet pan, and ladle the soup into them to about one-fourth inch below the lips. Drape two or three slices of Gruyère over the crouton and over the sides of the crocks, and top with a pinch of Parmesan. Broil until golden brown and bubbling, about two minutes.
Host a Calçotada
Spring onions are more than a vegetable in Catalonia -- they're a celebration. Calçotada is a Catalan festival ringing in the first harvest of calçots de Valls, giant spring onions from Catalonia with protected geographical status (PGI).
During calçotada, mounds of calçots de Valls get fire-roasted and served with Romesco sauce, along with copious amounts of red wine poured directly into the mouth of the guest.
You likely won't find calçots de Valls at your local market, but any large variety of spring onions will do. When it comes to making the Romesco sauce -- which pairs well with much more than green onions -- that's where day-old bread comes in.
To make a classic Romesco, roast one-half cup of almonds, five garlic cloves, one chopped tomato and one cup of cubed day-old bread, all tossed with olive oil, until the bread turns golden brown.
Transfer everything to a food processor along with three tablespoons of olive oil and two roasted red peppers, and process until creamy. Add sherry, salt and pepper to taste.
Check Out: 10 Easy Meals Under $10 to Try This Weekend
Give Your Breadcrumbs Personality
Give your breadcrumbs some attitude with herbs and spices. Seasoned breadcrumbs add layers of flavor to anything you use them for -- meatballs, meatloaf and gratins all take readily to the addition of seasoned crumbs.
To make Italian-style breadcrumbs, MarthaStewart.com suggested adding one-half loaf of cubed Italian bread to a food processor and pulsing until finely ground. Add the breadcrumbs to a large mixing bowl.
Toss the crumbs with three tablespoons of grated Parmesan, one clove of minced garlic, three tablespoons of olive oil, one-fourth cup of finely chopped parsley, a pinch of finely chopped oregano, and salt and pepper to taste.
Maintain Meatball Moistness
Breadcrumbs have a reputation as an effective binder. After all, meatballs, meatloaf and cutlets usually contain breadcrumbs and they stay together in a cohesive mass. However, breadcrumbs have nothing to do with it.
Breadcrumbs actually help ground meat retain moisture. It's the eggs or egg yolks in the ground meat that holds it together; the breadcrumbs simply collect a portion of the juices and fat rendered during cooking. And that's where they really shine.
When making meatballs, add just one-half cup of breadcrumbs per pound of meat. The same goes for meatloaf and cutlets. And if you need a secret ingredient for your burgers, mix the same ratio, one-half cup of breadcrumbs per pound of beef, before you form the patties.
Design Your Own Dressing
Custom-made dressing beats any brand with the word "stove" in it every time. And making your own dressing costs so much less, you can't lose out on the deal.
To make your own poultry stuffing with leftover bread, cut the bread into one-half inch cubes and set them aside. Sauté two cups each of onion and celery in one stick of butter, along with your herbs and spices of choice, until the vegetables soften.
Next, add three cups of stock and bring to a simmer. Whisk two eggs and add the bread cubes. Pour in the stock and vegetables, mix well and bake, covered, in a 350-degree oven for 30 minutes. Remove the cover and bake until golden, approximately 20 minutes.
Make a French Bread Sauce
An English holiday classic, French bread sauce pairs well with poultry and duck. You have a lot of latitude to add your own spices here, so go with your favorites.
Scrape the crust from half a loaf of French bread or a stale baguette, and pulse it in a food processor until powdery, according to DeliaOnline.com. Insert about 15 cloves into half an onion, and add it to a saucepan along with a few allspice berries, a bay leaf and a pint of milk.
Bring the milk to a simmer then take it off the stove and set it aside for one hour. Remove the onion, bay leaf and allspice from the milk, and stir in the breadcrumbs and a tablespoon of butter.
Heat the sauce over low heat until thickened, about 15 minutes, and season to taste. Stir in one-fourth cup of heavy cream and serve the sauce slightly heated or at room temperature.
Make a Panade
Panade makes the most of leftovers. Basically a custard of day-old bread, leftover vegetables and any other usable ingredient you happen to have, panades make an excellent go-to dish when you need dinner on the table in about an hour.
To make a panade, toast one loaf's worth of three-fourths-inch bread cubes with olive oil and salt in a 350-degree oven until golden, according to TheKitchn.com. Next, prepare two to four cups of filling -- any fully cooked food will do. A mixture of sautéed vegetables or a combination of leftover meat and vegetables works well.
Bring the broth to a simmer. Add the bread and filling to a baking pan in layers, then pour the stock over everything. Cover with one cup of shredded cheese and bake, covered, for 45 minutes, then uncover and bake until golden brown and bubbling, about 20 minutes.
Make Crustier Fish
A crisp crust plays the perfect foil to the supple texture of fish. Just choose your favorite herbs and spices, add the breadcrumbs and a fat and you're good to go.
To get you started, here's a basic method you can adapt to any fish, lean or oily. For each fillet, add one-fourth cup of coarse, seasoned breadcrumbs made from day-old bread to a mixing bowl.
Next, add herbs and spices. For white, mild fish such as tilapia, freshly chopped dill, marjoram, basil and thyme work well. If desired, add a grated hard cheese, such as pecorino Romano or Parmesan.
Mix the crust ingredients with just enough olive oil or butter to moisten them. Pat the crust on top of each fillet, and bake until the interior temperature reaches 145 degrees.
Make Migas
The Spanish classic migas has several variations, but they have one thing in common: day-old bread. Migas doesn't have an exact recipe, and versions vary between region, community and even family. But you can make your personalized migas in just a few simple steps.
Dice half a loaf of day-old bread into quarter-inch cubes, and moisten it in a bowl with stock or water. Add a pinch of salt and a generous pinch or two of paprika, and mix. Cover the bread with a moist paper towel, and let sit overnight in the fridge.
Sauté a couple links of fresh chorizo, a handful of chopped bacon and three or four whole garlic cloves in a few tablespoons of olive oil until the meat just finishes cooking. Remove the garlic and add the bread mixture. Continue cooking until the bread crisps on the bottom and sides.
Prepare a Pesto Variation
Put your own spin on pesto with seasoned breadcrumbs and your choice of herbs. Instead of basil, try a mix of parsley, tarragon and thyme. Or, for a smoky variant, use a mix of parsley, toasted nuts, sage, oregano and a pinch of smoked paprika.
Add one cup of seasoned breadcrumbs, a couple chopped garlic cloves, a few tablespoons of nuts -- almonds, hazelnuts and pine nuts all work -- one to two cups of loosely packed herbs and pulse until combined.
Season to taste with salt, pepper and spices. Serve the pesto as is, or use it as a spice paste for chicken, fish and beef.
Clean that Spice Grinder
Leftover bread cleans the blades and recesses of electric coffee and spice grinders, according to MarthaStewart.com. Bread also absorbs oils readily and contributes no flavor of its own.
First, brush as much debris as possible from the grinder using a pastry brush. Tear a few slices of leftover bread into manageable pieces, and add them to the grinder.
Pulse the grinder and clear it out. Smell the grinder. If you still detect the aroma of spices, give a new batch of stale bread a whirl. When finished, wipe the grinder out with a moist paper towel.
Up Next: Entertain This Weekend for Less Than $50
About the Author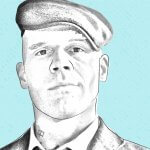 A.J. Andrews is an American food writer based in Europe. His work has appeared in Food and Wine, Spiegel Online, Fricote, Food and Travel Magazine and BBC Good Food.  Andrews received formal culinary training at Le Cordon Bleu.