Ways To Save Money on Food and Alcohol for Your Labor Day Barbecue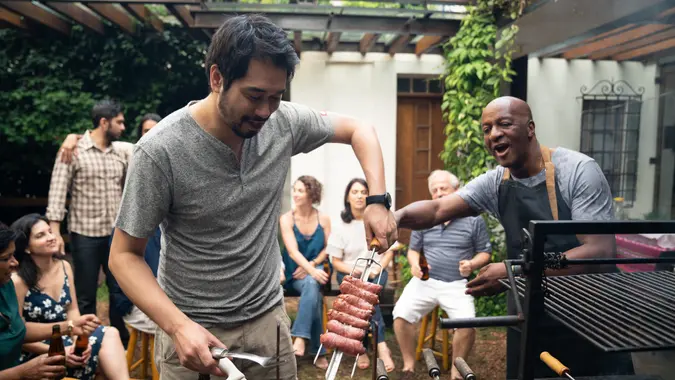 FG Trade / Getty Images
Depending on where you live, Labor Day is the last gasp of summer for many people, as well as the last holiday to enjoy spending downtime with friends and family at a backyard barbecue before cooler weather starts rolling in. By end of summer, however, most people have spent whatever leisure budget they had, and with kids back in school, costs start to mount. You want to entertain, but you don't want to spend a mint. Here are some ways to save money on your food and alcohol costs while still throwing together a fabulous barbecue.
See: 10 Popular Products That Costco Doesn't Sell Anymore
Find Out: 25 Secret Money Traps at Target, Walmart and Other Big-Box Stores
Use Coupon Apps
You don't have to wait for your weekly newspaper to come to collect coupons. There are plenty of digital coupons available through coupon apps that have streamlined the process. From Rakuten to Honey to SnipSnap and Ibotta, you'd be amazed how many coupon apps exist. Not to mention that most grocery stores have their own apps that provide additional discounts, according to the Krazy Coupon Lady. Many of those stores are likely to have Labor Day sales, too, so take advantage of all the little discounts.
Make Your Money Work for You
Buy in Bulk
Buying in bulk doesn't always make sense, especially if you're a small family. However, if you're going to serve more than just your own immediate family at your Labor Day gathering, chances are you're going to save money buying your food and drink in bulk, particularly products like meat for the grill and alcohol. Whether you do a one-stop shop somewhere like Costco, get your beverages at a drinks outlet like BevMo or simply buy the bulk items at your local grocery store, more might actually cost you less.
Check Out: 8 Bulk Food Items You Need To Be Buying at Costco This Summer
Learn: How Much Does a Costco Membership Really Save You?
Make a Pre-Mixed Cocktail
Alcohol is one party staple that adds up in cost quickly. If you try to appeal to multiple tastes by buying a lot of different drinks, you'll end up spending more than you want. Instead, consider mixing a big batch of one signature drink for your barbecue. Go with the season — if it's hot, make something cool and refreshing that goes over ice. PopSugar recommends drinks that mix well in big batches, such as margaritas, mojitos, sangria, a boozy iced tea or a champagne-based punch. You could even make a nonalcoholic version to take care of non-drinkers and kids.
Make Your Money Work for You
Make It a Potluck
Most of the time, friends and family know that a barbecue means relaxed and casual. Asking your guests to bring a potluck item is rarely an imposition and can make for a more varied and rich culinary experience while saving you money. You provide the meat or the main entrée, and ask everyone else to bring a tasty side dish or dessert — cheaper, and more fun, for everyone! If you want to get organized, the ThriftyFrugalMom.com recommends making an online sign-up sheet where people can add what they're bringing to avoid crossover.
Explore: 16 Ways To Save Money on Food
Avoid: Supermarket Buys That Are a Waste of Money
Order Food From Restaurants With Deals
If you don't want to ask people to bring sides, and you don't feel like either shopping for or making a bunch of dishes, consider ordering food from a restaurant that is offering Labor Day specials. According to Thrillist, there are a ton of restaurants offering deals, ranging from Mexican food to baby back ribs, pizza to tacos.
Make Your Money Work for You
Go Light on the Fare
If the weather is still hot where you are by Labor Day, consider choosing lighter fare that's more snack-based and make the focus of the barbecue more about spending time together or playing games (or maybe swimming in a pool or lake) than eating big meals. The Penny Hoarder recommends such affordable items as watermelon, deviled eggs, infused lemonade, pickles on a stick and s'mores.
More From GOBankingRates
Last updated: Aug. 30, 2021
Make Your Money Work for You