15 Ways To Save on a Holiday Meal, Even If You Don't Want To Cook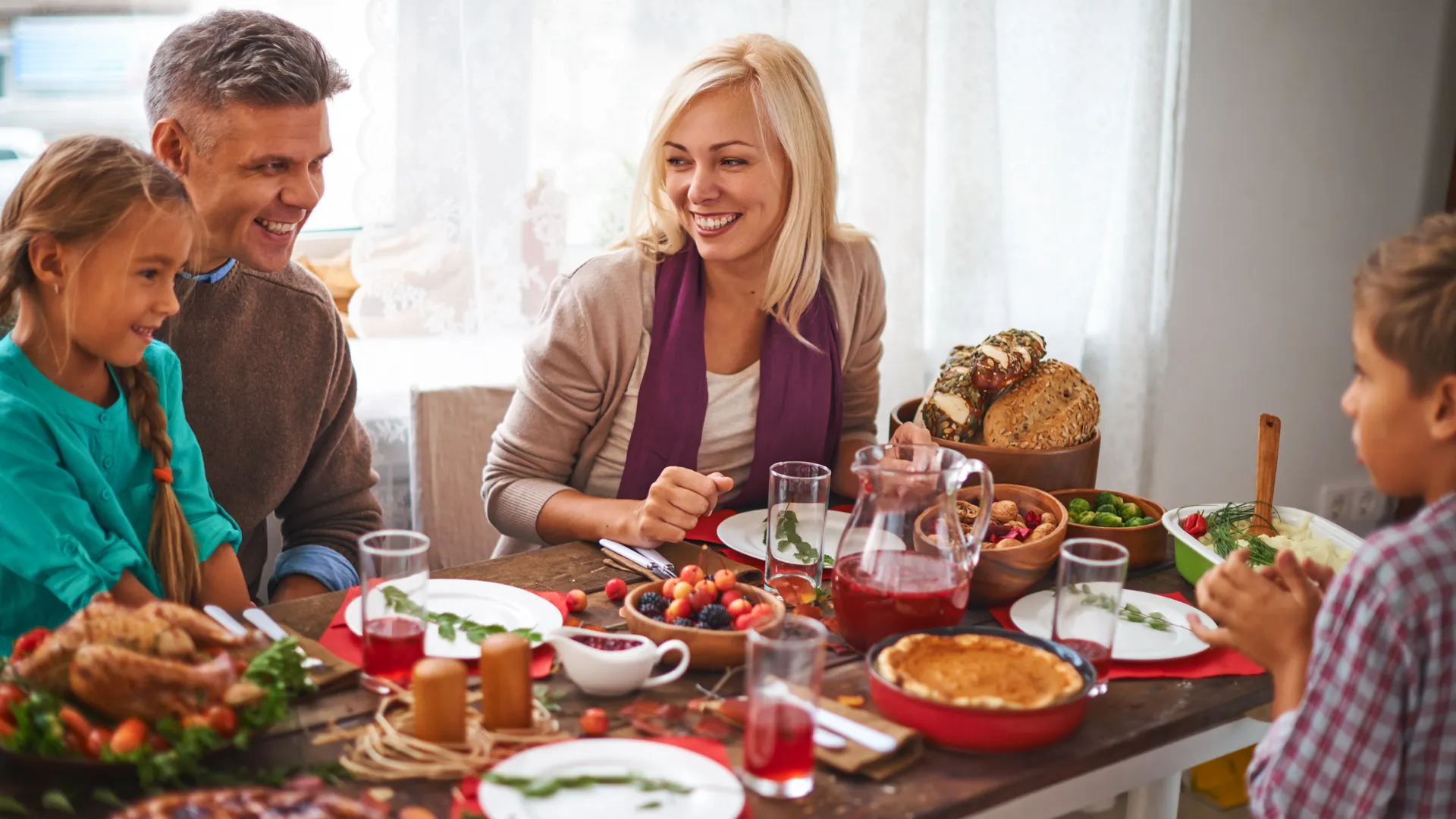 With the holidays comes immense pressure to cook, and while that's usually perceived as the more affordable option to dining out or getting takeout, this year the savings value isn't so clear. Inflation is making the cost of fresh groceries soar.  
"While this holiday season promises to be more cheerful as we emerge from the pandemic, it will also be more expensive due to supply chain issues and inflation," said Daniel Roccato, financial analyst at Credible. "Inflation stands at a nearly 13-year high at 5.4 percent. Consumers can expect to pay at least on average 10-15 percent more to celebrate the holidays this year. This includes putting food on the table. For example, meat, poultry and fish are up 10 percent and fresh produce is up 5.4 percent compared to last year." So, if cooking isn't exactly your forte — or you simply just don't feel like doing it this year, but you do want to host for the holidays, opting for premade meals can, in some instances, be more affordable. And, with a few hacks and strategies, you can get even more bang for your buck whether you're dining out, doing take out and so on.
Budget For It 
"Something that is a good practice is to have a section of your budget dedicated to dining out, and then in the month prior to the holidays, spend less money in that area," said Jake Hill, CEO of DebtHammer. "Then, however much you saved that month, transfer it over to your dining out budget during the holidays. That way, if you end up spending more money dining out, you are still covered."
Use Coupon Codes for Deals on Takeout 
"CouponFollow.com has some promising food deals, including $25 off your first UberEats purchase through 11/30 with code VETERANS," said Trae Bodge, smart shopping expert at Truetrae.com. "I've also found that if you visit a food delivery app that you're registered with, you'll often receive an email with a savings offer shortly thereafter."
Make Your Money Work for You
Sign Up for a Meal Kit Delivery Service Offering Introductory Perks
"If you don't mind doing a little work to prep your meal, Blue Apronis offering $110 off your first four boxes through the end of the year through CouponFollow.com," Bodge said. "If you're curious about another meal kit service, visit their website. It's very common for these services to have introductory offers for first time users, especially if you are willing to sign up for their emails." 
If you're already a subscriber to a meal kit delivery service, look into whether there are other discounts you can score. "Every meal kit service has its own system of subscriptions, sales, and rewards that can help you save money," said Brian Nagele, CEO of Restaurant Clicks. "For example, Harry & David, a top-notch option for ready-to-eat meals, has tailored club systems for frequent customers. If you use a meal kit app regularly, look for perks they offer for repeat customers."
Use Wholesale Club Memberships When Buying Premade Food
"If you are entertaining during the holidays and looking to save time and money, utilize your wholesale club membership," Bodge said. "From roasted chickens to cakes, Sam's Club and Costco have many pre-made foods available that are very well-priced."
Premade Foods Are Pricier — Except When It Comes To Desserts 
"Most things you want to buy pre-made will wind up costing more than if you made them yourself," said Tiara Rea-Palmer, head of retail at CouponFollow. "However, one thing that will likely save you money is desserts. Baking a cake or pie takes a lot of time and money for ingredients, and some ingredients you'll only use once, and the rest may go to waste. Try ordering from a site like GoldBelly, where you can support local restaurants around the U.S. and save a bit on delicious treats too."
Make Your Money Work for You
Premade Baking Mix Is Also Cost-Effective 
"From cake mix to boxed cornbread, these mixes are excellent cost savers and produce wonderful food," said Jim Mumford, cookbook author and chemical engineer, Jim Cooks Food Good. "Pre-measured ingredients save time and money, as there's no need to buy a large box of something that you'll never use in time. Additionally, these mixes often have other ingredients that help with texture and flavor that homemade would never have."
Mumford lent the following example to illustrate the savings benefits of premade baking mixes: "A box of cornbread mix, when made, is about 75 cents. Making this from scratch only breaks even if either 20 batches of cornbread are made, or you have uses for all that corn meal, shortening, etc."
Get Vouchers From Sites Like Restaurant.com — And Tie In Cash-Back Offers
"Sites like Restaurant.com have restaurant vouchers that you can purchase to save at your favorite eateries," Bodge said. "This is already an excellent value, but if you visit the Restaurant.com page on deals site CouponCabin.com first, you could earn a generous 27.5% cashback plus 4% bonus cash on your Restaurant.com purchase."
Visit New Restaurants 
Consumers may also save on dining out with newly opened restaurants that are looking to build momentum with introductory deals. 
"When restaurants first open, they want customers and will offer discounts and specials," Nagele said. "To find out about new restaurant openings, subscribe to restaurant blogs in your area or national publications like Eater.com or Tablehopper.com."
Make Your Money Work for You
Sign Up for Restaurant Newsletters and Follow Them on Social Media 
"Sign up for the restaurants you love on their social media and newsletters," Rea-Palmer said. "During the holidays, major chains will often send you special offers and coupons. Sites like CouponFollow.com are good places to source these codes. You can try a browser extension that finds them for you at checkout. Cently is one of the most popular ones, and some stores with coupons also give you cashback too, so you earn while you shop."
Buy Restaurant Gift Cards 
"Many restaurants will offer gift card deals for the holidays," Rea-Palmer said. "Like 'Buy $25 in gift cards to get a free $5 gift card'. So you can stock up to save for yourself or give to others."
Skip Alcohol and Appetizers  
"When dining out, avoid appetizers and beverages if you want to save money," said Seb Evans, co-founder of Banquist. "Order water instead, and simply order a main course. Or, order an appetizer, and share a main course with your dining partner."
Take Advantage of BYOB When Available
"Some restaurants even allow you to BYOW — Bring Your Own Wine — on particular evenings during the week which can also save you some money," said Sandy Yong, author of "The Money Master."
It's also a good idea to call restaurants ahead and ask if it's OK to BYOB. Some will allow you to do it regardless of whether they advertise it.
Check Out: Your Complete Guide To Getting Ahead and Saving on Holiday Shopping
Make Your Money Work for You
Order Big Meals That Can Be Refrigerated 
"If you're ordering takeout, I'd suggest ordering food that will still be good a few days later," Evans said. "Make use of leftovers, it will allow you to stretch your take-out budget."
Important: 
Pay For Takeout With Cash Instead of With a Credit Card 
"You can save on takeout food for the holidays by paying cash instead of credit card," Yong said. "Some restaurants will take 10% off your bill which is a great way to shave off the costs of your food order. [Just] be sure to leave a generous tip for the hard working restaurant staff serving you."
Keep a Stock of Food in Your Freezer
"You never know when people are going to come over during the holidays and you are most likely to overspend when you are surprised or feel under pressure," said Leif Kristjansen, founder and president of the personal finance site Five Year FIRE Escape. "My freezer always has some safety stock of appetizers and a reasonable main course just for such an occasion. A friend came over last weekend for dinner when I wasn't expecting it. Usually I would have ordered a pizza, but I had appetizers and breaded fish ready to go."
More From GOBankingRates

BEFORE YOU GO
See Today's Best
Banking Offers