Wealthy Consumers Aren't Quitting Their Discount Retail Habit Thanks to Fresh Groceries from Dollar General & Aldi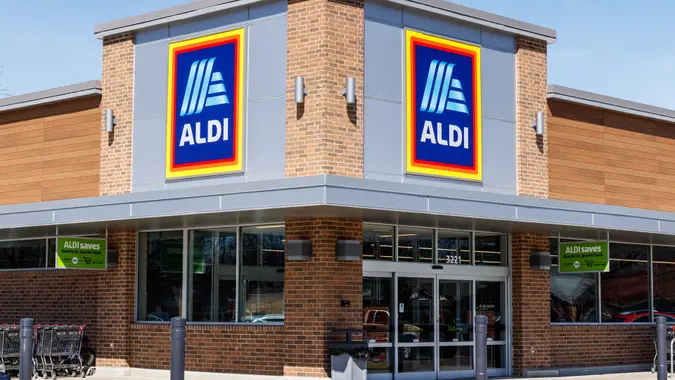 jetcityimage / Getty Images
If your definition of wealth includes being able to shop wherever you want, whenever you want, you might be surprised to learn that consumers in the higher tax brackets are still turning to discount stores to stretch their dollars.
Earlier this year, amidst record-high inflation, GOBankingRates reported that dollar stores had become the fastest-growing retail chain for food, ahead of wholesale clubs like Costco and superstores like Target and Walmart.
Now, as inflation is beginning to ease, people aren't dropping their dollar store and discount shopping habits. A series of surveys from Morning Consult found that households earning $100,000 or more are 15% more likely to shop at dollar stores than they were in June 2022. The percentage of higher-income consumers shopping at dollar stores rose from 39% to 45% since last year.
Sales figures show that in addition to shopping at places like Dollar Tree and Family Dollar, consumers are also turning to discount grocery chains like Aldi to stretch their food budget. Aldi's customer base has grown by 9.4 million in 2022, according to Convenience.org. The company, which opened its first store in the U.S. in 1976, is adding 120 new stores this year. The expansion comes on the heels of the opening or remodeling of 123 stores in 2022.
Fresh Produce and TikTok Leads to Growth for Discount Stores
Dollar General, a discount store that sells name brands and private-label foods, household goods, and other items for less than you'd find at other retailers, has also shown growth in the past year. The retailer added fresh produce in 3,900 stores, according to the Wall Street Journal.
Make Your Money Work for You
Influencers on TikTok showcasing dollar store bargains have also attracted consumers from every income demographic. TikTok videos using #dollartree have garnered 7.6 billion views, with accounts like @dollartreedinners attracting nearly 912,000 followers.
More From GOBankingRates