We Tasted 2017's Weirdest Fast Foods — and the Results Were Mixed
See how Arby's, Del Taco, Five Guys and more fared.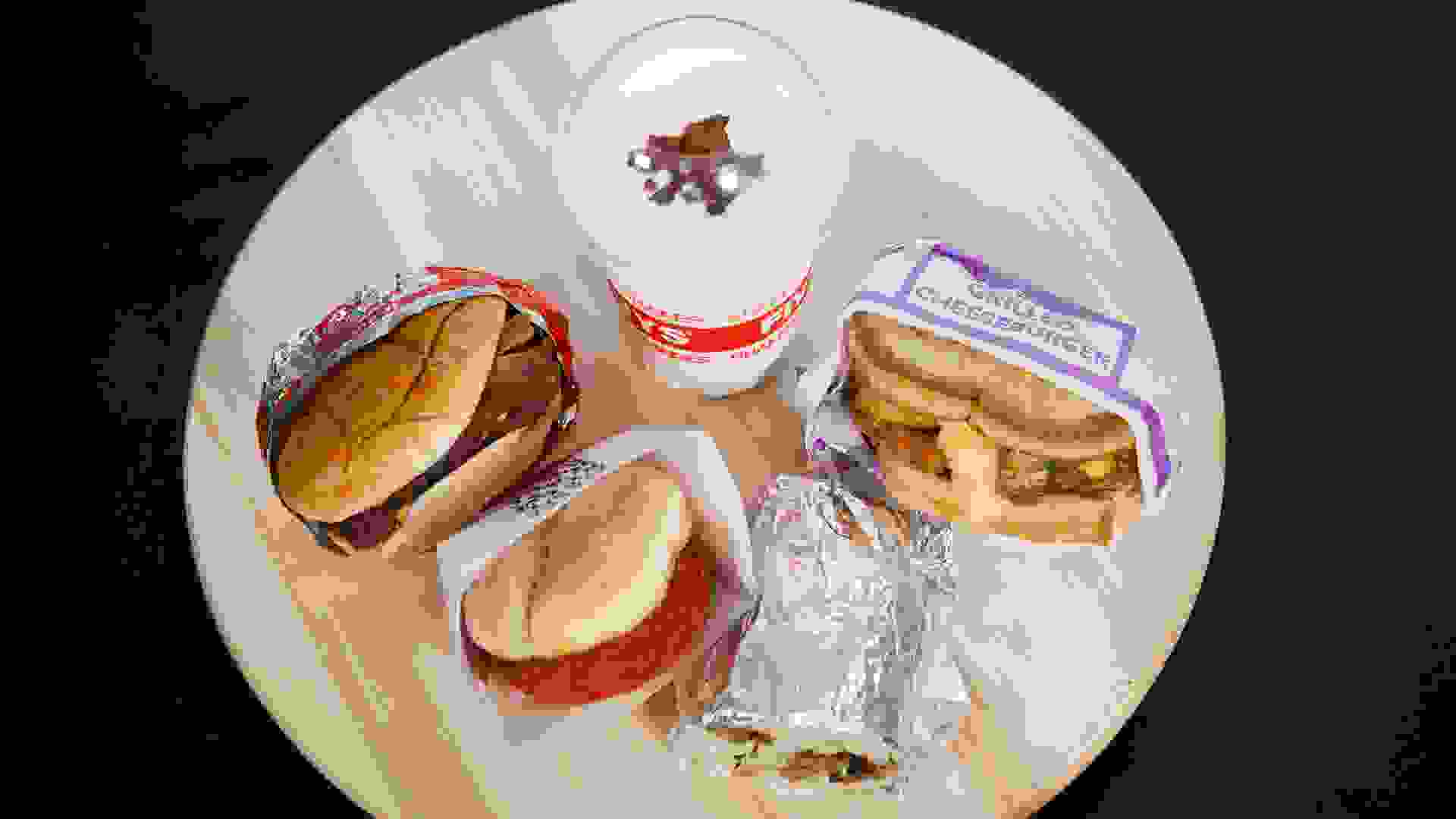 Fast food restaurants are constantly introducing new menu items to grab attention and boost sales. Some new food items end up becoming beloved additions to the menu, while others are just a little too odd to catch on with consumers.
GOBankingRates asked its staff members to taste test some of the weirdest fast food items available in 2017, and not all of them were crowd-pleasers. Find out which were the best fast food items, and which weird fast food orders you shouldn't waste your money on.
Make Your Money Work for You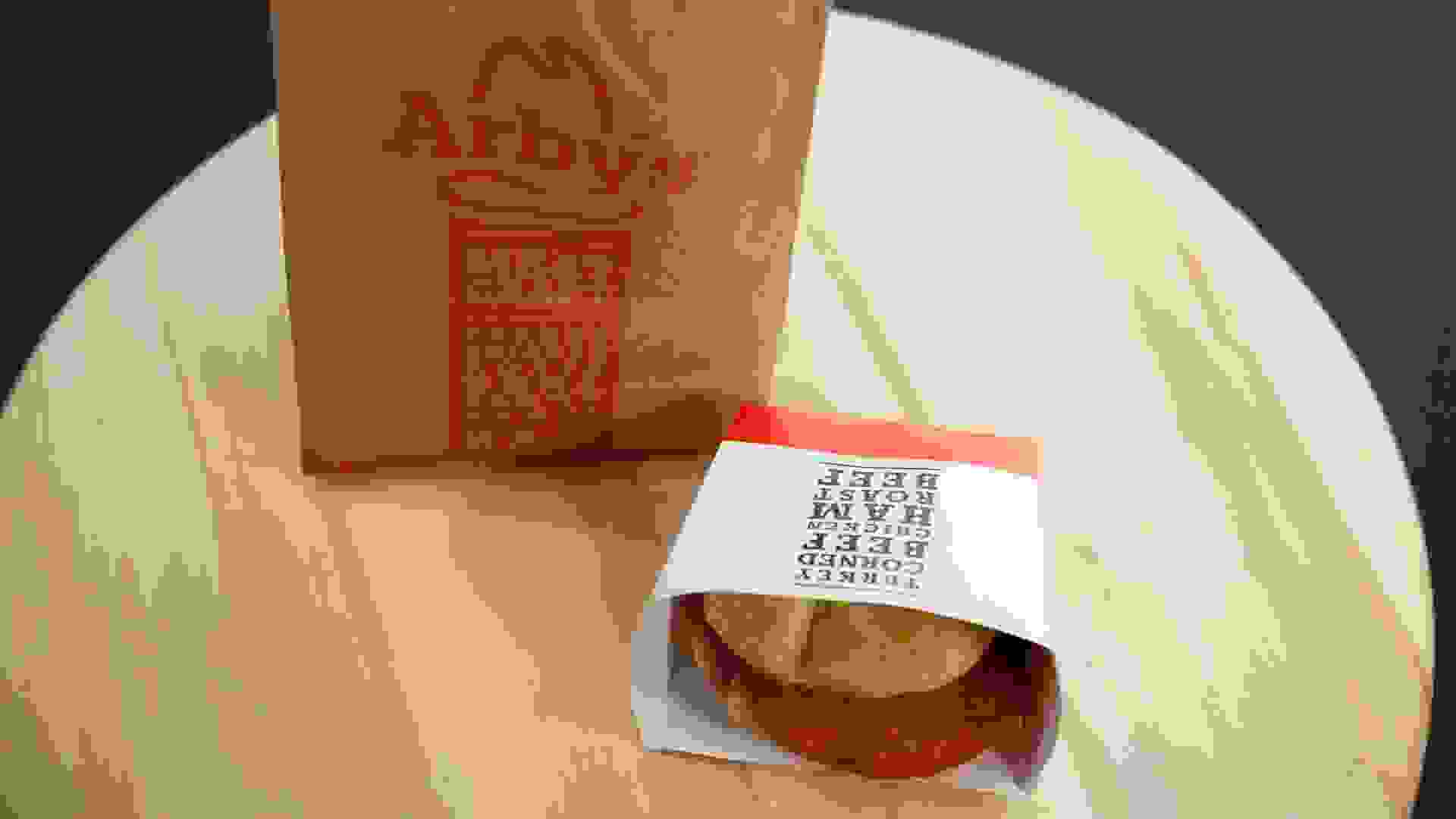 Arby's Pizza Slider
Cost: $1.49
Arby's Pizza Slider off its "Limited Time" menu puts your favorite pizza toppings on a mini bun. The slider is filled with pepperoni, provolone cheese, Genoa salami and roasted garlic marinara.
Arby's introduced the Pizza Slider in May 2017, and when it launched it was only supposed to be available through the end of June. However, its run has been extended.
Arby's Is Soaring: The Biggest Changes to the Fast Food Industry in 2017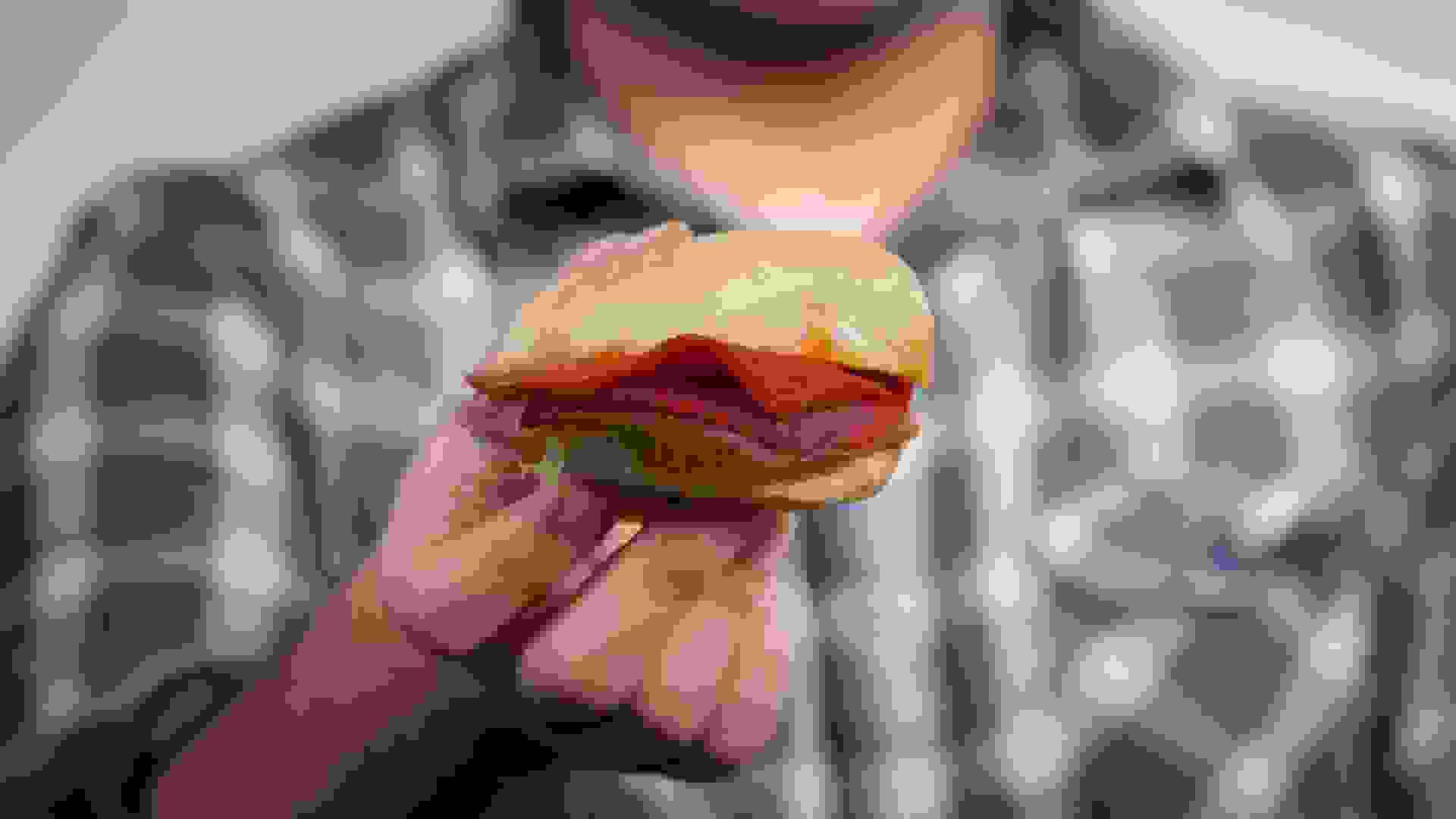 Taste-Testing the Arby's Pizza Slider
The Pizza Slider ended up being a divisive food item, with some of our testers rating it highly, while others were less impressed with the pizza-on-a-bun concept.
One tester raved that the "flavor in this actually is exploding," and stated that he "could eat two or three of these if I were really hungry. If you're in the mood for pepperoni, this is your go-to. I would totally buy this."
However, a less enthusiastic tester said the Pizza Slider was "disgusting," describing the overall flavor as "sour." "It doesn't even taste like a pizza," he said. "It's gross."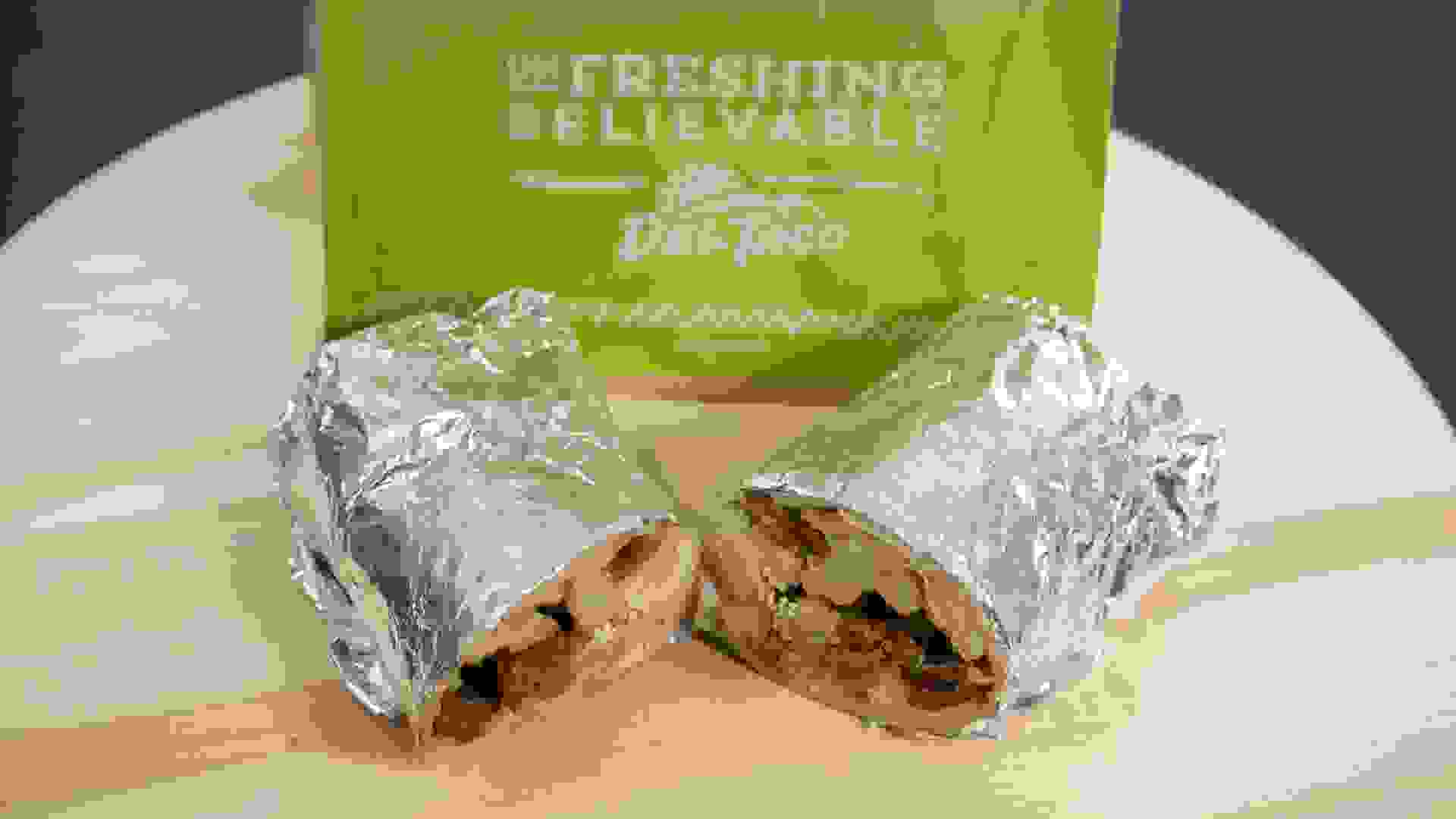 Del Taco Epic Cali Steak & Guac Burrito
Cost: $5.59
Del Taco shunned the typical rice and beans fillings when it introduced the Epic Cali Steak & Guac Burrito to the menu. The burrito promises to be a combination of "all your favorite California tastes," and is stuffed with carne asada, guacamole, crinkle-cut fries, sour cream and handmade pico de gallo salsa.
Del Taco originally launched the Epic Cali Steak & Guac Burrito in June 2014, and it has been a menu staple ever since.
Eat Around the World: What These Fast Food Favorites Will Cost You in 10 Different Countries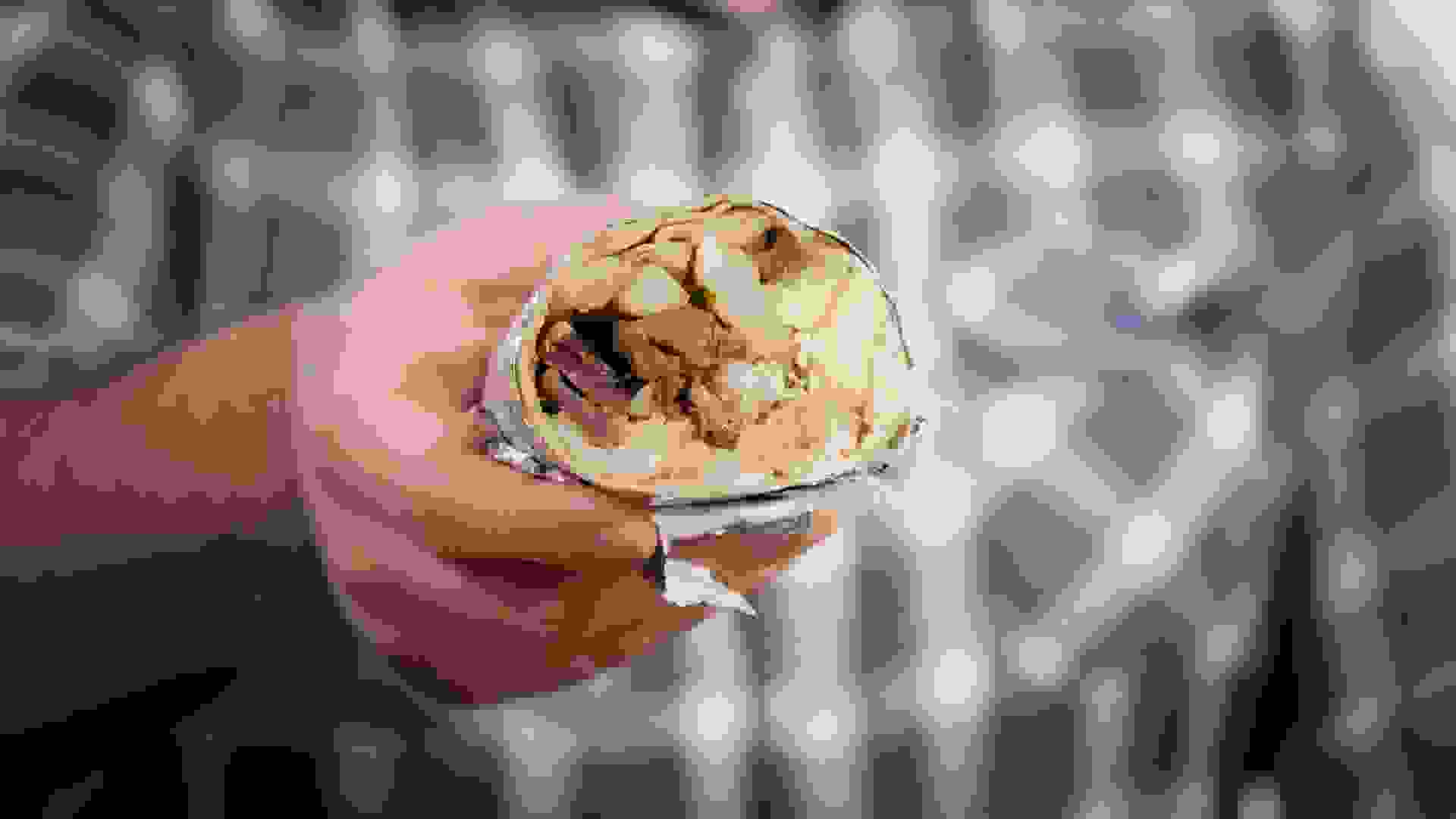 Taste-Testing the Del Taco Epic Cali Steak & Guac Burrito
The Epic Cali Steak & Guac Burrito doesn't deserve the "epic" title, according to our taste-testers, who felt the burrito fell short of expectations.
"The fry can make it or break it, and I think in this case, it kind of broke it," said one tester. "I think had the fries been a little bit less soggy, I probably would be more into it. I would buy it without the fries." But as it stands, the more than $5 price tag for the burrito is "not worth it."
"I can get a burrito at a mom-and-pop shop for $3 that tastes way better than this," said another tester.
Make Your Money Work for You
Five Guys Vanilla Milkshake With Bacon Mix-In
Cost: $4.50
Select Five Guys locations serve hand-spun vanilla milkshakes with a variety of free mix-ins available, including bananas, Oreo cookie pieces and salted caramel. But the mix-in that caught our attention was bacon. Yes, you can add bacon to your milkshake at the popular burger chain, which began serving milkshakes at some locations in April 2014.
Find out if the salty-sweet combo was a hit or miss.
Related: 8 Cheap Fast Food Menu Items That Are Under 400 Calories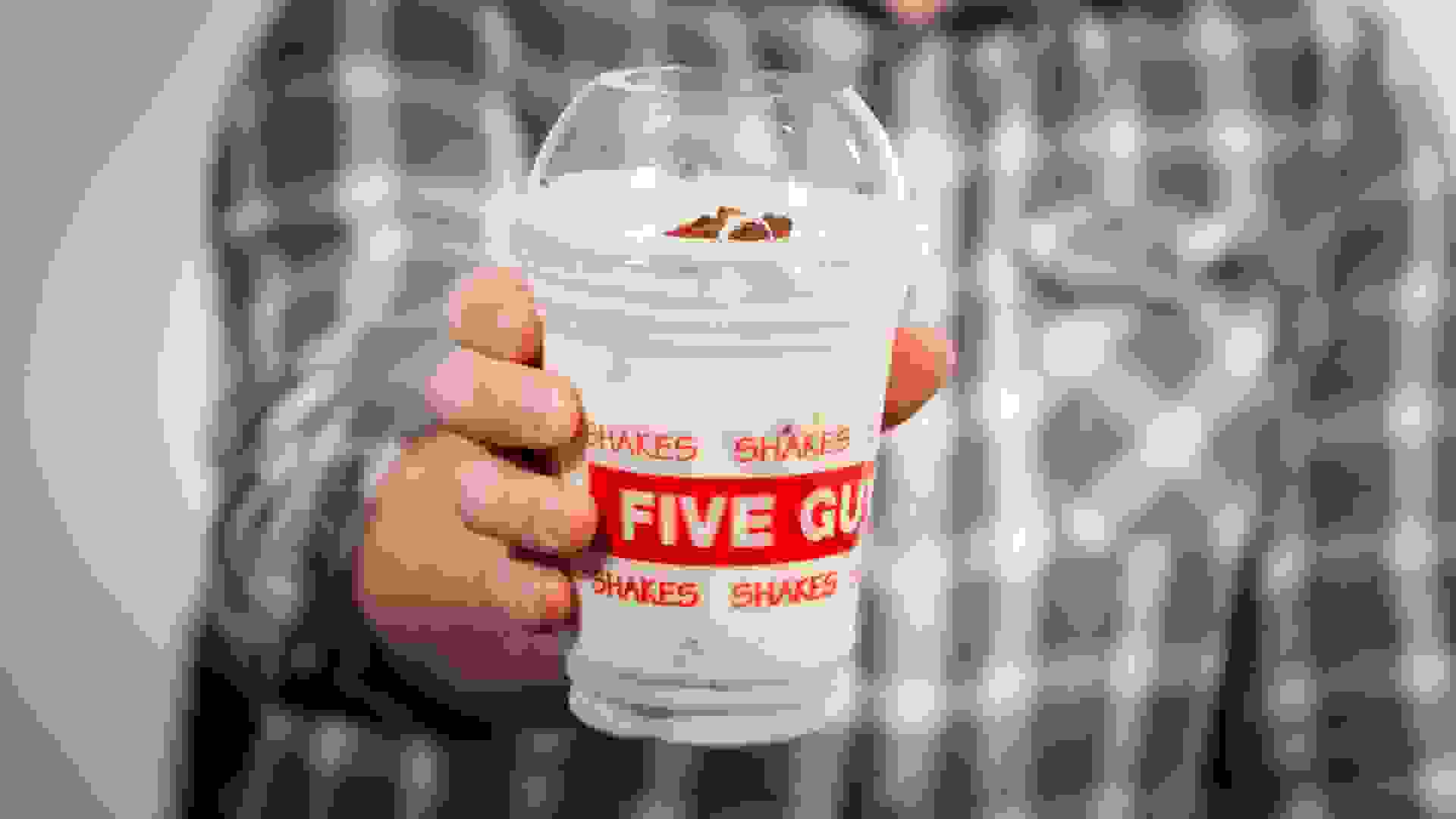 Taste-Testing the Five Guys Vanilla Milkshake With Bacon Mix-In
Three out of four of our testers did not like the combo of bacon and vanilla.
"People think they can put bacon in everything, but I feel like you're taking away from the actual milkshake when you do that," said one tester. "It was good up until I tasted the bacon. It doesn't belong. I just wish this didn't have the bacon in it, because then I could really enjoy this."
"I don't know about bacon and dairy," said another tester. "Obviously someone was under the influence when they came up with this idea."
However, one tester was a fan of the combination.
"The ice cream hits your palate first, and it's cool and sweet, and then that kind of melts away and you get the taste of the bacon bit," he said. "It's pleasant, it's not overbearing, it's not super salty. I personally like it because I'm a fan of savory things."
What's After Bacon: See the Food Trends That Are Gaining Traction Now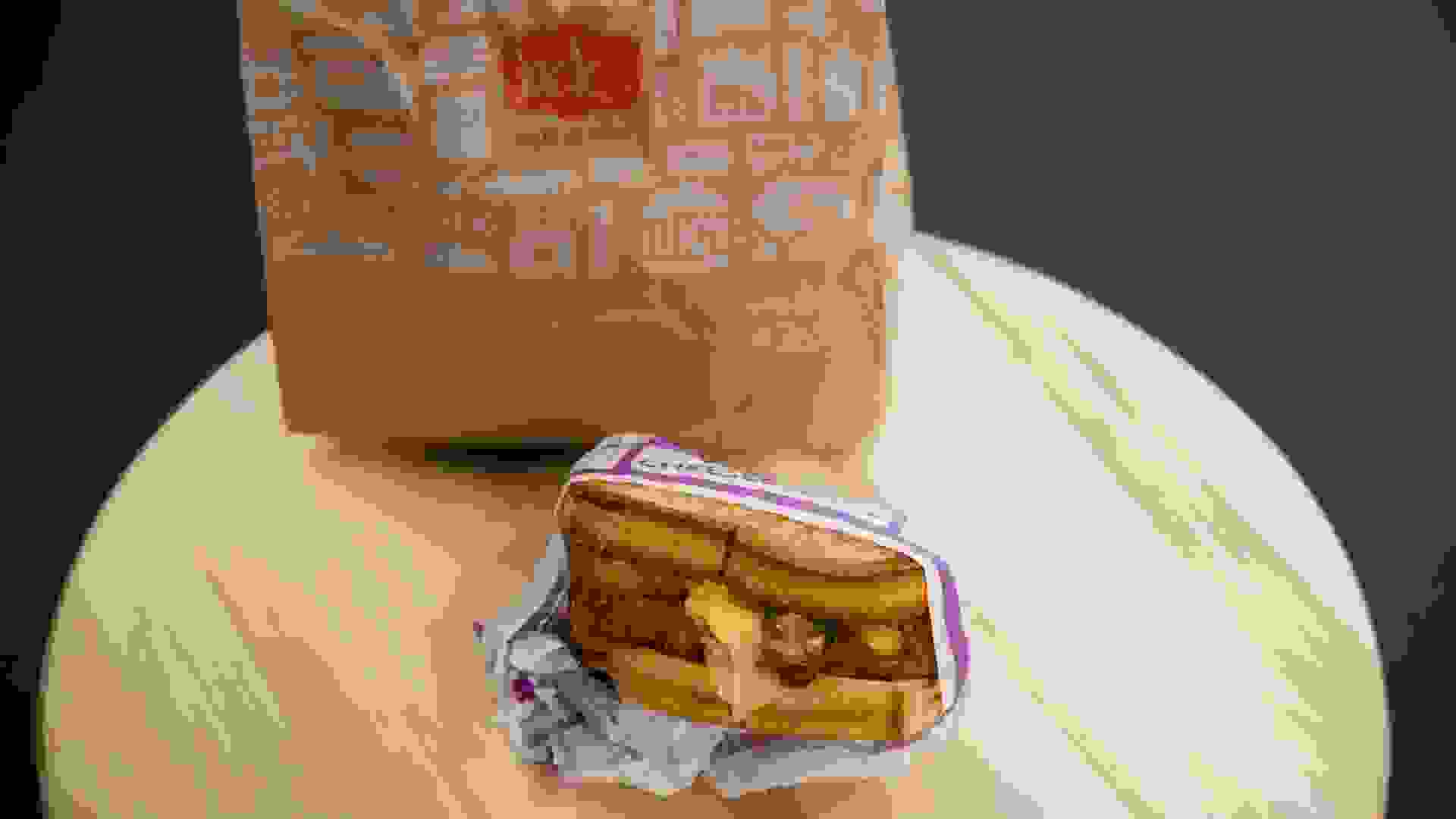 Jack in the Box Spicy Nacho Chicken Sandwich
Cost: $6
Jack in the Box's Spicy Nacho Chicken Sandwich takes their crispy chicken sandwich to the next level by topping it with nacho cheese sauce, jalapenos and onion rings. The sandwich is part of a "Munchie Meal" on the chain's late-night menu, which is available beginning at 9 p.m. The $6 meal also includes two regular tacos, halfsie fries — a mix of onion rings and French fries — and a small fountain drink.
The Spicy Nacho Chicken Sandwich was added to Jack in the Box's Munchie Meal line-up in July 2015, and the hot and spicy menu item has been satisfying (some) late-night diners ever since.
Make Your Money Work for You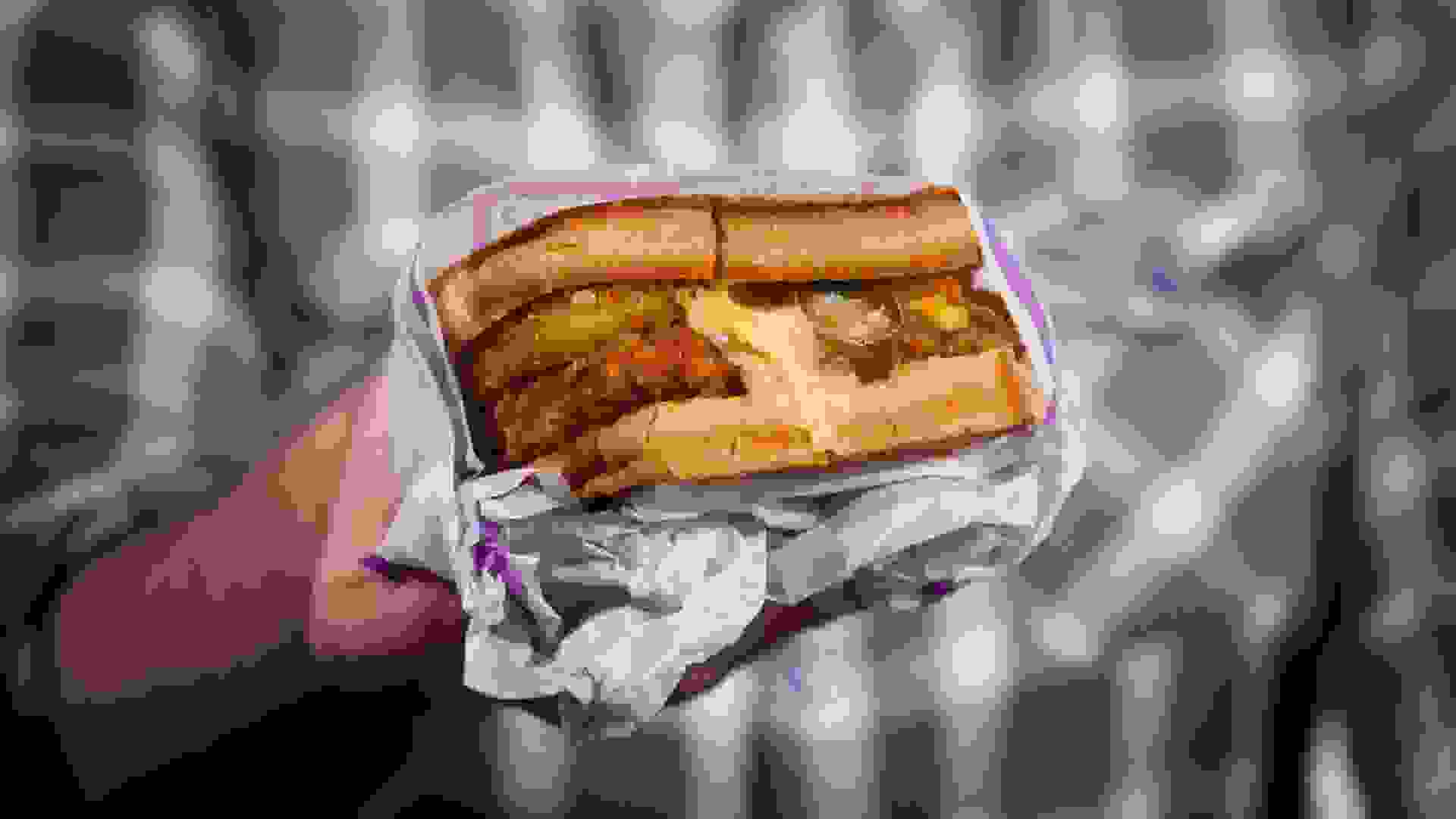 Taste-Testing the Jack in the Box Spicy Nacho Chicken Sandwich
Our testers were split 50/50 when it came to the Spicy Nacho Chicken Sandwich, with some loving it and others hating it.
"This is actually more delicious than it looks," said one tester. "If you love fried food, you will love this. This is delicious. The chicken is really juicy." The tester also noted that getting a whole meal for $6 makes it a great fast food deal.
But not all the testers were on board with the chicken nacho sandwich combo.
"It's too much going on," said a different tester. "Bread and jalapenos don't really mix. I definitely would not buy this."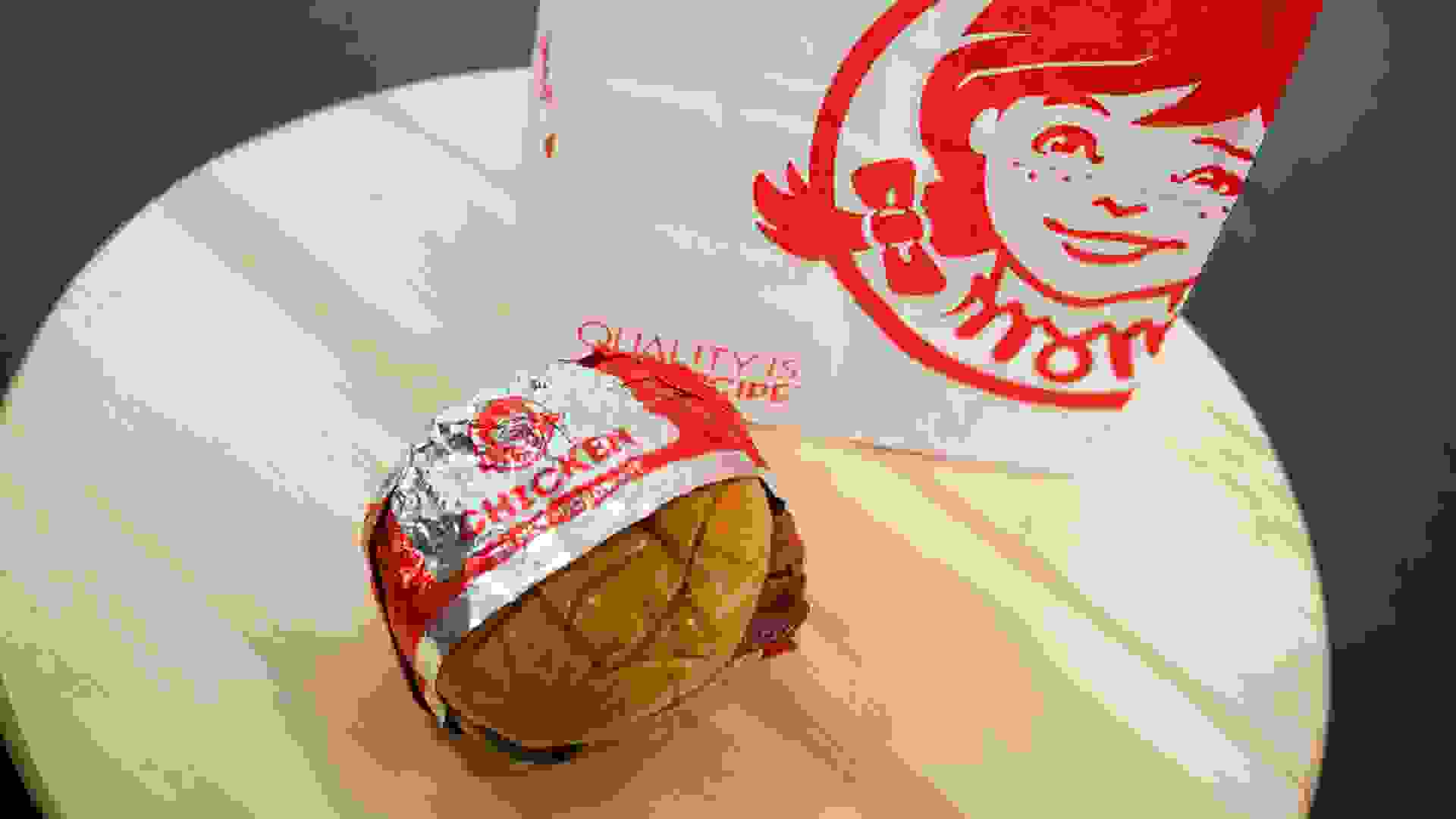 Wendy's Baconator
Cost: $6.99
Wendy's Baconator burger — which was launched in July 2007 and has remained popular with customers over the past decade — features two quarter-pound patties with six strips of bacon and "not a single veggie to get in the way." That's a lot of meat. But is it worth the price tag?
Know What to Ask for: The Hottest Secret Menu Fast Food Items Under $10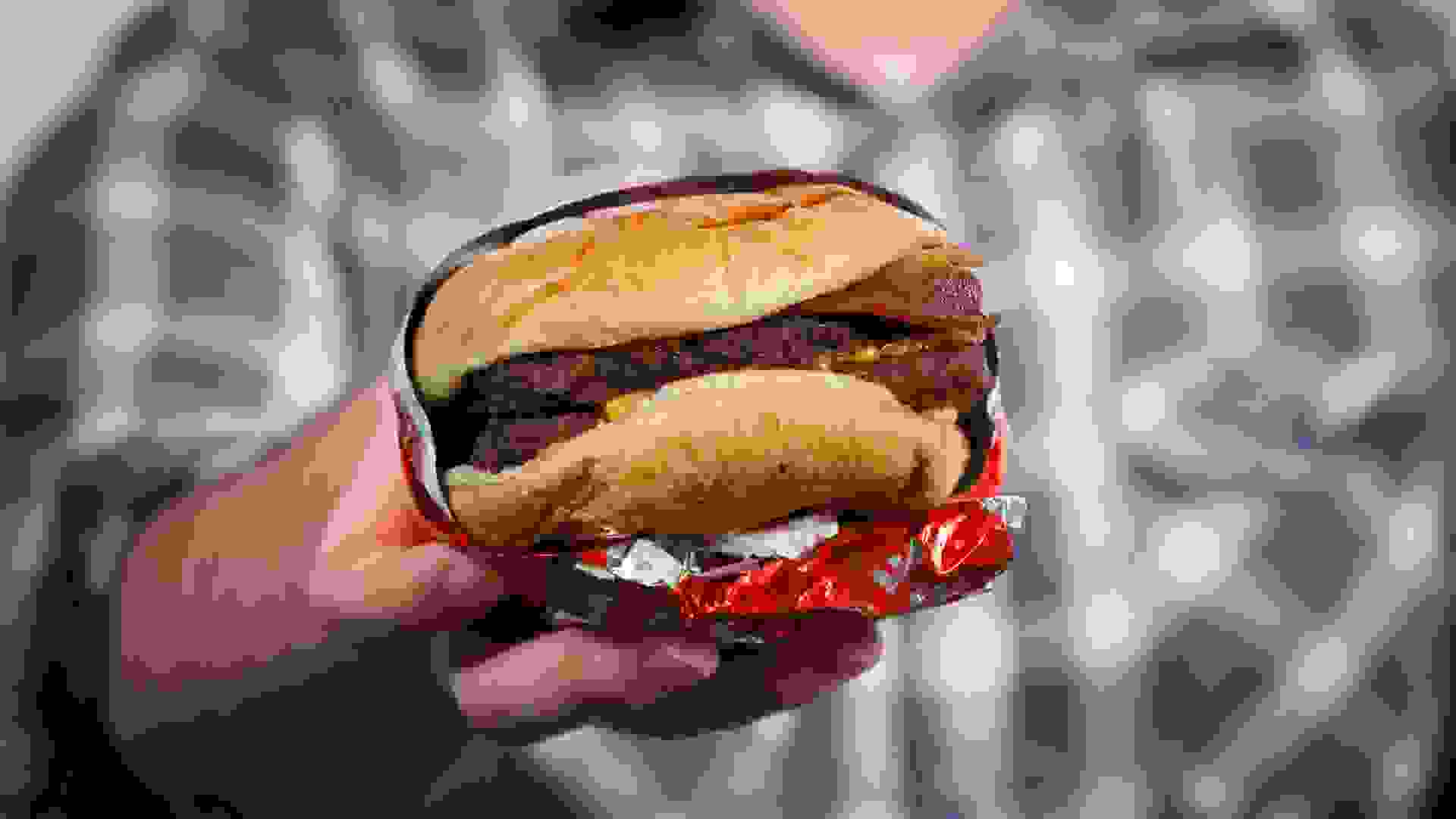 Taste-Testing the Wendy's Baconator
Our taste-testers were impressed with the flavor of Wendy's Baconator, but were less impressed with the price.
"I like that the bacon is actually pretty thick," said one tester. "It's definitely not your average hamburger and it does have some pizzazz to it … but I don't know if it's $7-worthy."
Another tester agreed that the quality was better-than-average, but they still wouldn't pay $6.99 for just the burger alone.
"This is Grade A bacon for me, at least in terms of fast food," she said, but it's "really expensive. This will fill you up, but I need some kind of fries."
And the Winner Is…
It's a tie. Our testers were evenly divided between the Arby's Pizza Slider and the Jack in the Box Spicy Chicken Nacho Sandwich for the best weird fast food item of 2017. Here's why these two menu items came out on top:
Winner No. 1: Arby's Pizza Slider
"It had the most flavor and it wasn't overwhelming," said one tester who chose it as her favorite. "It kind of melted in my mouth."
The other tester who chose the Pizza Slider as his best overall loved the fact that the sandwich is "so cheap," plus, he was a fan of the mix of flavors. "It's so good."
Winner No. 2: Jack in the Box Spicy Nacho Chicken Sandwich
"That was one of the most delicious things, and the price is good," said one tester who chose it as her favorite — though she did have a couple of complaints. "I wasn't down for the nacho cheese because it was kind of messy," and the other "downside is you have to wait until 9 p.m."
About the Author