Will Grocery Store Prices Keep Soaring?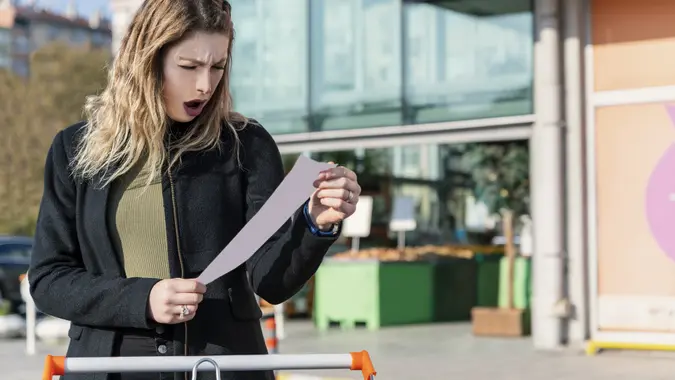 sefa ozel / iStock.com
Food prices, unfortunately, are not likely to decrease next year. The Food Price Outlook, 2022 and 2023 report from the U.S. Department of Agriculture Economic Research Service (USDA ERS) summarizes September 2022 forecasts, incorporating the August 2022 Consumer Price Index (CPI) and Producer Price Index (PPI) numbers. Here's what the forecast for food prices in 2023 may potentially look like for consumers.
Discover: 9 Biggest Deals at Costco in October
Related: If Your Credit Score Is Under 740, Make These 4 Moves Now
How the Level of Food Price Inflation Varies
Before we look at the Food Price Outlook, 2022 and 2023, it's important to break down the varying levels of food price inflation. The Food Price Outlook, 2022 and 2023 noted there's a difference in food-at-home CPI versus food-away-from-home CPI.
Food-at-home consists of grocery store or supermarket food purchases. Food-at-home CPI increased 0.7% from July 2022 to August 2022. It was 13.5% higher than August 2021.
Food-away-from-home consists of restaurant purchases. Food-away-from-home CPI increased 0.9% in August 2022. It was 8% higher than August 2021.
According to the report, the all-items CPI did not change from July 2022 to August 2022. The CPI for all food increased 0.8% from July 2022 to August 2022. Food prices were 11.4% higher than in August 2021.
Slow Growth in 2023
According to the report, food prices are expected to grow more slowly in 2023 than in 2022. However, they will still continue to grow at above historical average rates. 
Make Your Money Work for You
Overall, food price inflation is predicted to increase between 2.5% and 3.5 percent. Food-at-home prices are forecast to increase between 2-3 percent. A 3-4% increase is anticipated for food-away-from-home prices.
Take Our Poll: Are You Struggling To Keep Up With Your Utility Bills?
What's Contributing To Increasing Food Prices?
Several factors are influencing ongoing food price increases. In the report, the USDA examines key contributing factors which are driving up food prices.
Avian Influenza Outbreak
Elevated egg prices and increasing poultry prices have been largely due to the avian influenza. This outbreak has significantly reduced the U.S. egg-layer flock. According to the USDA, over 44 million birds, 209 commercial flocks and 39 U.S. states have been affected by HPAI. Retail egg prices increased 2.9% in August 2022, following large increases in April, May and July 2022. Egg prices are now 39.8% higher compared to August 2021.
Economy-Wide Factors
Certain economy-wide factors are contributing to increases in prices across food categories. These include the following:
Ongoing supply chain issues
Energy costs
Transportation costs
Labor costs
Will We Ever Get Back to "Normal" Food Prices?
While it's difficult to predict when, exactly, food prices will start to come down, it doesn't hurt to start being optimistic about the gradual end of inflation.
In an Op-Ed with The Wall Street Journal, Alan Blinder, professor of economics and public affairs at Princeton University and former vice chairman of the Federal Reserve, wrote we are not likely doomed to high inflation for years. 
Make Your Money Work for You
"One day, hopefully soon, food and energy prices will level off and the supply chain problems will dissipate," Blinder wrote. "Depending on the details of timing, inflation will fall as quickly and dramatically as it rose. We've seen it happen before."
More From GOBankingRates
Make Your Money Work for You