Biden Administration Doubles Free COVID-19 Test Limit for Third Round – Here's How to Get Yours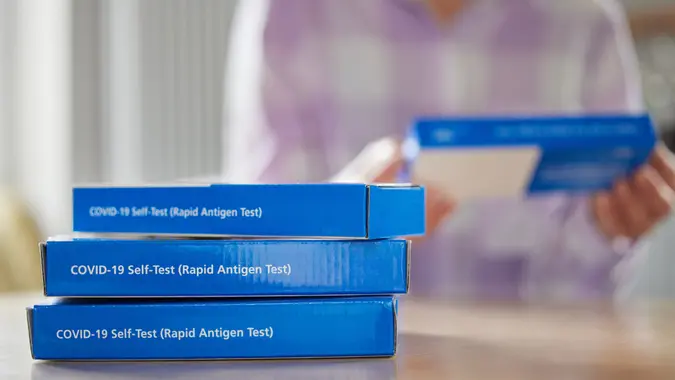 Daisy-Daisy / Getty Images/iStockphoto
The U.S. government is now making it easier than ever to get at-home COVID-19 tests free of charge, so you can easily test whenever you suspect you may have coronavirus.
See: Unplug These Appliances That Hike Up Your Electricity Bill
Find:8 Items Around Your Home That May Be Worth More Than You Think
The Biden Administration is now offering up to eight free at-home tests to every U.S. household. In a statement released by the White House Tuesday, May 17, 2022, the Biden Administration announced that COVID.gov/tests, the site to order your free tests, is open for a third round. This brings the total number of tests available for each household up to 16, according to the White House Fact Sheet.
The Centers for Disease Control and Prevention recommends testing for COVID-19 as soon as possible if you show any signs of the virus. If you think you've been exposed to someone with coronavirus, you should test at least five days following that contact — sooner if you experience symptoms. Early testing can help you get treatment faster and also help stop the spread of the highly contagious virus.
Make Your Money Work for You
To date, the U.S. Postal Service has delivered roughly 350 free tests to U.S. households, overseas military bases and residents of U.S. territories.
You can order your eight rapid antigen tests for free, with free shipping through the USPS. The tests will come in two packages of four, with two separate tracking numbers. Simply visit special.usps.com/testkits and enter your name, email (for shipping notifications) and mailing address. Tests can ship to street addresses or P.O. Boxes.
COVID tests are also readily available at pharmacies and retailers like Walmart and Target and through Amazon. Depending on your insurance provider, you might be able to get reimbursed for the cost, up to $12 per test, according to GoBankingRates.
POLL: Have You Skipped Any of These Essential Expenses Due to Rising Prices?
Discover: 22 Side Gigs That Can Make You Richer Than a Full-Time Job
But in this era of rising costs, claiming your free COVID-19 tests from the government is one simple way to save some money.  
More From GOBankingRates
Make Your Money Work for You