Costco Optical: Cost of Prescription Glasses and More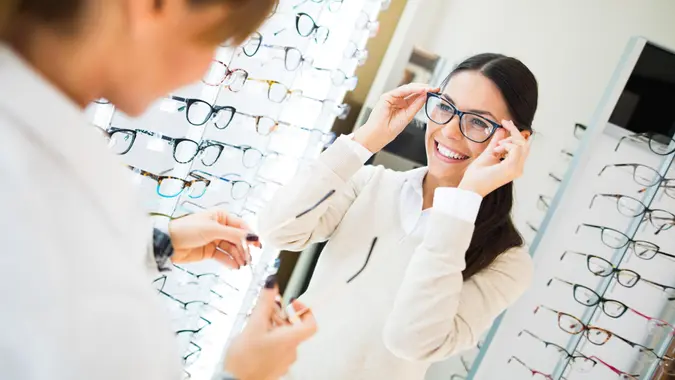 Emir Memedovski / Getty Images
With the proper prescription, hindsight won't be the only thing with 20-20 vision. Getting your eyes examined and a prescription is easy, paying for it on the other hand can be a bit more difficult. Depending on your prescription and what kind of vision insurance plan you have or what kind of frames and lenses you require, your eye care can be hundreds of dollars. Next time you go to buy glasses maybe it's time to save some money and focus on a different kind of optical department.
About Costco Optical
Costco Optical is not only often ranked highly by Consumer Reports, but it also employs independent doctors of optometry at a majority of its locations. Though you don't need a Costco membership to get an eye exam, you do need to be a Costco member to purchase pairs of glasses or contact lenses. 
How Much Are Prescription Glasses at Costco?
If you go with the Costco Kirkland Signature brand you'll save a lot of money compared to what other leading competitors or eye doctors charge. Here's a breakdown of how much prescription eyeglasses are at Costco.
| Product or Service | Average Price |
| --- | --- |
| Eyeglass frame | $185 |
| Eye exam | $70 |
How Much Are Contact Lenses at Costco?
Contact prices can vary widely by brand but here is a look at what you can expect to pay for Kirkland Signature lenses.
| Contact Lens | Quantity | Price |
| --- | --- | --- |
| Costco Kirkland Signature Lenses | 180 lenses per box | $117.99 |
Other Benefits of Costco Optical
Costco is more than just a place where you can buy toilet paper in bulk, it also can be a source to cover your eye care needs. Here are some benefits to keep in mind:
Customer service: Costco Optical is often highly ranked by Consumer Reports for factors such as customer service and convenience.
Insurance: Costco eye centers accept most vision insurance plans.
Costco membership: You do not have to be a Costco member to get an eye exam. However, be aware that you do need to be a Costco member to purchase eyeglasses or contact lenses.
Return policy: You can return the glasses or contact lenses if you are unhappy with the product for a full refund.
Free adjustments: If you are having difficulty with the fit of your frames or the prescription of your lenses you can bring them to Costco to have them adjusted free of charge. 
No eye exam required: If you are a Costco member and want to just purchase glasses, you can do so without the prerequisite of getting an eye exam. All that is needed is a prescription from your preferred optometrist.
Good deals: Costco Optical has many specials on Kirkland glasses as well as discounts if you contact lenses in bulk. Be on the lookout for the next sale to get an even better deal!
Make Your Money Work for You
Final Take To GO 
Eyesight should never be taken for granted. Getting your eyes checked and prescription lenses updated regularly is necessary, but it doesn't mean you have to pay more than you should. If you are not a Costco member, it may be worth the $60 annual fee if that helps subsidize the cost of your eye care. 
FAQ
Here are some answers to frequently asked questions about Costco Optical and the costs of prescription glasses.
How much are prescription glasses at Costco?

The average cost of prescription glasses at Costco Optical is around $185. The best price is usually when you get the Costco Kirkland Signature brand frames. Comparatively, getting your glasses from a warehouse club such as Costco will be much cheaper than buying them from a boutique eyeglass store or a leading competitor.

How much does a Costco membership cost?

Here are the costs for the different tiers of Costco memberships:

-Gold Star Membership: $60 per year
-Business Membership: $60 per year
-Executive Membership: $120 per year

Is Costco Optical cheaper than LensCrafters?

Yes, typically you will spend less money overall on your eyeglasses with Costco Optical. The average price for a pair of glasses at Costco is around $185 whereas the average price for a pair of glasses from LensCrafters is closer to $500. This price will vary greatly depending on what type of lenses you need.

What is the cheapest place to get an eye exam?

There are many places where you can get an eye exam cheaply. Here are some popular options:

-Costco Optical
-Sam's Club
-Walmart
-EyeCare America
-New Eyes
-Sight for Students
Information is accurate as of April 4, 2023. 
Editorial Note: This content is not provided by any entity covered in this article. Any opinions, analyses, reviews, ratings or recommendations expressed in this article are those of the author alone and have not been reviewed, approved or otherwise endorsed by any entity named in this article.