Headspace vs. Calm: Which Is the Best Meditation App?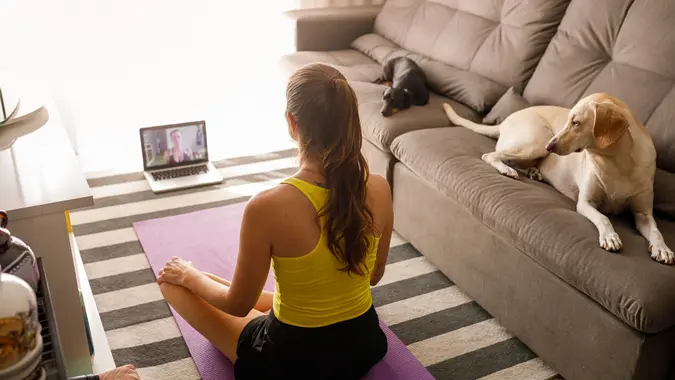 Capuski / Getty Images
Meditation is the ancient practice of quieting your thoughts or feelings and calming your mind to increase your state of awareness and focus. There are several mental and physical benefits associated with meditation, especially when it comes to combating stress. It's no wonder that the practice is so popular.
Headspace and Calm are two of the most popular meditation apps available today. If you're wondering which one is right for you, GOBankingRates has you covered. Keep reading for a rundown on the benefits of Headspace and Calm.
Headspace vs. Calm: How Do They Compare?
Both Headspace and Calm offer guided meditations that you can stream or download to your computer, phone or just about any other device. The two apps have different designs and styles, though.
Here's a quick look at what Headspace and Calm have to offer and how the apps compare:
Headspace
Calm
Price
– $12.99 per month
– $69.99 per year, billed at $5.83 per month
– $99.99 per year for a family plan
– $9.99 per year for a student plan
– $14.99 per month
– $69.99 per year
– $99.99 per year for a family plan
– $399.99 for a lifetime membership
Meditation Length
3-20 minutes
3-25 minutes
Type
Guided and semi-guided
Guided or unguided
Key Features
Themed meditations, mindfulness workouts, focus music, sleep stories
Daily Calm, Calm Masterclass, sleep stories, sleep and focus music
What Does Headspace Offer?
Headspace has a fun, quirky look featuring cheerful animations and beautiful designs. Its site is full of helpful articles about managing your emotions, improving your sleep and boosting your mood.
Make Your Money Work for You
On the app, Headspace offers a 10-day basic meditation course that introduces you to the app and the world of meditation. For this reason, the app is perfect for beginners or anyone who hasn't tried meditation before.
It also offers the following sections, discussed below, to its users.
Mindfulness Exercises
These gentle, guided mental workouts help you improve your mental focus, calm your nerves and bring your mind into harmony with your surroundings. Headspace points out that increasing your mindfulness can make a difference in just about every aspect of your life, from your relationships to your athletic ability.
SOS Section
Whether you're feeling burned out at work or you're panicking about an upcoming event, Headspace's SOS section can help. Depending on the time you have, you can choose either guided or semi-guided meditation sessions designed to relieve stress and increase your resilience to adversity.
Themed Meditations
Headspace offers several guided meditation categories to help you with specific areas like creating calm, navigating relationships or dealing with anxiety or financial stress. You can choose one that's right for you at the moment or work through all the meditations within a theme as a step-by-step series.
Sleep Meditations
The app has stories designed to help you fall asleep. It also offers breathing exercises to help you unwind during bedtime. You can even listen to hours of soothing audio created to help you stay asleep all night long.
Fitness and Tension Release
Headspace's Move Mode offers at-home workouts to boost your mood and keep you motivated. You'll find 28-day mindful fitness and cardio courses and training with Olympic athletes.
Make Your Money Work for You
Focus Music
The app has 12 Focus music stations that enhance focus and set the right mood for your day.
What Does Calm Offer?
The Calm app has an elegant and warm interface that is very different from the Headspace look. Calm tends to have a more intuitive, hands-on approach than Headspace.
The app offers quality daily meditations and up to eight hours of music, Masterclass, and specific meditation techniques — such as body scans, breathing exercises and walking meditations. You also get Scenes, which are scenic backgrounds you can view without screen distractions. Calm is a generally well-rounded app.
You can divide what Calm offers into a few basic areas, as discussed below.
Mental Fitness
There's a series specifically designed for beginners, and there's a separate series featuring basketball legend LeBron James. You can think of this as the how-to section, but it's precisely nuts-and-bolts — it's more like a series of different ways people have approached mindfulness.
Daily Calm
This section features short, guided meditations — they're just 10 minutes long — on key issues like anxiety, stress and sleep. Start with whichever issue is most pressing to you today. It's a great way to build a regular meditation practice.
Sleep Stories
Calm's bedtime stories are narrated by the likes of Harry Styles and Matthew McConaughey. In this section, you'll find different categories, including music, nature, fiction and nonfiction, among others — you can choose whatever may help you drift off.
Calm Masterclass
Calm has hired some of the world's most famous mindfulness experts, like Tara Brach and Tamara Levitt, to lead these classes in different aspects of mindfulness.
Body
Calm's Body offerings include several gentle exercise routines that can give you a boost or a dose of calm throughout the day.
Make Your Money Work for You
How Much Do Calm and Headspace Cost?
Calm offers a seven-day free trial, while Headspace has a seven-day trial for monthly subscriptions and a 14-day trial for annual ones. The trials automatically turn into paid subscriptions unless you remember to cancel them on time.
How Much Does a Calm Subscription Cost?
Calm Premium costs $14.99 per month or $69.99 a year. You can also buy a lifetime membership for a one-time fee of $399.99.
How Much Does a Headspace Subscription Cost?
Headspace Plus costs $12.99 a month or $69.99 for a year, billed in 12 payments of $5.83. A student plan costs $9.99 a year, while a family plan — which gives six accounts access — costs $99.99 per year.
Tips To Get Started With Headspace or Calm
It's easy to customize both Calm and Headspace. You can design your own meditation practice using either app, picking freely from whichever meditation or sleep story appeals to you. Both apps also have easy, natural starting points if you're new to meditating.
Calm's series of Daily Calm meditations are a great entry point. From stress to focus, anxiety and relationships — you can pick one and start there, or you can work your way methodically through the whole series.
Headspace's Basics course is also a great place to get started with your meditation practice. It lets you learn the basics of meditation in easy, bite-sized lessons that don't take up much time.
Which Is Better: Headspace or Calm?
While both apps can help you live better by lowering stress, providing better sleep and improving overall well-being, you might still be wondering which is better for you.
If you love cheerful and gorgeous animations, Headspace might be the meditation app for you. On the other hand, Calm is a great option if you love the beauty that nature offers.
Make Your Money Work for You
Both apps offer guided meditation, but with Calm, you have options for unguided meditations, which Headspace lacks. When it comes to pricing, Headspace is relatively cheaper for monthly subscriptions. However, the cost per annum is the same for both apps, unless you qualify for Headspace's student plan.
Anyone interested in a more challenging physical fitness program might find Headspace the better choice because of its 28-day cardio program. Yoga practitioners and anyone else more interested in stretching and mindful body movement will likely enjoy Calm's Body exercises.
Takeaway

Meditation can improve concentration, boost athletic performance, make you feel calmer and happier and lead to healthier relationships and more enjoyment in life. It might even make you more productive at work. Using a popular app like Headspace or Calm can help you stay motivated and enjoy the benefits that come with building up a regular practice.
Daria Uhlig contributed to the reporting for this article.
This article has been updated with additional reporting since its original publication.
Editorial Note: This content is not provided by Headspace or Calm. Any opinions, analyses, reviews, ratings or recommendations expressed in this article are those of the author alone and have not been reviewed, approved or otherwise endorsed by Headspace or Calm.