How To Cover Healthcare Costs if You Have Long COVID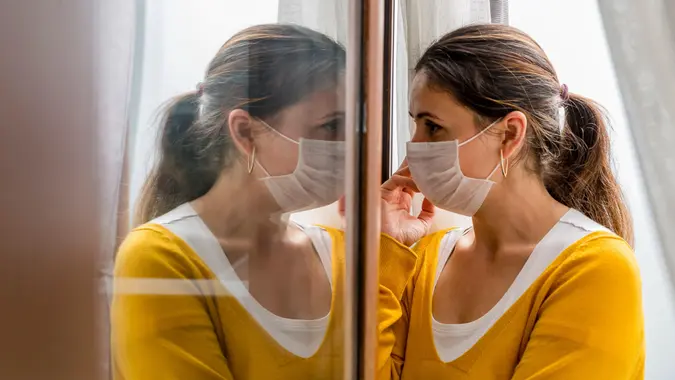 aydinmutlu / Getty Images
Medical professionals don't fully understand why some people who contract COVID can't shake the symptoms for weeks or even months. The condition is known as long COVID, and it can require expensive ongoing testing and treatment for an indeterminate amount of time. On top of that, sufferers often lose their capacity to work or see their incomes reduced as the medical bills pile up.
If you're a sufferer or caretaker struggling to keep up with the cost of long COVID, the following resources, organizations and agencies might be able to help you pay for the healthcare you need.
If You Qualify as Disabled, You Might Be Eligible for Special Benefits and Services
Some people with long COVID qualify as being disabled under the Americans With Disabilities Act (ADA) and other civil rights legislation. Your case must meet the criteria that the Department of Health and Human Services (HHS) outlines, which includes vague terminology like the ailment causing a "physical or mental impairment" that substantially limits "major life activities."
If your case qualifies as a disability, you might be eligible for Social Security Disability Insurance (SSDI) and/or benefits from various other programs. It's important to note that you don't automatically qualify for SSDI or any other program, even if your case of long COVID counts as a disability.
Make Your Money Work for You
The process, which often involves submitting applications with multiple federal agencies, can be long, confusing and frustrating. For help getting started, visit the Administration For Community Living's (ACL's) page on disability and long COVID services, or call the organization's Disability Information and Assistance Line (DIAL) at (888) 677-1199 Monday through Friday from 9 a.m. to 8 p.m. Eastern. You can also visit acl.gov/DIAL or email DIAL@n4a.org.
Marketplace Coverage Is the First Line of Defense
If you purchased a health insurance plan through the ACA Marketplace, it will "generally provide coverage for the diagnosis and treatment of COVID-19, including Long COVID," according to an HHS report titled "Services and Supports for Longer-Term Impacts of COVID-19."
Although coverage and cost-sharing details vary by plan, providers cannot deny you coverage because you have long COVID or any other pre-existing condition, and cannot cancel your plan or raise your rates if you are diagnosed.
If you lost your health insurance coverage due to job loss, you can get help signing up for a plan outside the regular enrollment period by visiting the Healthcare.gov Find Local Help page. Those who lost their jobs or saw their hours reduced might be able to temporarily maintain their employer-based health care through the Consolidated Omnibus Budget Reconciliation Act (COBRA). Call 1 (866) 444-3272 to see if you qualify.
If you can't afford insurance, visit the Healthcare.gov Income Level & Savings page to see if you're eligible for reduced Marketplace premiums or if you qualify for Medicaid or the Children's Health Insurance Program (CHIP).
Make Your Money Work for You
Older Americans Might Be Eligible for Medicare Savings
For people 65 and older, Medicare covers the diagnosis and treatment of long COVID. For more information about Medicare coverage as it applies to long COVID, call 1 (800) MEDICARE.
If you need help paying your Medicare premiums, Medicare Savings Programs may be able to help you with copayments, coinsurance and deductibles for both hospital insurance (Medicare Part A) and medical insurance (Medicare Part B). To see if you qualify, contact your state Medicaid agency. You can find your local office's contact information at the Medicaid.gov state-by-state resource list.
If you're struggling to pay for your prescription coverage for long COVID or anything else, you might qualify for the Extra Help program for Medicare Part D participants, which is run by the Social Security Administration (SSA).
You automatically qualify for Extra Help if you have Medicare and get any of the following:
Full Medicaid coverage
Help paying your Part B premiums from your state Medicaid program through a Medicare Savings Program
Supplemental Security Income (SSI) benefits
You can apply even if you don't automatically qualify, but the program comes with limits on income and assets.
For information and counseling on all Medicare-related savings programs, or with general assistance in navigating Medicare, contact the State Health Insurance Assistance Program.
Resources for Veterans and Underserved Communities
There are special programs for military personnel, veterans and specific underserved populations, including: 
Federally Qualified Health Centers (FQHCs): These community-based health care organizations offer high-quality primary healthcare to people in low-income households, the uninsured and other vulnerable populations.
Rural Health Clinics (RHCs): Visit the Health Resources and Services Administration (HRSA) for information on RHCs, which play a critical role in providing care to medically underserved rural communities. There are nearly 5,000 RHCs in 45 states, and they've recently expanded their COVID-related programs and services.
Indian Health Service (IHS): American Indian or Alaska Native individuals affected by long COVID should contact IHS to learn more about accessing healthcare through the agency's many services and programs.
Veterans Affairs Health Care: Veterans should visit VA.gov to see if they qualify for coverage through the agency, which provides a full spectrum of healthcare services to those who served.
Make Your Money Work for You
More From GOBankingRates