Medicare Dental Coverage Shortfall Harming Senior Health — How To Bridge the Gap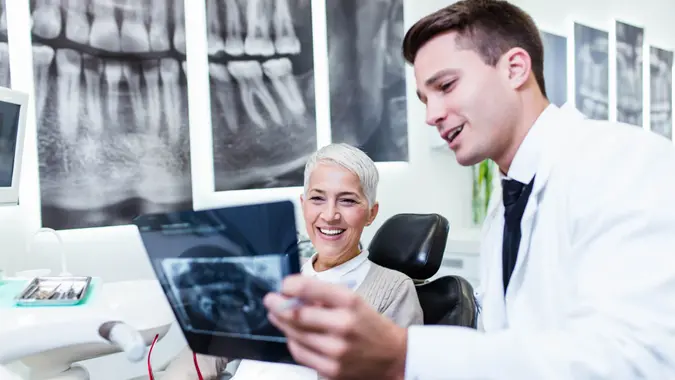 DuxX / iStock.com
Poor dental care can lead to health problems that go beyond just your teeth — especially for older people. This is a big problem in the United States, where many seniors don't have any dental care at all because it's not covered by Medicare.
With few exceptions, traditional Medicare doesn't cover dental services. The only dental procedures covered by the program are those deemed to be "medically necessary," according to the American Dental Association. All other dental services, including preventative care, are not covered by traditional Medicare.
Medicare Advantage plans offer dental services, but the extent of this coverage varies from plan to plan. Comprehensive coverage typically costs more than basic coverage, which means many seniors can't afford it.
Meanwhile, efforts to expand Medicare dental coverage have fallen short in Congress — most recently last year.
One result is that a large group of Americans lack adequate dental care at a time in life when they most need it. A study of 97,108 U.S. adults published by Health Affairs found that complete edentulism, or the loss of all teeth, increases by 4.8 percentage points at age 65. That's also the age when the percentage of people receiving restorative dental care decreases by 8.7 percentage points.
Make Your Money Work for You
"Older adults have the lowest rates of dental insurance in the U.S. and cost is a major barrier for many in seeking dental care," Harvard Medical School's Lisa Simon, one of the study's authors, told the Harvard Gazette. "We know that Medicare, by covering medical services, improves health outcomes and reduces racial health inequities among older adults, but it has the exact opposite effect for dental care."
A report from the Centers for Disease Control and Prevention found that older Americans with the poorest oral health "tend to be those who are economically disadvantaged, lack insurance, and are members of racial and ethnic minorities." Being disabled, homebound, or institutionalized also increased the risk of poor oral health.
Poor dental care can lead to a myriad of health problems. These include untreated tooth decay, gum disease and tooth loss. But they also include more serious health problems ranging from diabetes and heart disease to oral cancer and chronic obstructive pulmonary disease (COPD).
For Medicare recipients who want dental care, the most obvious solution is to sign up for Medicare Advantage and find a plan that covers dental services. Some services that might be fully or partially covered by a dental plan include the following, according to Human:
Exams
Cleanings
Fillings
Extractions
X-rays
Root canals
Another option, if you can afford it, is to sign up for private dental insurance. The average dental insurance policy with comprehensive coverage costs $47 a month, according to a Forbes Advisor analysis of dental insurance premiums. A preventive care plan costs an average of $26 a month.
Make Your Money Work for You
More From GOBankingRates