6 Mistakes To Avoid With Your FSA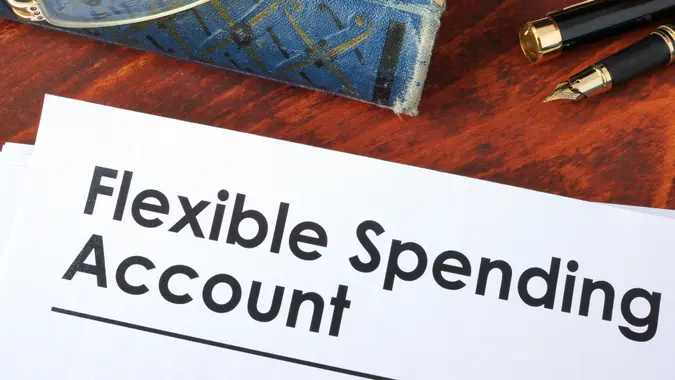 506693830 / Shutterstock.com
A flexible spending account or FSA is a designated account for employees to contribute funds to as a way to pay for qualifying out-of-pocket healthcare expenses, including certain medical and dental expenses, co-pays and deductibles, prescriptions and over-the-counter products.
See Our List: 100 Most Influential Money Experts
Find Out: This Credit Score Mistake Could Be Costing Millions of Americans
The big advantage? Your FSA contributions are "triple tax-free," said Kristen Ahlenius, an accredited financial counselor and Director of Education at Your Money Line. "This means that the dollars you contribute to the account, earnings during the year and qualified withdrawals are tax-free. You plan to spend these dollars anyway, so avoiding paying taxes is a huge plus."
To get the most out of your FSA, it's important to understand how it works and the potential pitfalls you might encounter. Here are six mistakes to avoid with your FSA.
Not Understanding What Your FSA Will (and Won't) Pay For
"People may think that some services and products are covered when they aren't an eligible expense (such as a gym membership)," said Andrew Rosen, financial advisor and president of Diversified LLC. "It helps to read your plan documents carefully and also understand that your FSA dollars can't be used to pay for your insurance premiums, even though they can be used for a co-pay or deductible."
Make Your Money Work for You
Not Utilizing Your FSA for Eligible Over-the-Counter Products
FSAs aren't just for medical expenses and prescriptions. You can also use them for many over-the-counter products. Some surprisingly eligible OTC products, according to the FSA Store, are the 23andMe Health Service, Elvie Double Electric Breast Pump and Ultimate Foot Circulator With Remote.
It's worth noting, too, that the March 2020 CARES Act made all feminine hygiene products eligible for FSA coverage. See the full list of eligible FSA products on the FSA Store website.
Take Our Poll: What's the Table Time Limit on a $400 Restaurant Meal?
Not Planning Your FSA Needs
"Not planning your FSA needs can make you lose valuable funds at the end of the year," said Peter Hoopis, president of Hoopis Group. "An FSA is [typically] a 'use-it-or-lose-it' deal, so determine your needs by evaluating your healthcare spending. You can contribute a maximum of $2,850 to a health FSA [in 2022]. Knowing your average healthcare expenses in a year helps you estimate your contribution amount. You'll avoid being underfunded for eligible medical expenses or having too many funds you can no longer use at the end of the year."
Make Your Money Work for You
Not Knowing if Your Employer Offers Carry-Overs or Grace Periods
It's important to note that while health FSAs were strictly "use-it-or-lose-it" in the past, employers now also have the following two options:
Allow a maximum amount of unused funds — $570 in 2022 — to carry over to the next year, OR
Allow employees a 2.5 month grace period to use the remaining funds in their FSA account
However, keep in mind that carry-overs and grace periods are optional for employers. An employer can also decide to implement the "use-it-or-lose-it" rule. 
It's also important to note that the Consolidated Appropriations Act temporarily amended these options for 2020 to 2021 and 2021 to 2022, giving employers even more flexibility. Under this Act, employers can temporarily choose one of the following options:
Allow all of the unused funds in an employee's FSA account to carry over, OR
Extend the grace period from 2.5 months to a full 12 months
Make Your Money Work for You
Check with your employer if you're unsure if it offers any of these options. 
Assuming You Can Take It With You if You Quit
"If you leave your employer, FSA money does not go with you," said Charles Thomas, financial advisor and the founder of Intrepid Eagle Finance. "If you plan to leave, look into any medical expenses you can accelerate before you leave your job to avoid leaving money on the table. For example, if there's a prescription you can fill earlier than usual, consider doing so to use some of your remaining FSA resources."
Not Keeping Good Records
"It's your responsibility to prove that a medical expense is eligible for an FSA withdrawal," said Thomas. "In case the IRS ever asks, make sure you keep receipts and copies of invoices. Plan to keep this proof for three to four years. For the previous year, keep hard copies. After that, you can archive electronically for convenience."
Hoopis shared more insight. "Not keeping receipts and meticulous documentation of your medical expenses can cost you money," he said. "If your provider or employer deems that certain healthcare costs don't qualify or if they require receipts and you can't produce any, you could be required to pay them back."
More From GOBankingRates
Make Your Money Work for You