What Does Open Enrollment Mean? 30% of Americans Waste Money Because They Don't Know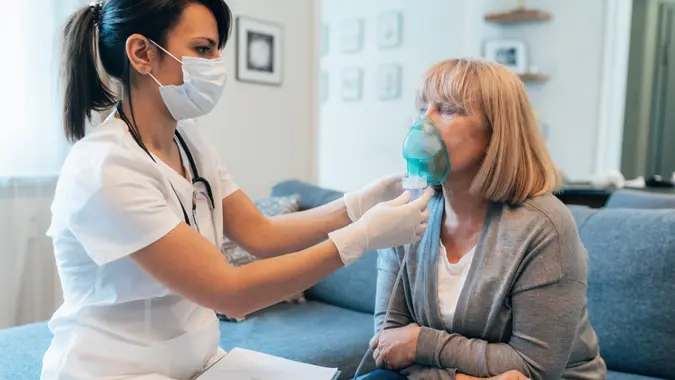 filadendron / Getty Images
Among the many lessons learned during this pandemic, having good, affordable health insurance coverage surely tops the list. But 30 percent of Americans are throwing money away when it comes to saving on their health insurance, all because they don't understand the importance of the open enrollment period. In fact, according to a recent study by MetLife, three in 10 Americans don't know what "open enrollment" means.
Not knowing can add hundreds of dollars a year to your health insurance premiums – particularly troubling given that the MetLife report also discovered a whopping 7 in 10 Americans who say their financial health is a primary goal for them this year. If you've got an individual health insurance plan, the time to enroll in your 2021 coverage ends soon – and if yours is sponsored by your employer, it may run on the same timeline.
See: 7 Ways Misinterpreting Your Healthcare Plan Is Hurting Your WalletFind: Clever Hacks That Can Reduce Healthcare Costs This Year
Need a refresher on open enrollment? Good news – you're not alone. Brush up on your healthcare knowledge below.
Open enrollment defined
This annual period is your opportunity to either sign up for health insurance (if you're not already covered or looking to switch plans) or to make changes to your current health insurance plan for the upcoming year. Premium and plan costs change all the time, depending on your personal circumstances, the region you live in, how many people are on your group plan (and what kind of healthcare issues they're dealing with) and much more.
Make Your Money Work for You
How can open enrollment save you money?
This is the time to review your current healthcare needs and look into different options that might serve you better. Perhaps you'll discover a different plan offering similar coverage to your current plan, but it's less expensive. Or you can pay a little more in premiums to save much more on your medication, specialized doctor appointments or necessary procedures. If you might be having a child next year, or you know you'll need a big surgery, don't wait to review your care. The savings add up — even if they seem small.
See: Best and Worst States for Healthcare CostsFind: How Much You'll Spend On Healthcare If You Live To Be 100
If you've got individual health insurance coverage through the Affordable Care Act's Health Insurance Marketplace, the open enrollment period runs Nov. 1 to Dec. 15, 2020. Once enrolled and you've paid your first premium, your coverage starts January 1, 2021.
If you've got employer-sponsored health insurance coverage, these plans work on their own schedule of open enrollment periods. Though they can occur anytime throughout the year, open enrollment often occurs in autumn. If you no longer want this employer-sponsored coverage, open enrollment is also the time to unenroll (and you'll want to do that now if you're planning to switch to a plan on the open marketplace).
What if you miss open enrollment?
While this doesn't mean you can't get health insurance at all, it does mean, generally speaking, that you'll probably have to wait until the next open enrollment period opens–and that could be months or even a year away. Review your costs now to find the best (and cheapest) health insurance for you.
Make Your Money Work for You
More From GOBankingRates