How To Optimize Your Self-Care Spending Without Adding Financial Stress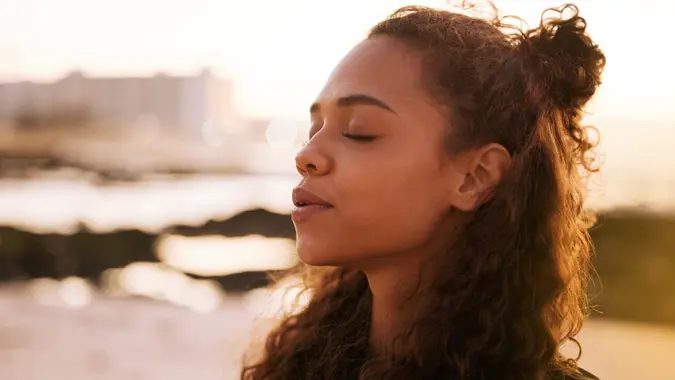 PeopleImages / Getty Images/iStockphoto
Self-care is big business, and has only gotten bigger during the COVID-19 pandemic.
Google searches for self-care and self-care products increased 250% since 2017, according to a report last year from ASD Market Week. The global wellness market is now estimated to be a $450 billion industry and growing.
From nutrition and exercise to beauty and mindfulness, it has been reported that some 88% of Americans actively practice self-care. However in a recent GOBankingRates survey, 26% of women and 23% of men said that they feel they overspend on self-care items or activities. As for how much they spend, more than half (57% of women and 54% of men) reported spending $100 or less per month.
While a focus on wellness hopefully makes us all happier and healthier people, the money we spend on it shouldn't be a source of stress.
"People look at the idea of self-care as a bonus or extra. We don't always recognize the importance of self-care as part of our life," said Simi Mandelbaum CFT-I, AFC, FBS, founder and CEO of PROSPR Financial Wellness. "It ultimately makes us better people, higher income producers, and gives us a better sense of success. But being able to take care of ourselves doesn't have to be costly."
Make It Part of Your Spending Plan 
Giving ourselves the permission for self-care in a way that doesn't cause stress or guilt means being thoughtful and intentional about it on a regular basis.
Make Your Money Work for You
When Mandelbaum works with her clients, she avoids the term "budgeting," and instead encourages people to make a spending plan. "Budgeting implies belt tightening and that feeling of what we can't do," Mandelbaum said.
Being too restrictive can lead to what she calls "financial anorexia" — when people go on a deprivation-style diet. They may like the numbers they see on the scale, but ultimately feel exhausted and stressed out. That in turn leads to unhealthy binging. "When we use the term 'spending plan,' we get to choose how we spend our money. It's not if we have enough money, but what it's important to spend it on." 
She advises people to include a mandatory splurge in each month's spending plan. It doesn't roll over to the next month, so you're not tempted to skip it and save up for something bigger. 
"You need care on a monthly basis. You don't want to get into the behavior of hoarding the money," Mandelbaum said. "So you can feel comfortable with it and go to that yoga class, get a mani, sign up for a hobby. Because it's there on the line item and you know you can do it." 
Find Your Frugal Joys
Ashley Feinstein Gerstley, founder of The Fiscal Femme and author of "Financial Adulting," says she's a big fan of "frugal joys" — free or inexpensive things that make you happy or provide you with self-care. 
Make Your Money Work for You
There may well be some self-care expenses, such as seeing a therapist, that potentially cost more. However, she encourages people to expand what they think of as self-care and look for what they can do for themselves in small, inexpensive ways. "There are things like just saying no to something, going to bed early, or getting your face out in the sunlight every day that can be a form of self-care," Gerstley said. 
It's also possible to cut back on the cost of some pricier self-care spending without budgeting it out completely. Gerstley suggests examining those things to identify the aspect of them that brings joy, and then figure how to hold on to the important parts while letting go of others.
A weekly dinner date with a friend could still provide a sense of connection, or trying something new by meeting at someone's house, going out for appetizers instead of dinner, or taking a walk and exploring a new neighborhood together. Instead of an expensive gym membership, consider options like taking your physical activity outside or doing it at home.
"It helps to just think about things more consciously and intentionally," Gerstley said.
Plan With Your Partner
Sometimes the restrictions around self-care spending aren't just self-imposed, but are connected to shared finances with a partner. That can come with a greater sense of judgment or guilt. 
Gerstley says the solution also comes back to the spending plan. Couples might budget a certain amount of money per person each month that each can spend on self-care however they choose, without any judgment. "Once we talk about something and it's planned spending, then we're not surprised," Gerstley said.
Less Doing, More Being  
The pandemic forced us to rethink the way we do many things, including self-care, and Mandelbaum sees important lessons in that. "We all get into these habits and we think they're a given. But then everything got turned on its head, and suddenly wearing lipstick isn't something that I do," she said. "Sometimes we need to take a step back and to check in on that, and ask ourselves, 'Is that really a truth?'" 
While life may have returned to relative normalcy, there's still value in slowing down. Instead of rushing back to the gym, we can still sit and journal, listen to music or an inspiring talk, or draw and paint. 
"When do we feel most at peace? It's not necessarily when we're running around and doing. When we're just in our quiet space, able to take in and process the world around us, sometimes that's the best self-care," Mandelbaum said. "We are called human beings, not human doings."
More From GOBankingRates