8 Surprise Things Your Health Insurance Might Offer for Free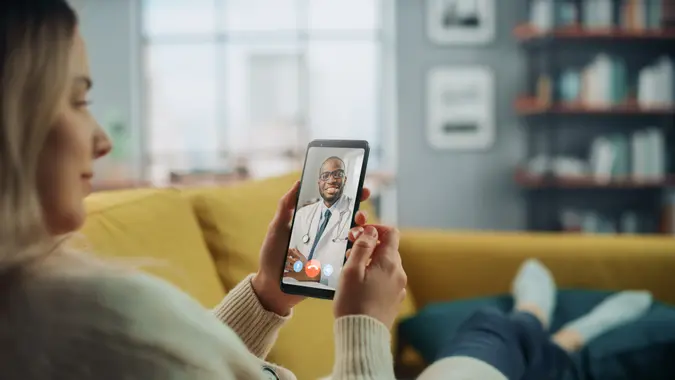 gorodenkoff / Getty Images/iStockphoto
Having health insurance is not only crucial but can also save a lot of money down the road. Yet, as many Americans know, it also often comes with a hefty monthly price tag.
What is often overlooked, however, is that many of these health plans also offer things that go beyond coverage for doctor visits and prescription costs. 
The average family premium has increased a whopping 20% since 2017 and 43% since 2012, according to Kaiser Family Foundation data. The average annual premiums in 2022 were $7,911 for single coverage and $22,463 for family coverage. 
So, with the rapidly increasing costs of healthcare, not knowing the perks your insurance plan might offer is akin as leaving money on the table.
Here's a look at some surprising perks.
Telehealth Consultations
Companies, including Aetna and UnitedHealthcare, often include free or low-cost telemedicine services in their policies.
"This allows policyholders to consult with healthcare professionals via phone or video chat, which is amazing when you feel like a hot mess and don't want to get out of the house," said Taylor Kovar, CFP and CEO of TheMoneyCouple.com and Kovar Wealth Management.
Gift Cards and Apple Watches
Several healthcare carriers offer reward programs for healthy choices. For example, the Attain by Aetna app "takes your unique health history, combines it with your wearable device activity, and offers you personalized goals, achievable actions and motivating rewards," according to its FAQ page.
Make Your Money Work for You
The points can then be redeemed for gift cards to popular retailers or to offset the cost of an Apple Watch, for example.
Discounts on Apparel, Nutrition, Travel, Car Rentals and More
Blue Cross Blue Shield, via its Blue365 program, offers a slew of weekly and monthly discounts to its members. For example, in June it is offering up to 30% off Skechers footwear.
It is also offering up to 15% off educational degree and certificate programs; up to 35% off car rentals with Budget or Avis; or $60 off Disney World tickets.
Meditation Apps
Health carrier Kaiser Permanente offers the Calm for free to its members. The app for sleep and meditation is designed to help lower stress and anxiety, and it includes more than 100 guided meditations, as well as tracks for focus and relaxation, according to Kaiser.
Cash for Medical Expenses
With United Healthcare's Motion plan, you can earn more than $1,000 in rewards for out-of-pocket medical expenses when you get moving and meet program goals.
"Simply track your steps or activities to rack up rewards," according to the carrier.
Blue Cross Blue Shield of Florida offers a similar program, Better Your Strides, which enables participants to rack up $500 in rewards to put toward healthcare costs such as doctor copays, prescriptions, contacts and eyeglasses, chiropractor visits, dentists or orthodontists or hearing aids.
Nutrition Counseling Sessions
"Some insurers provide nutrition counseling sessions at no cost," Kovar said. "This can be beneficial for anyone looking to improve their eating habits or manage conditions like diabetes or heart disease, all for free."
Make Your Money Work for You
For example, Independence Blue Cross health insurance covers up to six visits a year to a food and nutrition expert.
Gym Memberships
Many plans offer discounted gym memberships, and some, such as Aetna, even offer them for free.
Eligible members can receive vouchers to cover monthly membership fees at participating locations, according to Aetna Better Health of Illinois.
Weight Management Programs
United Healthcare includes its free Real Appeal weight management program to eligible members. The program offers support from an online health coach and digital tools to track your food, activity and progress, as well as access to online fitness classes.
Medical Mutual teamed up with WW (ex-Weight Watchers), enabling members to save 50% off memberships.
More From GOBankingRates