Is Trump-Era Short-Term Healthcare 'Junk Insurance?' Why Biden Says It's Costing Americans Thousands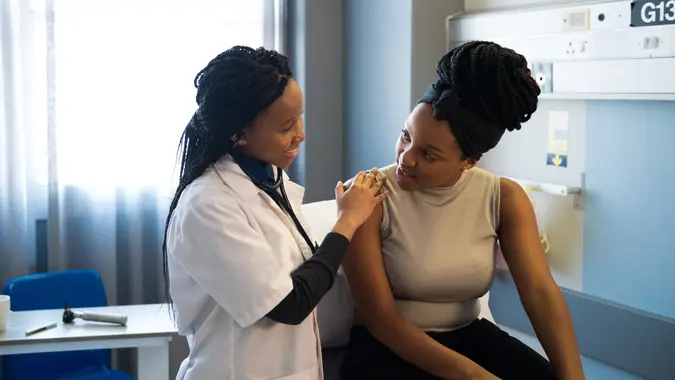 stockstudioX / Getty Images
President Joe Biden is no fan of a short-term health insurance regulation enacted under former president Donald Trump, and he aims to change the rules governing what White House officials call "junk insurance."
On July 7, the U.S. Department of Health & Humans Services, Department of the Treasury and Department of Labor issued proposed rules designed to "clamp down" on short-term, limited-duration health plans, Politico reported.
The new rules seek to overturn a 2018 Trump-era regulation that allowed short-term health plans to last up to a year and be renewed for up to three years. The Trump rule replaced an earlier Obama administration policy that limited the short-term plans to three months.
If finalized, the new Biden administration rule would set the maximum back to three months and only allow short-term plans to be renewed for one more month, according to Politico.
"Short-term plans are intended to provide temporary coverage as people transition from one source of coverage to another," White House domestic policy advisor Neera Tanden said on call with reporters last week. "Under the previous administration, however, companies were able to take advantage of loopholes and sell junk insurance for much longer than intended."
In addition to providing temporary coverage between plans, short-term health insurance is also useful when you need coverage between enrollment periods or when there is a medical emergency, according to Cigna. Short-term medical insurance "typically provides some level of coverage for preventive care, doctor visits, urgent care, and emergency care," Cigna noted in a blog. Some plans also cover prescriptions.
Make Your Money Work for You
Short-term plans don't have to meet the same requirements as health insurance plans sold on the Obamacare insurance exchanges. These requirements can include coverage of pre-existing conditions and certain essential health benefits such as prescription drugs, Politico reported.
One of Biden's criticisms of the Trump-era rule is that it allowed short-term plans to grow unchecked, ABC News reported.
"The prior administration before me decided to let insurance companies make more money by selling junk plans that are up to three years long," Biden told the media. "Americans thought they were buying temporary insurance that would provide real coverage in those plans. Instead, many have been saddled with thousands of dollars in medical bills these junk fees don't cover. And I think it is outrageous."
Americans currently enrolled in short-term plans will be grandfathered in under the old rules, an unnamed senior administration official told Politico. The new proposed rule doesn't limit the sale of short-term plans during the Obamacare open enrollment period, which some Democratic lawmakers had pushed for.
More From GOBankingRates