Trump Wants You To Know Exactly How Much Your Healthcare Will Cost — Eventually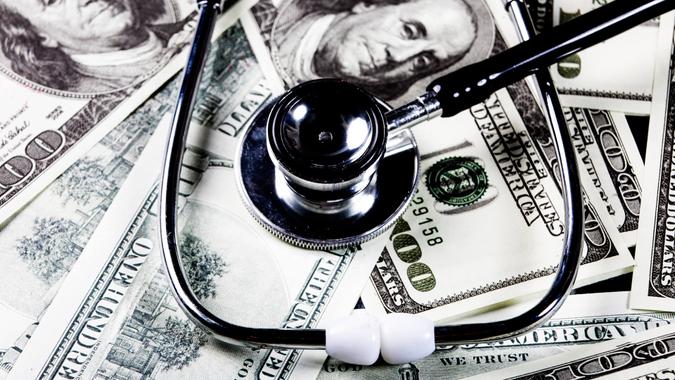 brazzo / Getty Images/iStockphoto
Under a new policy enacted by President Donald Trump's administration just days before the election, insurers now have to disclose the prices for common tests and procedures to their customers. The new rule, finalized on Thursday, is a move to cast some transparency into the notoriously hazy healthcare sector. It's also a competitive maneuver; Democratic nominee Joe Biden is ahead of Trump in the polls, in part for his plan for healthcare, which includes protecting and building on the Affordable Care Act.
The new final rule, Transparency in Coverage, will "give consumers real-time, personalized access to cost-sharing information, including an estimate of their cost-sharing liability, through an internet based self-service tool," CMS.gov states. In addition to bringing some transparency to healthcare, the rule is also designed to encourage consumers to "shop and compare costs between specific providers before receiving care," as well as to stimulate competition among providers. 
Make Your Money Work for You
"We want every American to be able to work with their doctor to decide on the healthcare that makes sense for them, and those conversations can't take place in a shadowy system where prices are hidden," said Health and Human Services Secretary Alex Azar in a press release. "With more than 70 percent of the most costly healthcare services being shoppable, Americans will have vastly more control over their care, delivering on the President's vision of better care, lower costs, and more choice."
Healthcare issuers will be required to publicly disclose in-network negotiated rates, billed charges and permitted amounts paid for out-of-network providers. They also have to disclose the negotiated rate and historical net price for prescription drugs.  But none of these changes are enforceable for some time. The requirement for the publicly available data will be in effect on or after Jan. 1, 2022, while the mandate to make cost-sharing information available for 500 specified items and services for plan or policy years does not start until on or after Jan. 1, 2023. Making cost-sharing information available for all items and services for plan or policy won't be in effect until on or after Jan. 1, 2024.
If you're worried about healthcare costs, consider these options for reducing your expenses.
More From GOBankingRates