10 Ways to Bounce Back After Holiday Shopping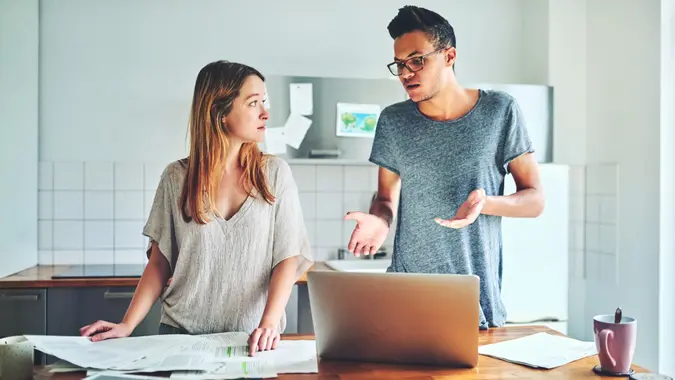 Charday Penn / Getty Images/iStockphoto
If you're waking up with a holiday spending hangover today, you're not alone. Holiday shopping puts a big strain on finances.
Find Out: 10 Ways To Bounce Back From a Heavy Spending Month on Your Credit Card
"We have Black Friday, then dark January," said Rod Griffin, director of public education at Experian. Consumers tend to find themselves trying to dig themselves out of debt and get back on track financially in the new year. This is typically because they spend more than they expect to during the holidays and use credit to fund their shopping.
If you exceeded your holiday shopping budget, racked up debt and depleted your savings, you can bounce back. Here are 10 steps you can take to get your finances back in shape in the new year.
1. Review Your Holiday Spending
The first step you should take after the holidays is to review all of your spending, said Bruce McClary, spokesperson for the National Foundation for Credit Counseling. Look at how much you charged to credit cards, how much you spent from savings and the categories you were spending on — such as gifts, food and entertainment. "It gives you a good starting point to get out of debt and rebuild savings," McClary said.
2. Make a Plan to Tackle Debt
Plenty of consumers will be digging out of debt in the new year. To quickly eliminate that debt, you need a plan.
"The worst thing you can ever do is plan to pay the minimum payments," said McClary. "That debt may be around for the next holiday season, and may be in the way of planned purchases and activities."
Make Your Money Work for You
Ideally, you should aim to pay off your credit card balance in one to two months, he said. If you owe money on more than one credit card, he recommended using one of these two strategies: tackling the smallest balance first or paying off the card with the highest interest rate. "The process that is most motivating is the one that you should go with," said McClary.
You might need to tighten your belt to wipe out your debt quickly. "Look at everyday spending to find ways to cut back to contribute more to debt repayment," sai/;'d Bethy Hardeman, former chief consumer advocate at Credit Karma. You can also put yourself on a cash-only diet so you don't rack up more debt as you're trying to pay it off.
Learn More: Budgeting 101: How To Create a Budget You Can Live With
3. Put Extra Cash Toward It
In addition to cutting back, look for ways to generate more cash in the new year to pay off your debt, or to rebuild savings you might have tapped to cover holiday spending. The first place to look for extra money is in your paycheck. Consider your annual bonus, for instance. Th0ugh it may feel like that money should best be spent on a well-deserved reward for all your hard work, consider being debt-free and less stressed a reward in itself.
If you loaded up on gifts this holiday season, you can make room for your new things by selling some older items online, said Farnoosh Torabi, a leading personal finance expert and bestselling author. "This will not only help declutter your space, [but] you can earn some extra cash to help pay down that December credit card balance."
Make Your Money Work for You
You can sell clothing and accessories at sites such as Thredup.com and Tradesy.com, which get a commission for reselling your items. Or you could try listing items for sale on Craigslist.
A Few Ideas: The Best and Worst Ways To Spend Your Year-End Bonus
Quick Tips to Get Over Your Post-Holiday Debt Blues
4. Set up Automated Payments
Paying your credit card bill late (or missing a payment) can be costly. Not only will you get hit with fees if you pay your credit card bills late, but your credit score will take a hit too, according to the NFCC.
Torabi said you can avoid making late payments by setting up automated payments through your bank or card issuer. Apps such as Mint Bills can also send you reminders when bills are due.
If you plan to skip a payment because you can't afford to pay your bill, McClary said you should call your credit card company first to see what remedies you can find together while your account is in good standing. "If you have good credit, there are plenty of options to give yourself some breathing room so your credit score doesn't take a hit," he said.
Yes You Can: 25 Ways To Save 20% More of Your Paycheck Without Even Trying
5. Transfer Balances
Here's an easy money tip to follow: If you have good credit, lower the cost of your holiday debt by transferring balances to a low-rate card. You often can get a 0 percent rate on balance transfers for 12 to 18 months, which can reduce the amount of interest you'll pay on your debt.
Be sure you read the fine print, though, before accepting a balance transfer offer. Most balance transfer cards have waived interest, which means you'll pay interest only on any remaining balances that haven't been paid off at the end of the introductory period. However, deferred interest offers require that you pay interest on the entire amount you transferred if you don't pay the balance in full by the end of the introductory period, Hardeman said.
6. Develop a Support Network
You won't be the only one needing help getting your finances back on track after the holidays, Torabi said. So team up with someone else in a similar position to share your goals and keep each other accountable. "Hitting the reset button on your finances is more manageable and fun with the help of a friend," she said.
Some people even create bill-paying clubs — similar to book clubs — to get together with others in debt to talk about the progress they're making and offer support to one another, Griffin said.
Just Say No: 25 Things You Should Never Do With Your Money
7. Seek Professional Help
If you're really struggling to pay off the debt you owe, or need help getting your finances back on track, get advice from a nonprofit credit counselor. "Don't be afraid to seek help," Griffin said. It won't affect your credit score or credit history, but it can help you manage debts, he said. You can find counselors at NFCC.org.
Also consider meeting with a counselor if you tapped savings that were earmarked for things other than holiday spending. "If you're raiding your short-term emergency savings or long-term retirement savings, there's a bigger issue about priorities," McClary said.
8. Avoid Quick Fixes
Even if your debt seems overwhelming, you should avoid companies that promise to help you settle debts for pennies on the dollar of what you owe. "It's very tempting, but it's also probably illegal," Griffin said.
Debt-settlement firms might charge an upfront fee before providing any services. But Griffin said that firms promising credit repair have to fulfill the terms of their offer before taking any money.
Did You Know? Cutting Out These 25 Expenses Will Save You $16,142.08 a Year
9. Monitor Your Credit
After a season of holiday shopping, it's important to see where you stand by reviewing your credit report. Griffin said your score should include risk factors that are affecting your score and what areas you should focus on to help build your credit. And knowing what's going on will prepare you for next year's holiday season, too.
Another reason to monitor your credit report and your credit accounts closely after the holidays is to look for signs of fraud. If you see any unauthorized charges on your statement, contact your credit card issuer immediately to cancel your card and dispute the charges. Check your credit report for accounts you don't recognize, which could be a sign that someone has used your identity to get credit in your name.
You can sign up for free credit monitoring at a site such as Credit Karma, which will notify you if there are changes to your credit score or report. Or you can pay for a service such as Experian's ProtectMyID, Identity Guard and LifeLock to monitor your credit, public records and other data points for suspicious uses of your identity.
10. Start Saving for Next Year
Help yourself avoid a holiday debt hangover next year by saving money throughout the year. Add up all of your holiday spending, and divide that total by 10 to determine how much you should set aside each month from January to October. That can help you save enough for when the holiday shopping season starts in November, McClary said.
If that monthly amount is too high, create a strategy to have a more affordable holiday season next year, he said. As you follow these steps to bounce back, try to stay positive.
"Patience is key — don't get discouraged," McClary said. "You do have time to get back on track. It's a matter of devoting enough time to sit down and create a roadmap."
More From GOBankingRates
Mark Shrayber contributed to the reporting for this article.
Editorial Note: This content is not provided by Chase. Any opinions, analyses, reviews, ratings or recommendations expressed in this article are those of the author alone and have not been reviewed, approved or otherwise endorsed by Chase.