12 Cheap Last-Minute Holiday Gifts for $20 and Under
Did December catch you by surprise? Us, too! We're going to go out on a limb and guess you're a little behind on your holiday shopping. Don't worry — it's not too late to purchase memorable gifts at great prices. We've scoured the internet for inexpensive, last-minute holiday gifts that are sure to delight whomever is on your shopping list.
Here are 12 cheap, last-minute holiday gifts for $20 or less.
You might also like …
Awkward Moment Card Game — $19
You know that awkward moment when …? This card game is packed with mortifying moments that players must face head on and choose the best reaction to win. There's nothing like some good, old-fashioned embarrassment to bring everyone together during the holiday season.
Gourmet Sea Salt Kit — $20
The foodie in your life will love this set of six glass-top containers filled with delicious, gourmet sea salt blends. From spicy Sriracha to smoked applewood, these gourmet sea salts can be used to create rubs, marinades and sauces, or a finishing touch to any meal. The salts are also pure and contain only natural ingredients, without color or other additives.
Stackable Lunch Pot — $20
These two lunch pots have an ingenious, watertight locking seal that allows you to separate your yogurt and granola, soup and crackers, or pasta and fruit salad. It also comes with a handy carrying strap and reusable spork, making this the perfect vessel for eating on the go.
Help End Hunger and Poverty — $20
In lieu of a gift, you can buy a flock of ducks, chickens or geese for a family in need. Giving an animal is like giving someone a small business, providing milk, eggs and more.
Animal donations can provide families a hand up, increasing access to medicine, school, food and a sustainable livelihood. Jason Price, editor of PT Money: Personal Finance, told GOBankingRates,
"This time of year reminds us of those who are in need and in less fortunate situations. It's also an opportunity to change our hearts from self-focused to selfless. While 'getting' often makes me happy, at least in the short-term, 'giving' results in enduring joy."
Visit Heifer.org to gift an animal that can change lives.
Keep reading: How to Give to Charity Without Going Into Debt
Find Momo: A Photography Book — $10
Can you find Momo hidden on each page of this book? Momo and his best buddy Andrew Knapp have traveled all over — through fields, down country roads, across cities, and into yards, neighborhoods, and surreal spaces of all sorts. The result is a book of spectacular photography that's also a game you can play anytime.
Other gift options: 17 Personal Finance Books You Need to Read This Year
USB Heated Lap Blanket and Shawl — $20
This is a dream gift for anyone who sits at a desk all day. The USB heated lap blanket and shawl features an internal heating pad, powered via a USB connection. Simply plug in the blanket and work away.
529 Savings Account — $20
Helping a child save for his education is one of the most thoughtful gifts you can give. Open a 529 account with $20 and make regular contributions throughout the year, or add funds on birthdays and holidays, and you and the recipient can watch the money grow over time.
Fashion designer Rachel Roy told The Huffington Post about her mother's gift of a college education:
"… My mother secretly saved money every month from her paycheck for years and paid for my college — so when I graduated it was the gift that still keeps on giving, in so many ways. So many lessons in that love."
Related: How to Open a 529 Savings Account for Your College-Bound Newborn
Bodum Bistro Mug — $15
This stylish handmade mug features double-walled, industrial-strength borosilicate glass. Its insulating design keeps any beverage of choice hot or cold for hours. It's a truly unique and memorable gift.
As one reviewer said:
"Love these mugs. I seem to choose it about five times more often than my other mugs for my morning coffee. I have bought them as gifts, and those friends have bought more of them as well."
Three-Blade Stockman Knife — $14
Any outdoorsman (or woman) will appreciate this handsome three-blade Stockman knife. It features hand-polished zebra wood and stainless-steel blades of varying lengths, arming its owner for campsite whittling, on-the-go repairs and surgical rope-cutting wizardry.
Faceted Glass Vanity Box — $14
This little faceted glass box is a beautiful addition to any countertop, bedside table or shelf. It's perfect for holding jewelry, mementos or as a stand-alone home accent.
Handwritten Letter — Free
When was the last time you received a heartfelt, handwritten letter from a loved one? Surprise someone on your gift list and start a new holiday tradition by taking the time to sit down and express your feelings of love and gratitude.
This is a favorite gift of fashion designer Diane Von Furstenberg.
"My family and I exchange letters every year and those are always my favorite gifts to receive."
Make it a point to save the letters and read them over every holiday season.
World's Smallest Walkie Talkies (Set of Two) — $10
This set features remarkably small, fully functional, walkie-talkie radios. Push to talk or use the morse code function. It penetrates walls, floors, steel and concrete, and works up to a distance of 150 feet apart. These gadgets feature flexible antennas for pocket portability and are fun for anyone.
About the Author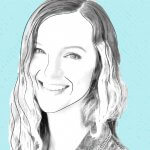 Morgan Quinn is an experienced personal finance writer and her work has appeared on WSJ.com, Huffington Post and Slate. She is also the former Managing Editor of Mint.com.