12% of Americans Don't Plan To Spend Anything on Holiday Gifts — How To Tactfully Opt Out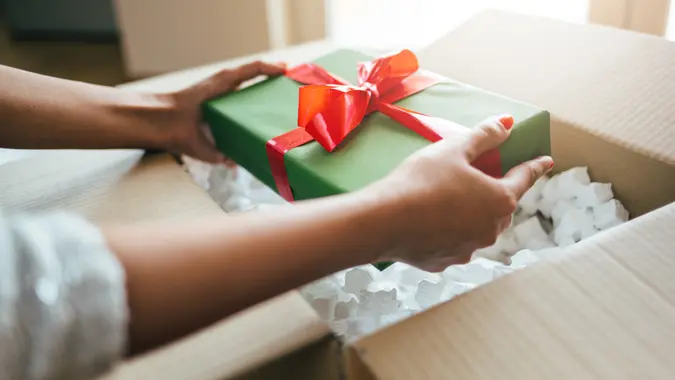 Popartic / Getty Images/iStockphoto
Compared to last year, consumers are digging 5% deeper this holiday season both for gifts and non-gift spending alike, according to the 2021 Deloitte Holiday Retail Survey — but wealthier households are driving most of that spike in spending. The have-nots, on the other hand, are in the familiar position of facing tough financial choices as the year draws to a close. But instead of cutting back on spending this year, many struggling households are responding instead by foregoing gift-giving altogether.
If You Are Gifting: GOBankingRates' Smart Holiday Spending Guide
Keep Reading: The Best Holiday Shopping Strategies for Your Wallet
Whether budgetary realities are forcing you to say no to presents or you simply don't want the stress and the stuff that come with the traditional trading of merch, don't worry. You're part of a growing trend and there are plenty of ways to opt out gracefully.
One Holiday Season, Two Americas
As America nears the apex of its second consecutive pandemic-themed holiday season, spending is nearly back to its pre-virus levels, according to the Deloitte study. But that depends which America you're talking about. The study found that:
Higher-income households plan to spend five times more than lower-income households this season
Higher-income shoppers plan to spend 15% more this year ($2,624 per household) than they did last year
Lower-income shoppers plan to spend 22% less this year ($536 per household) compared to last year
Make Your Money Work for You
The most striking statistic of all, however, is that 11.5% are opting out of buying and giving gifts altogether in 2021. That's more than double the 4.9% who said the same last year — and a full 65% of them come from low-income households.
Find Out: Shopping Mistakes You're Making and How To Stop
Spend What You Have on Experiences, Instead
If you do decide that the great stuff exchange isn't in the cards this year, you might be better served by using whatever budget you do have to spend time with — instead of money on — the people in your life who make the holidays special.
The Deloitte study found that spending on experiences — socializing away from home or entertaining at home — is up by 15% year over year. In fact, dollars spent on experiences account for most of this year's 5% increase in overall holiday spending.
Memories created have a way of outlasting gifts received, so one tactful way to opt out of gift-giving is to suggest to your loved ones some cheap-to-free experiences. My Frugal Christmas recommends ideas like:
Baking/goodie-exchange parties
Heading out with the group on a holiday house tour
An old-fashioned holiday potluck party
Keeping the dying tradition of caroling alive for another season
Make Your Money Work for You
Give Gifts, Just Don't Buy Them
If you and the group prefer to keep the tradition of giving but are eager to ditch the tradition of spending, then you can have your cake and eat it, too, by making and exchanging homemade gifts instead. Making good gifts that people will actually want to receive requires time, some basic supplies and a little creativity — although a quick visit to Pinterest will inspire even the most unimaginative holiday DIYers (think peppermint mason jar candles and snowman hot chocolate spoons).
If you have a specialized talent or skill, there's also the option of giving the gift of service. From an oil change to free legal work, chances are good that you can do something that someone you know would love to have done for them. 
Look: Where To Get Unique Holiday Gifts Without Leaving Your House 
Make Your Money Work for You
Give the Gift of Time
If the holiday tradition of shopping takes money and adds stress, consider replacing it with a new tradition that you, your family and your checking account can all feel good about. Time is money, but when you volunteer for the holidays, you can give the former without spending the latter.
Sites like Doing Good Together offer resources on how to start a tradition of family volunteering — or volunteering with any group, for that matter — that can replace the annual ritual of spending, buying, and receiving stuff. Options include adopting families, participating in food drives, making blankets or other necessities and visiting people in hospitals or other facilities.
Make a Graceful Exit From a Tradition That's Run Its Course
If you're ready to just tap out altogether and you don't want to replace the giving of gifts with some frugal alternative, make sure you lose the gifts but keep the friends. There's widespread expert consensus on the following tactics:  
Start by expressing gratitude for gifts you've received in years past
Be honest and open about your reasons for wanting out and your expectations moving forward — you might be pleasantly surprised to learn that you're not the only one who's eager for change
Don't procrastinate or string people along — get out in front of it early in the season before the people in your group start committing to plans or buying gifts
Be open to suggestions and input
More From GOBankingRates
Make Your Money Work for You