4 2021 Holiday Shopping Predictions — and What They Mean for Your Wallet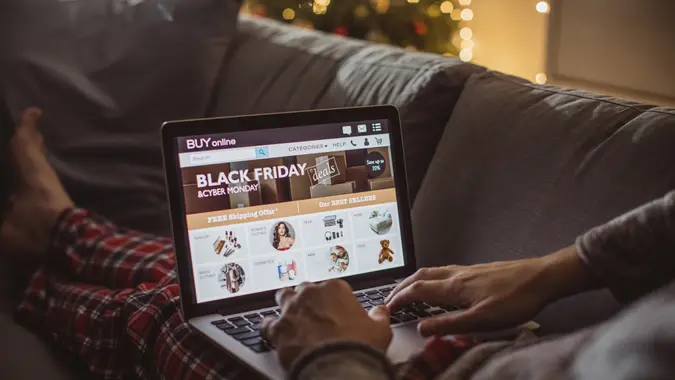 svetikd / Getty Images
With Halloween in the books and Thanksgiving just ahead on the horizon, those who haven't yet started strategizing for the holidays might feel like they're already behind. They shouldn't panic just yet — but they should get moving. 2021 is shaping up to be at least as chaotic as 2020, and things are just getting started.
Read More: Is It Smart To Wait For Black Friday This Year?
Find Out: How to Get Ahead on Budgeting for Holiday Shopping (and Shipping) in Advance
Inflation, product shortages, shipping delays and an overall feeling of unease in society in general are dialing up the anxiety in what is already the most stressful time of the year for many. But worry not. The holidays will be no less doable this year than last, as long as you know what to expect. Here's what the experts are predicting.
Black Friday Will Be the Midpoint — Not the Start — of the Holiday Shopping Season
One of the main storylines to emerge as the 2021 holiday shopping season unfolds is an almost universal consensus that shipping will be slow, delays will be the norm and in-demand products will be unavailable.
"Consumers must order earlier than usual as the ongoing supply-chain issues are putting increased pressure on the already tight holiday shipping deadlines," said Tim Parkin, president of Parkin Consulting.
Sellers are well aware of this narrative, and they're lengthening the timelines of their biggest seasonal sales to soothe anxious customers who want to get their shopping done early.
"Retailers know that consumers are frightened of the images on TV of cargo ship backups at clogged ports and they are taking full advantage by pushing their Black Friday sales earlier than ever," said Melissa Cid of MySavings.com. "Black Friday will be a full-month event where the early bird gets the worm. Expect more deals this year earlier than ever as retailers react to the distribution and shipping delays."
Make Your Money Work for You
Discover: From Airfare to Gifts to Your Tree, How To Save on Every Aspect of Holiday Spending
Black Friday Will Be Chopped Up Into Lots of Little Black Fridays
Cid is correct in saying that retailers are starting early this year to pacify customer concerns about delays and shortages, but that's only part of the reason that Christmas shopping now starts around the time the pumpkins come out.
Black Friday is no longer the event that it was pre-pandemic — Jeff Bezos saw to that.
Amazon deflated the buildup to Black Friday last year when it rescheduled Prime Day from July to October as the virus raged through the summer. The rest of the retail pack had to adjust by scrambling to announce their own early sales. The result was that the new unofficial launch of the Christmas shopping season is now two weeks before Halloween.
By the day after Thanksgiving, all the big retailers will have already hosted several big sales, which dilutes the impact of what was always the biggest shopping day of the year.
"Black Friday is starting the first week of November for retailers like Walmart and Target and I expect many more to jump on the early bandwagon," Cid said. "This year there will be new weekly and daily Black Friday sales to get people shopping earlier in November. Black Friday is no longer an after-Thanksgiving event and consumers will benefit with more sales than we have ever seen in previous years."
Among the events leading up to what was the big day are:
Amazon:

Epic Deal Days, which run now through the holidays.

Best Buy:

The tech giant already hosted a major sale on Oct. 19, and is now gearing up for another one the week before Black Friday starting on Nov. 19.

Target:

Holiday Best, which is a monthlong sale leading up to Black Friday with special deal categories that change every week.

Walmart:

There are three special sale events, one on Nov. 3, one on Nov. 10 and one to be announced just before Black Friday.
Make Your Money Work for You
Read: You Shouldn't Feel Bad About Spending Money — Here's How To Avoid the Guilt
Shoppers Will Enjoy More Safeguards
Just as retailers are pushing back sales to alleviate their customers' concerns, they're also doubling down by beefing up the store policies that keep shoppers reaching for their wallets.
"There is no risk to shopping early as many retailers have return policies that carry you through Christmas and price guarantees if the price goes lower."
Best Buy's Black Friday Price Guarantee, for example, promises to pay the difference automatically on qualifying items that drop in price after purchase. Kohl's, Target and Walmart, all have similar policies.
Delays and Shortages Will Still Prevail — With Tech Especially
Despite the best efforts of the big retailers, the long waits and out-of-stock notices that customers are expecting will be among the few things to arrive on time — particularly anything that runs on microchips, which caused so many of the shortages that continue to plague so many industries.
"Technology products are likely to be an issue due to supply chain issues," said Chad Wyatt, owner of shopping, coupon and discount site Dealorium. "For example, the PlayStation 5, MacBook Pro models and graphic cards are just a few examples of products that have been limited due to high demand and low output of key components. This means that items will be harder to come by throughout the holiday season, especially as demand will be even higher."
eMarketer backs up that sentiment but adds Xbox Series X to the list of things to buy as soon as you see them if they're among your holiday musts.
More From GOBankingRates
Make Your Money Work for You
Last updated: Nov. 2, 2021