7 Affordable Costco Halloween Items To Buy Now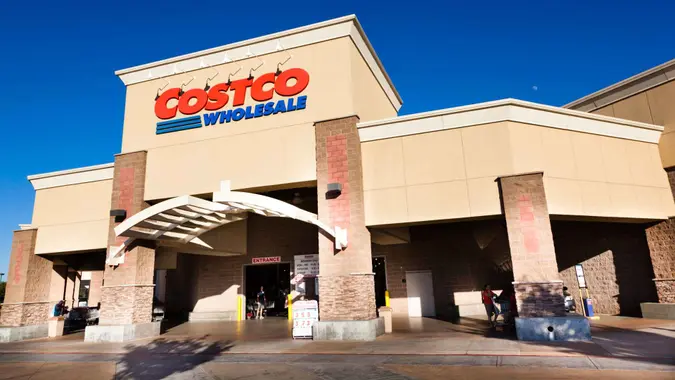 slobo / Getty Images
The last thing you want to do this Halloween season is be scared by your receipt when you go shopping. One way to avoid that is to shop at Costco. From bulk packages of candy to a variety of costumes, here are seven affordable Costco Halloween items to buy now. 
360 Pieces of Jolly Rancher Hard Candy
If you enjoy handing out quality candy at Halloween but don't want to break the bank, you can score 360 pieces for a steal at Costco. Pick up an 80-ounce variety pack of Jolly Rancher hard candy for $14.99. That comes out to just $3 per pound. At Walmart, the same-size bag costs $18.84 or about $3.77 per pound.
Kellogg's Rice Krispies Treats
If you'd rather hand out Kellogg's individually packaged Rice Krispies Treats instead of candy, Costco has a 60-count box for $15.99, which equals 27 cents per bar. That's real savings when you compare the price of the same product at Walmart, which is $19.23 or about 32 cents per bar.
Pokémon Halloween Trick or Trade BOOster Packs
Costco sells 120 Pokémon Halloween Trick or Trade BOOster Packs for just $39.99 or about 33 cents per pack. The packs contain three cards from the Pokémon Trading Card Game, and the cards will vary per pack. Walmart sells a 40-pack for $34.98 or about 87 cents per pack.
Make Your Money Work for You
Teetot Children's Halloween Costumes
If getting your Halloween costumes in one fell swoop is on your to-do list this season, Costco might be the place to go. The discount warehouse has a wide variety of Teetot Halloween costumes, including a snowflake princess, viking, ninja, winged unicorn and masked peacock, for $33.99. Children's Teetot Halloween costumes at Walmart are $16 more at $49.99.
Teetot Dog Halloween Costumes
If getting everyone in your family into the Halloween spirit is important, you can find Teetot dog Halloween costume choices like special forces, firefighter or unicorn at Costco for $24.99. If you go to the Teetot website to buy these same canine costumes, you'll pay a lot more — $39.99 each.
Desert Steel Pumpkin Luminary Set
This 100% steel pumpkin luminary set has a powder-coated finish, which makes it both fade- and rust-resistant. The set contains an 18-inch tall pumpkin and a shorter 15-inch squatty pumpkin for $85.99, and you'll have to supply your own light source for each pumpkin, such as a three-wick jar candle. At Walmart, the very same set is listed at $132.99 or $47 more.
Cheryl's 36-Count Halloween Assorted Cookie Gift Box
This assorted cookie gift box from Costco costs $39.99 and contains 24 Cheryl's buttercream-frosted pumpkin cut-out cookies and 12 buttercream-frosted vanilla cut-out cookies, which are all individually wrapped. You can give these out in their respective wrappers or unwrap them and make them part of a festive Halloween party tray. QVC also sells Cheryl's Halloween-themed cookies, but it only sells the 24 individually wrapped buttercream-frosted pumpkin cut-out cookies, which means a dozen fewer cookies for a higher price of $41.38.
More From GOBankingRates
Make Your Money Work for You