Is the Apple Store Open on Thanksgiving?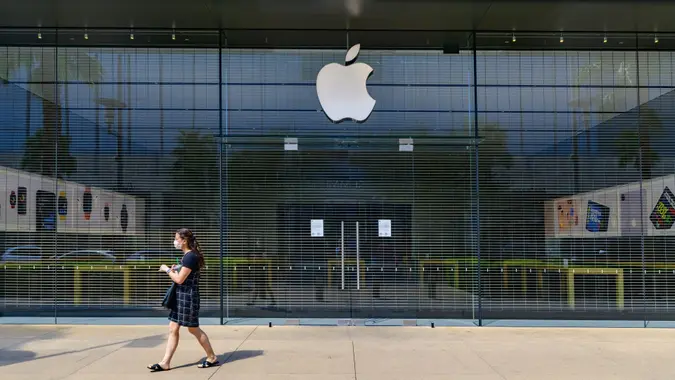 4kodiak / iStock.com
If you're looking to cash in on some holiday deals at Apple, be sure to do it before it closes on certain holidays. Some major retailers keep their doors open during the holidays, but Apple isn't one of them. Keep reading to learn about Apple Store's Thanksgiving hours.
Is the Apple Store Open on Thanksgiving?
No, Apple Stores are closed on Thanksgiving Day. While many retailers keep their doors open for holiday shoppers, Apple opts to give its employees the day off. So, if you're planning to visit an Apple Store for holiday deals or tech support, be sure to schedule your visit outside of Thanksgiving Day. Remember, it's always a good idea to check the hours of your local Apple Store as they might vary by location.
Apple Store Holiday Hours
Here's a rundown of 2023's schedule for Apple stores that are open or closed on holidays. Be sure to confirm with your local store to confirm hours.
Holiday
Date
Is the Apple Store Open or Closed?
New Year's Day
Sunday, Jan. 1
Open
Martin Luther King Jr. Day
Monday, Jan. 16
Open
President's Day
Monday, Feb. 20
Open
Good Friday
Friday, April 7
Open
Easter Sunday
Sunday, April 9
Closed
Memorial Day
Monday, May 29
Open
Juneteenth
Monday, June 19
Open
Independence Day
Tuesday, July 4
Open
Labor Day
Monday, Sep. 4
Open
Columbus Day
Indigenous Peoples' Day
Monday, Oct. 9
Open
Veterans Day
Saturday, Nov. 11
Open
Day Before Thanksgiving
Wednesday, Nov. 22
Open
Thanksgiving Day
Thursday, Nov. 23
Closed
Day After Thanksgiving
Friday, Nov. 24
Open
Christmas Eve
Sunday, Dec. 24
Open
Christmas Day
Monday, Dec. 25
Closed
Day After Christmas
Tuesday, Dec. 26
Open
New Year's Eve
Sunday, Dec. 31
Open
Make Your Money Work for You
When Does the Apple Store Close?
Apple stores typically close on Easter Sunday, Thanksgiving Day and Christmas Day. Typically, Apple stores close by 6 p.m. on New Year's Eve but will remain open for their normal business hours on New Year's Day. Please note that hours might vary by location, so always confirm hours of operation with your local store before making a trip.
Apple's Standard Return Policy
Apple's standard return policy states that you have 14 days to return an Apple product from the day you bought it. But that only applies to purchases made from Apple online or at an Apple Store. If you purchased an Apple product through another retailer, returns must be done according to that retailer's policy.
A few exceptions apply, however. You can't return:
Opened software
Electronic software downloads
Software upgrades
Apple Store gift cards
Apple developer products
Apple print products
For gift returns, you must provide a product serial number or order number.
Holiday Hours
Melanie Grafil contributed to the reporting for this article.
The article above was refined via automated technology and then fine-tuned and verified for accuracy by a member of our editorial team.
Schedules are subject to change and may vary by branch. Information is accurate as of Nov. 22, 2023.