Should You Wait Until Christmas Eve To Get the Best Deal on a Tree?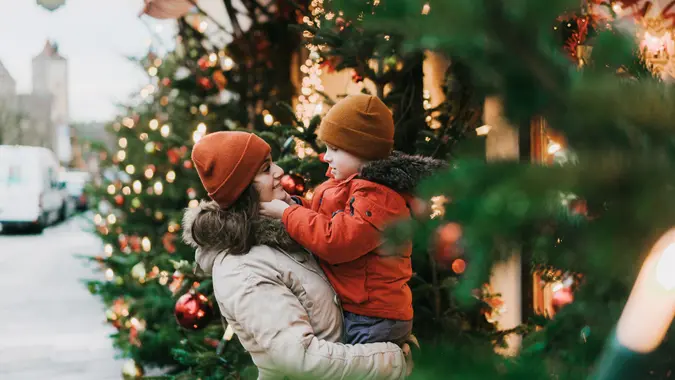 Oleh_Slobodeniuk / Getty Images
Black Friday and Cyber Monday boast huge sales on Christmas trees, but is the real trick to wait until Christmas Eve? Sure, you miss out on a key element of creating the holiday ambiance, but if it's worth it to you to score the biggest savings on a tree, then waiting might be worth it. Plus, you can make decorating the Christmas tree a new part of the Christmas Eve traditions. Here's a look at the cheapest tree prices leading up to Christmas and how they drop on Christmas Eve.
Save More: 6 Holidays Purchases That You Should Only Make at Costco
For All Your Shopping: 4 Costco Items That Have Remained Cheap for Years
The Cost of Artificial Trees vs. Real Trees
The average cost of an artificial Christmas tree was around $104 in 2019–and that number is only going up. Some experts even predict a 25 percent increase in cost. 
Make Your Money Work for You
One way to avoid this cost is to buy a real tree, which costs on average about $78. The big advantage for purchasing a real tree this year is that you avoid the supply chain issues that are affecting the availability and shipping of artificial trees. In addition, a real tree gives you a fun family activity to do.  You all get to go pick it out and support a local business in the process. Plus, it adds a little more authenticity to your Christmas decorations. Not to mention that pine smell that no candle seems to perfectly get right.
Real Christmas trees can last up to 5 weeks with proper watering, so you can extend the Christmas spirit for over a month. If you're worried about the harm chopping down a tree does to the environment, know that this has been addressed as well. The ​​Christmas Tree Promotion Board reported that for every Christmas tree they harvest, they plant at least one new tree. Additionally, after Christmas, the trees are biodegradable and recyclable. Many are used for mulch to continue growing more plants, so buying a real Christmas tree is actually not as wasteful as you may have previously believed. 
Make Your Money Work for You
Getting an artificial tree has its advantages as well. Even though artificial trees cost more at first, if you reuse them two years in a row, they're worth it. A fake tree also doesn't shed or make as much of a mess as a real tree, and you don't have to water it. You can truly make an artificial tree your own by selecting the shape, color and size you want, versus taking a gamble on finding a real tree that matches your holiday vision. 
Tips: From Airfare to Gifts to Your Tree, How To Save on Every Aspect of Holiday Spending

Should You Wait Until Christmas Eve to Buy a Tree?
During most years, if you're after the absolute best deal on an artificial tree, yes. However, due to supply chain issues this year, consumers should consider buying items like reusable Christmas trees as soon as possible since restocking might not be an option this year. Sellers will significantly discount whatever Christmas tree inventory is left on Christmas Eve, and even the days leading up to Christmas, so there's a shot that you'll still find a Christmas tree the day before Christmas for significantly less. 
Make Your Money Work for You
Your safest bet for this Christmas is to get a real tree ASAP. You'll spend less than buying a fake tree, you can rest easy knowing your tree can be recycled, and you get over a month to enjoy that sweet fir smell. 
More From GOBankingRates
Make Your Money Work for You