5 Best Halloween Candies To Buy in Bulk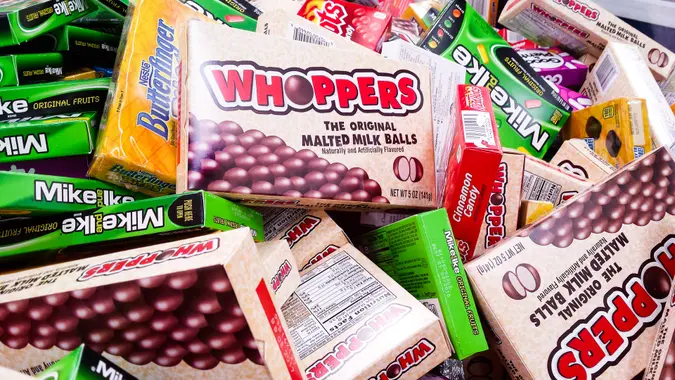 fstop123 / Getty Images
There is nothing more frightening to trick-or-treaters than an empty candy bowl. This spooky season, make sure you've got plenty of Halloween candy to pass out to everyone.
Let's look at the best Halloween bulk candy buys and where you can snag these deals.
Kirkland Signature All Chocolate Bag
One hundred fifty pieces of candy favorites can be found inside this bag, including M&Ms Peanut, M&Ms Plain, Reese's Cups, Snickers, Kit Kat, Twix, Milky Way, Almond Joy, 100 Grand and York Peppermint Patties. This is a significant amount of candy choices, especially when compared to typical bags of mixed candies containing no more than five types of candy.
Plus, the price tag is worth every penny. Julie Ramhold, consumer analyst with Deal News, said the price works out to about 15 cents per piece of candy. 
Kirkland Signature Funhouse Treats
Looking for a non-chocolate candy to pass out on Halloween? Ramhold recommends this treat bag loaded with 175 pieces of candy. These include Airheads, Haribo Gold Bears, Jolly Rancher Stix, Skittles, Sour Patch Kids, Sour Punch Twists, Starburst, Swedish Fish and Twizzlers Twists. 
Similar to the Kirkland Signature All Chocolate Bag, this bag of fruit-flavored candies is cost effective. The package works out to about 11 cents per piece, making it an excellent overall deal.
Make Your Money Work for You
Hershey Chocolate Assortment Candy
This bag has 455 pieces of candy, making it the heftiest bag on this list and the most likely to survive trick-or-treaters coming back to your house for seconds.
"This bag of 455 pieces works out to about 5 cents for each piece of candy," Ramhold said. "The price can't be beat!"
Plus, it's delicious. Dig into this bag to satisfy your Kit Kat, Reese's, Rolo, Whoppers and Heath bar cravings.
Tootsie Playtime Mix Bag
Anyone nostalgic for classics like Tootsie Rolls and Mini-Dots? Snag this bag at Sam's Club for a mix of all your old-school candy favorites. 
Ramhold said this mix is a great choice for anyone looking to offer peanut-free and gluten-free candy options to trick-or-treaters. It's also a huge bag and offers plenty of sweet variety for anyone who may have food allergies. 
Extra Spearmint Sugar Free Gum
Instead of being the house that hands out toothbrushes and dental floss for Halloween, why not give out gum? Ramhold said this is a sugar-free alternative to candy, which works out to 72 cents per pack. 
"Not only will you be handing out full-size treats, but parents will probably be happy with the gum as it's a better option than other sugar-laden goodies in their bags," Ramhold said. "And if the kids don't like it, parents get a free pack of gum for tagging along."
Make Your Money Work for You
More From GOBankingRates