1/3 of Americans Look for Holiday Sales: Here Are the Best Sales Strategies for Your Wallet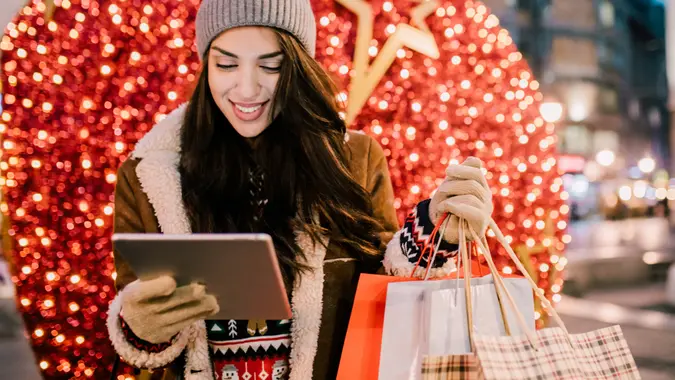 RgStudio / Getty Images
With the holiday season upon us, you might be starting to feel pressure to find the perfect gifts for your loved ones without racking up any debt during the process. With many stores already jumping on holiday sales and offering early access Black Friday deals, you'll want to make sure you are prepared for the upcoming spending season so you can stay on budget.
A recent GOBankingRates survey found that the majority of shoppers are on the lookout for the best sales and deals while shopping, so we compiled a list of the best strategies you should be aware of when buying your holiday gifts. Keep reading to gain more survey insight and learn about our expert-approved holiday shopping sale strategies.
32% of Americans Only Shop Sales When Shopping for the Holidays
If you are on the hunt for the best deals this holiday season, you aren't the only one. Nearly one-third of Americans are only shopping sales this holiday season, according to a recent survey conducted by GOBankingRates. Further, 34% of shoppers are opting to shop sales for select items.
While some shoppers are seeking out sales, others are taking advantage of the discounts they see in stores, as 23% of Americans are shopping with this strategy. Some shoppers don't mind paying a little extra while doing their holiday shopping, as 4% of shoppers are not on the lookout for sales during the holidays.
Make Your Money Work for You
30% of Americans Over 65 Are Not Seeking Out Sales but Will Take Advantaged of Them When They See Them
Of all the age groups surveyed, Americans over 65 were the largest group to respond that they don't actively seek out sales but will shop them when they see them in stores are — 30% of consumers in this age bracket said this was their approach to sales. In contrast, Americans between the ages of 55 and 64 prioritized only shopping sales — 40% of respondents in this age bracket said they hone in on what's on sale when holiday shopping. Meanwhile, only 25% of Americans over 65 responded that they are only shopping sales. Finally, many Gen Z shoppers said they only shop sales for certain items, with 44% of Americans ages 18 to 24 taking this approach.
While Men Are More Likely To Shop Sales for Certain Items, Women Are More Likely To Only Shop Sales
According to the survey results, more men than women are shopping sales for certain items only, as 38% of men responded in this way while 32% of women did. On the other hand, women are more likely to shop sales exclusively, as 34% of women responded in this way versus only 28% of male respondents.
Strategies for Finding the Best Sales
This holiday season, deals are running rampant. The key is making sure you are aware of the deals and can take advantage of low prices. Check out these strategies that will leave your wallet thanking you.
Join Discount Groups on Social Media
While discounts are great, it can be hard to track what stores have deals on what items and when. To streamline the process and stay on top of the latest deals, join discount groups.
Make Your Money Work for You
"For many people, finding discounts has proven to be quite helpful, especially on Twitter," said Ava Collins, consumer analyst at the Adelaide Examiner. "Users tweet gadgets and video game bargains. You may immediately learn about discounts as they happen via Facebook and Discord groups, allowing you to act swiftly to take advantage."
Check For Discounts for Students, Veterans and Employees
If you are a student, veteran or employee, there might be extra savings opportunities for you. Try to stick to retailers that offer these discounts if you are eligible for them.
"Look for stores that will give you discounts when you shop wisely," Collins said. "Many retailers, including Target and Walmart, offer discounts to veterans and students. Big-name merchants may also be willing to give discounts to full-time workers at both large and small businesses. It's important to inquire with your HR division to determine if you are eligible."
Sign Up for Loyalty Programs
Additional savings may also be available to you if you sign up for the store's loyalty programs. Often, merely signing up for text notifications or joining an email list can earn you small savings off your next purchase in addition to informing you of future sales the company is offering.
"Join incentives programs at your preferred companies," Collins said. "For their anniversaries, several stores offer members exclusive benefits. Numerous retailers give members-only discounts. You can get a lot of things for free, including food, shipping, gift vouchers, collectibles, VIP tickets, etc."
Use Discounted Gift Cards
Buying discounted gift cards is a terrific way to save on holiday spending.
"Every year during the holiday season, Walmart conducts a promotion whereby up to $500 in Walmart gift cards are 10% discounted," said Jenna Adams, shopping expert and CEO of Avenue Perth. "Gift cards can commonly be discounted up to 10% to 15% at Dollar General. Gift cards that have been acquired from other people can be purchased at a discount on websites like CardCash.com. For example, you might only pay $335 for a $350 Walmart gift card."
More From GOBankingRates
Methodology: GOBankingRates surveyed 1,025 Americans ages 18 and older from across the country between Oct. 17 and Oct. 21, 2022, asking 18 questions: (1) Do you plan on spending more or less on holiday shopping this year?; (2) With the current state of inflation, how much more do you expect to spend on holiday shopping this year?; (3) What is your favorite place to shop for the holidays?; (4) Do you have to change any of the following holiday traditions this year due to rising costs?; (5) Where do you do the majority of your holiday shopping?; (6) How much do sales factor into your holiday shopping?; (7) How much time do you take off from work during the holidays?; (8) How much would you typically spend on a gift for a family member?; (9) How much would you typically spend on a gift for a friend?; (10) Where have you noticed rising prices for holiday shopping/expenses this year? (Select all that apply); (11) When did you start or plan to start your holiday shopping this year?; (12) As the holiday season approaches, which of the following applies to you?; (13) How much do you plan to spend exclusively on gifts this holiday season?; (14) How much do you plan to spend on travel during the holidays?; (15) Who do you tip for the holiday season?; (16) Do you tip extra to service workers (food delivery, Uber, hairdresser, etc.) during the holidays?; (17) What is the primary way you plan on paying for your holiday spending?; and (18) What holiday purchases do you make at the dollar store? (Select all that apply). GOBankingRates used PureSpectrum's survey platform to conduct the poll.