The Best Seasonal Sales That Aren't Black Friday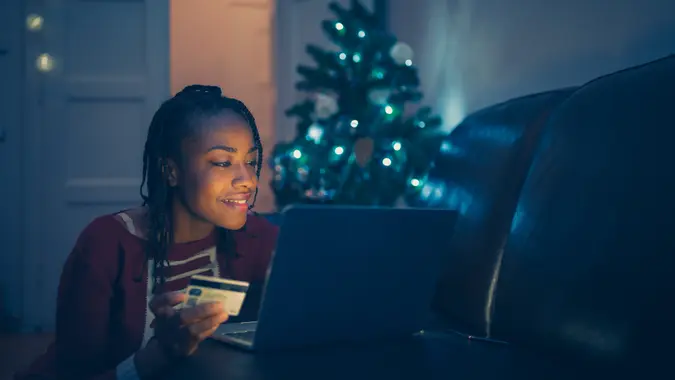 NoSystem images / Getty Images
Many American families have had to tighten their financial belts in 2022 because of inflation and soaring costs, particularly for gas and energy. But increased spending on necessities isn't translating into decreased spending on the holidays. In fact, a survey done by the National Retail Federation and Prosper Insights & Analytics of 2,000 consumers this fall showed that 62% of shoppers plan to prioritize celebrating the winter holidays with gifts and get-togethers, even if it doesn't fit neatly in the budget.
Instead, according to the organization, shoppers are willing to make changes – whether that's saving money elsewhere, taking on a temp job, spending from their savings accounts, selling unused items or even paying by credit card or via buy now, pay later services.
And those changes also include how they shop for the holidays, with consumers looking for sales and discounts well before Black Friday this year.
The NRF projects that holiday retail sales in November and December will be between 6% and 8% higher than in 2021 and fall between $942.6 billion and $960.4 billion. Last year, holiday sales were a record-setting $889.3 billion, the organization said.
"While consumers are feeling the pressure of inflation and higher prices, and while there is continued stratification with consumer spending and behavior among households at different income levels, consumers remain resilient and continue to engage in commerce," said Matthew Shay, NRF president and CEO, in a news release. "In the face of these challenges, many households will supplement spending with savings and credit to provide a cushion and result in a positive holiday season."
Make Your Money Work for You
So how can shoppers get the most bang for their buck? By seeking the best sales and promotions, which actually are plentiful even before Black Friday. With holiday shopping fever going strong, retailers are going full speed in dropping new deals. Here's a look at some of the best seasonal sales that aren't directly tied to Black Friday or Cyber Monday.
Walmart Deals for Days
Walmart had such success with its "Black Friday Deals for Days" in 2020 and 2021 that it's coming back for a third straight year. Through Nov. 21, it is offering new Deals for Days each week, beginning each Monday. Walmart+ members can shop from noon to 7 p.m. ET each Monday, with online access for everyone beginning at 7 p.m. The discounted items will be available in stores on the following Wednesday.
The events run before Black Friday specials, and November savings will conclude on Nov. 28 with Cyber Monday.
Walmart's Nov. 7 deals included a Shark robot vacuum for $259 instead of $449.99 and hoverboard for $79.99 instead of $128.
Amazon Early Black Friday Deals
Amazon's website already contains a section devoted to early Black Friday deals, and it contains finds from departments across the site. Whether someone on your shopping list wants a Keurig coffee maker, a therapeutic massage gun or a fancy dress, you probably can find it under the early Black Friday deals tab on the website. They're updated daily, so if you see something you like one day, grab it. It might not be available at the price the next day.
Make Your Money Work for You
If you have an Amazon Prime membership, you're also eligible to access special deals reserved for members.
Fall Clothing Clearance Sales
"Clothing brands will be clearing out those back-to-school looks to make room for winter apparel, but fall clothing like sweaters and denim jackets make great holiday gifts, so take advantage of these deals now and check a few items off your holiday shopping list early," shopping expert Andrea Woroch said. "Just don't assume the sale price is the best price, as you can find coupons to stretch the discount further."
Home-Improvement Hoopla
If things like power tools, smart home devices or paint supplies are on someone's wish list – or if you just want to spruce up the house for holiday entertaining – both Home Depot and Lowes are holding their Black Friday sales now. The two home-improvement giants will run the specials throughout November. There's no need to wait until Thanksgiving weekend to shop.
Diamond Bonus Buy
If you spend at least $25 on a purchase on Macys.com, you'll have the choice of a diamond gift: either diamond cluster stud earrings or a matching 18-inch pendant necklace, set in sterling silver. Macy's says it's a $200 value, but they're priced at $29.99 as a bonus buy. Both are 1/10 carat, total weight.
Instant Savings
Until Nov. 23, Sam's Club members can enjoy instant savings at the cash register with no coupons to clip. The savings apply to everyday items like diapers — $5 off per package — to $40 off a power toothbrush to a $500 discount on a top-of-the-line refrigerator.
Gifts for the Home
Wayfair and its competitor, Overstock, are celebrating the holiday season now with Black Friday sales already trickling in on their websites. Both retailers have items listed at up to 70% off. Shopping on the sites could allow you to cross a lot of gifts off your lists – from home décor to bed and bath to small appliances.
Keep In the Know About Future Sales
Since retailers are constantly launching new sales, it's key to stay in the know. 
"One of the best ways to make sure you don't miss out on important savings events for the holiday season is to sign up for email alerts and phone notifications from your favorite stores," said Lisa Thompson, savings expert at Quotient, which runs Coupons.com. "You don't know what you don't know, right? Like, when a store will have a 'Friends & Family' sale or offer a BOGO deal. It's also a good idea to follow your favorite brands on social media so you don't miss out on deals exclusively announced on those platforms."
Thompson provided the following pro tip: "Before you tap 'Purchase,' look for a coupon or promo code. Every. Single. Time," she said. "It's potentially free money waiting to happen, and many stores allow you to stack coupon codes."
Be Mindful Of Store Policies — It Could Save You Money
If you find that a retailer has dropped the price on something you bought in store or on its website, check to see if a price adjustment is offered. Target, for one, is offering a low-price guarantee through Dec. 24, so you can buy in confidence. Ask about the policies of other stores.
More From GOBankingRates
Nicole Spector contributed to the reporting for this article.