The Best Toy Sales You Can Still Get in On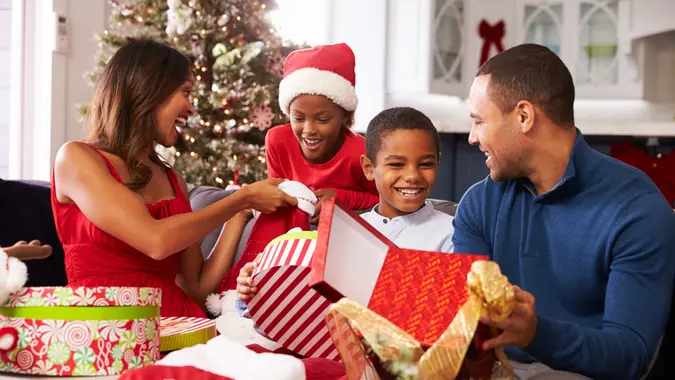 Monkey Business Images / Shutterstock.com
Once again, Christmas is right around the corner. And with the approaching holiday comes the need to finish all your shopping in time to have everything wrapped, labeled and placed neatly under the tree in time for Christmas morning (or Christmas Eve, depending on family traditions). 
While Black Friday is synonymous with the best deals, there are still plenty of options when it comes to picking something up for all the kids that are on your list this year. If shipping delays are a concern, Target and Walmart's websites will often let you ship to one of their stores if an item's not in stock. As far as Amazon, there are options to have it sent to a pickup location, which can save a day or more on shipping time. 
Now, from building sets to action figures to board games, here's a look at some of the biggest toy sales that you can still catch in time for Christmas. 
Good To Know: 
Rainbow High Series 3 Doll
As the name might suggest, the Rainbow High series takes a color of the rainbow for each doll. In addition, they're each modeled after real-life designers and fashion trends. Now on its third series, it's more sought-after now than ever. Luckily, fan-favorite Sheryl Meyer is currently on sale for $20 (down from $29) on Amazon. 
Tips: 
Make Your Money Work for You
Disney TonieBox Starter Set
A screen-free speaker designed specifically for younger ears, the Disney TonieBox starter set features plenty of Disney favorites and is durable enough to withstand the most hectic of playtimes. It also comes with a quartet of magnetic Disney Tonies: Ariel, Moana, Elsa, and Cinderella, each with its own playlist and stories when placed on top. Normally $129.99, it's on sale for $99.99 at Target. 
Helpful: 
Hover 1 Astro Hoverboard
Glide around the neighborhood in style with the Hover 1 Astro hoverboard, sporting a 200W Dual Motor that delivers speeds of 7 MPH speeds with 9 miles of extended range. Download the app and you can unlock an array of lighting options thanks to the ultra-bright LEDs on the wheels, board, and footpads. The hoverboard typically retails for $229.99, but is 24 percent off at Target, bringing it down to $175. 
See: 
Star Wars The Mandalorian Galactic Snackin' Grogu
An interactive, animatronic toy based on the breakout star of the Star Wars series The Mandalorian, Grogu comes with four accessories, which cause different reactions from the toy when placed in its hands. It will also let everyone know when it wants to be picked up and held, making it an ideal snuggling companion. Regularly priced at around $79, it's currently available on Amazon for $51.63.
Halo Deluxe Warthog and FIgures
Based on the mega-popular XBox franchise, the Warthog is the game's most iconic vehicle. It comes with a Master Chief figure, which is compatible with any World of Halo figures or playset. Priced at $29.97, you can save almost a third of that price by picking it up at Walmart for $19.97.
Make Your Money Work for You
Important: 
LEGO Wildlife Rescue Building Kit
LEGOs have been consistently popular for decades, and for that reason make reliable gifts. The Wildlife Rescue kit has what any builder enjoys: a couple of minifigures, a vehicle, and an interactive environment to interact with. All of which is customizable. This $49.99 set is currently $39.99 at Target, which has marked down a number of other LEGO sets.
Read: 
Barbie Dream House Dollhouse
The gold standard of all modern dollhouse sets, this Barbie Dreamhouse is just under four feet high, and comes with an elevator, a slide, a pool, along with its own lights and sound. With 360-degree play, it can be customized to whatever space it ends up in. It usually retails for $199 but is on sale for only $159.99 at Walmart. 
Trekking the National Parks
For those looking for an activity the whole family can get in on, this award-winning board game was created by National Parks enthusiasts after they'd visited all of them. The ideal mixture of fun and educational, this wholesome activity can even help prepare a family for a perfect low-cost vacation. Normally $55, the game's marked down to $42.49 at Amazon.
More From GOBankingRates