5 Best Ways To Save Money Over Thanksgiving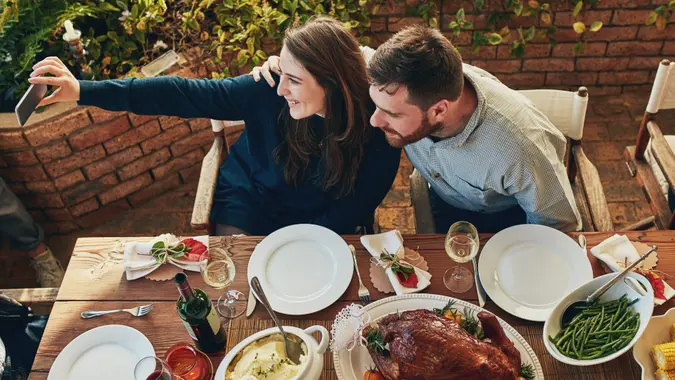 PeopleImages / Getty Images
Ah, Turkey Day…you might picture yourself gathered around a table of loved ones, sharing a delicious meal and loosening your belt straps after stuffing yourself with amazing food. All of which comes at a price. Americans spend a lot to celebrate Thanksgiving every year. For 2022, however, lots of us are trying to figure out ways to tighten our belts – our money belts, that is. 
Holiday Spending: Get Top Holiday Shopping and Savings Tips
More: 5 Things You Must Do When Your Savings Reach $50,000
With inflation causing prices to go up, the fear of a recession about to strike at any moment and some of us finding our work situation changing for one reason or another, here are some practical and easy ways to save money this Thanksgiving.
Friendsgiving With Pizza
The travel. The cooking. The family. Sometimes it's all just a little too much to deal with, especially on Thanksgiving. That's why this year many Americans are opting to simply do a Friendsgiving instead, a celebration that requires only some besties and a dish or two for sharing.
Make Your Money Work for You
Personal Capital conducted a survey to outline some trends for the 2022 Thanksgiving celebration. "Over half of those surveyed reported losing their job within the past 12 months (53%). And unsurprisingly, those who did were less likely to plan on celebrating Thanksgiving this year. However, they were significantly more likely to celebrate Friendsgiving, which seems to come with a more budget-friendly menu."
And that menu does not have to be traditional in any way, shape or form. Friendsgiving participants can do a potluck or this year, simply order a pizza. The survey also found that "only 24% of Friendsgiving celebrators planned on having turkey, an item that's sure to be more pricey this year compared to last. Instead, pizza was the top choice (33%)."
Take Our Poll: What's the First Thing You Would Do if You Won a Big Lottery Jackpot?
Smaller Guestlists
How big is your table? How many sets of silverware do you really have? Do you need to invite everyone and their grandma, plus grandma's best friend? Consider dropping your guestlist down to only the most VIP of folks, the ones who will bring the most joy to your Thanksgiving.
"Most Americans placed their Thanksgiving budget within $101-$200," the Personal Capital survey reports. "Gen Xers were most likely to keep a tight budget of $100 or less (40%), and baby boomers were most likely to break the bank with a budget of $201 or more (20%)."
Make Your Money Work for You
Not only will limiting your guestlist help save on your meal prepping budget, it will cut down on the time you'll spend cleaning up the dinner as well.
86 That One Dish
Okay, so there are a few staples of the Thanksgiving meal that all of us expect to see served: stuffing, potatoes and a slew of others. 
But do you really need to make a fully loaded lasagna if you are already serving up a fully loaded turkey? And while on the subject, do you even need a turkey now that the price per bird is going sky high?
According to Finder, for Thanksgiving 2022, "Americans will spend an estimated $1.1 billion on festive fouls, an increase of roughly $151 million from the $985 million paid for Thanksgiving turkeys in 2021."
An estimated 88% of Americans are dropping at least one item from their Thanksgiving dinners in order to save money this year. Hopefully the cost-cutting doesn't extend into dessert, because that just means more room for pie!
Make Your Money Work for You
Sharing the Budget
Not only are Thanksgiving hosts considering eliminating certain items from the menu (sorry, weird casserole no one ate!), but also asking guests to bring a dish or two. There's an ongoing debate about another option: asking your guests to chip in on the meal financially.
"You might also share the cost of your Thanksgiving meal with family or friends. If everyone chips in and brings a delicious dish, it can make the holiday more affordable for everyone you celebrate with this year," says Finder's personal finance expert, Laura Adams.
This might sound impolite or in poor taste, but most of your guests might be willing to entertain the idea, so long as you give them plenty of notice.
Skip Thanksgiving All Together
It might be a hard decision to make, but one that some Americans are opting for more and more: not celebrating Thanksgiving at all. For many, it's just not worth it.
Just add up the numbers and see if it makes sense: 112 million American adults are expected to travel for Thanksgiving in 2022. IRI, an analytics and data firm, used their annual Thanksgiving Tracker to project the cost of Thanksgiving meals to increase by 13.5% in 2022. Since 2020, that number has only increased in double-digit increments.
Between the cost and hassle of traveling, the rising prices in food and the general chaos that the holidays can often bring, perhaps it's best to kick back at home and be grateful you don't have to deal with any of it.
More From GOBankingRates
Make Your Money Work for You