Buying Fewer Gifts This Year? Make Them Count With These Great Deals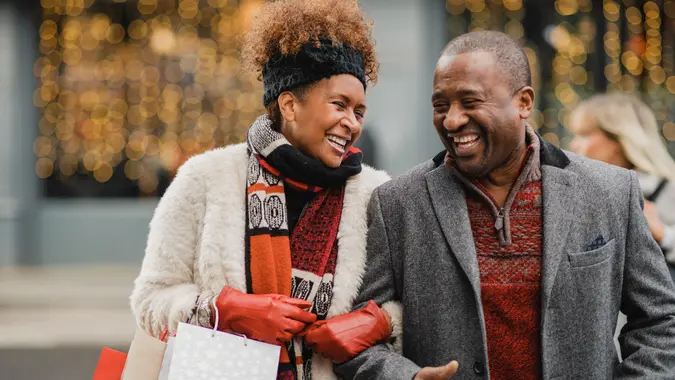 SolStock / Getty Images
Thanks to inflation, this holiday season many Americans are buying fewer gifts to cut back on expenses. While many shoppers are reducing the number of gifts they are buying, they aren't stopping shopping altogether. Instead, many are on the lookout for the best sales and offers they can find on items.
In fact, according to a recent survey conducted by GOBankingRates, 66% of Americans only shop sales or shop sales for certain items during their holiday shopping. On the other hand, 4% of Americans never look out for sales and 23% aren't seeking out sales but are using them when they see them while shopping.
In light of so many shoppers looking for the best sales this year, let's take a look at seven fantastic gift deals happening now so that you can save as much as possible this holiday season.
CXK Wireless Earbuds
Everyone needs a decent wireless earbud option for listening to music or talking to friends and family on the go. While Apple Airpods may be the go-to wireless earbud option, they are not the only option on the market.
The CXY Wireless Earbuds outperform the Apple brand and cost a fraction of the price. While the normal selling price is $85.99, Amazon is offering them for the low price of $29.99. These earbuds feature unbeatable sound quality with a rich base and crisp high notes providing every music lover with the highest quality of sound. You can say goodbye to constantly dying technology when using these earbuds as they offer eight hours of playing time and up to 36 total hours when using the rechargeable charging case.
Make Your Money Work for You
Kindle Paperwhite
Who doesn't love reading a good book before bed or having the freedom to read from an airplane, school, work or wherever you are? If you're looking for the perfect holiday gift for a book lover, you might want to consider the latest version of the Kindle e-book reader.
The Kindle Paperwhite (8 GB) is retailing for $139.99; however, if you buy two or trade in your old Kindle, you can receive a $20 discount. The newest Kindle edition features a 6.8-inch display with an adjustable warm light and as much as 10 weeks of battery life. Those who love reading outdoors will appreciate that even in broad sunlight, the 300 PPI display reads as regular paper with glare-free technology.
Greek Chef Espresso Machine
There's nothing better than waking up to the rich aroma of freshly brewed coffee. The coffee lover in your life is sure to love the Greek Chef Espresso Machine and the current sale on this product can't be beaten. While the normal retail price of this coffee maker is $199.99, currently, the espresso machine is on sale for $109.99. Enjoy a nearly 50% discount by stocking up on this product as the holidays roll around. Coffee lovers are sure to appreciate the high-pressure pump that maximizes the extraction of espresso while providing a delicious aroma.
Craftsman Mechanics Tool Set
The tool lover in your life is sure to enjoy the Craftsman Mechanics 189-Piece Tool Set. With a list price of $219, you can enjoy 20% off and obtain the tool kit for a mere $174.99 by shopping on Amazon. This tool set offers some great features for the handy people in your life as it features a corrosion-resistant finish, increased access and minimal arc swing, increased torque and easy tool storage.
Make Your Money Work for You
JBL Clip 4 Portable Speaker
A wireless portable speaker is a necessity for every pool party, beach trip and family gathering, and now is a great time to stock up on this product. Enjoy 38% off the JBL Clip 4 Portable Speaker by stocking up on the product now for $49.95, instead of the list price of $79.95. This speaker features rich audio, and its compact size allows for easy travel and convenience. You also don't have to worry about water or particles affecting the speaker's sound quality as the JBL Clip 4 is waterproof and dustproof.
PowerXL 5qt Vortex Classic Air Fryer
For your friend who loves crispy foods, quick meals and easy cleanup, the Power XL 5qt Vortex Classic Air Fryer offers unbeatable kitchen convenience. You can enjoy the hottest deal on this item ahead of Black Friday this year by shopping online at Target. While this air fryer is typically priced at $99.99, you can save by buying this item online or picking it up from your local store for $44.99. You can enjoy all of your favorite crispy foods with fewer calories and less fat when using this air fryer . Additionally, the digital touch screen makes the operation of the appliance simple and easy to use.
Keurig K-Mini Single-Serve K-Cup Pod Coffee Maker
The deals for coffee lovers this winter continue as Keurig is offering a fantastic sale on their Keurig K-Mini Single-Serve K-Cup Pod Coffee Maker. You can save 50% off by shopping Target's sale and purchasing this kitchen appliance for the price of $49.99, instead of the list price of $99.99. This coffee maker is sure to please your friends and family looking for a coffee maker perfect for small spaces, as this appliance is less than 5 inches wide. With an effortlessly simple-to-use design, the K-Mini coffee maker is the ideal coffee maker for anyone looking for a portable and sleek brewer.
More From GOBankingRates
Make Your Money Work for You