Experts: How Much Cash Should You Set Aside for Holiday Gifts?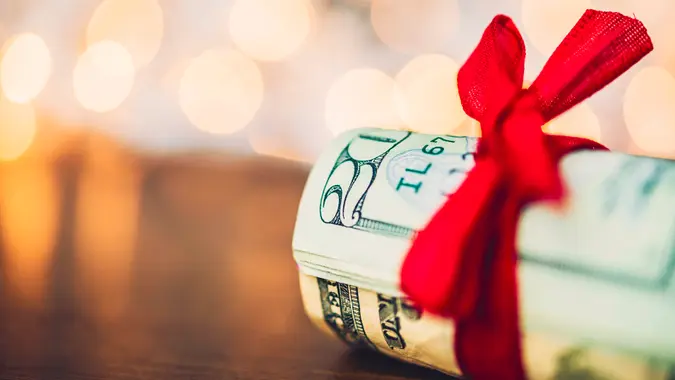 CatLane / Getty Images/iStockphoto
The holiday season is in full swing, but you're still working on your budget. There are a lot of expenses when you're preparing for the holidays, especially when it comes to gifts. While no one wants to be a scrooge, inflation and high interest rates have exhausted family budgets all year.
Holiday Spending: Get Top Holiday Shopping and Savings Tips
Advice: If Your Credit Score Is Under 740, Make These 4 Moves Now
According to the National Retail Federation, Americans, on average, spend almost $1000 on Christmas shopping, with an average of $648 spent on gifts alone. If you're planning ahead, how much should you budget for gifts?
A recent GOBankingRates survey found that Americans tend to spend differently depending on who they're buying for. Almost half of Americans (48%) spend between $20 and $60 on gifts for their family members. With gifts for friends, there's less consensus, but the majority of people (65%) spend between $20 and $60. While the survey revealed how Americans spend in general, we asked the experts for their input on how much cash you should budget for Christmas gifts.
Make Your Money Work for You
Set a Holiday Budget
Jay Zigmont, PhD, CFP®, and founder of Childfree Wealth, agrees that setting a budget is the way to go. He says, "The key is to set a budget you can afford for gifts and then decide who gets what." Rather than set a budget for each person on your list, "start with a budget of $500 or $1000, and then work to find gifts that fit. It's cliche, but it's still the thought that counts, and having a budget may cause you to think a bit more."
In addition to your budget, you should also make a list of all the people you plan to buy gifts for. Once you know just how many gifts you're going to buy, you can better determine how much cash you'll need to purchase them all.
Take Our Poll: How Has Inflation Impacted Your Holiday Shopping Plans?
Family First
All experts agree that family tends to get the largest chunk of the gifting budget. A certified public accountant with Step by Step Business, Mark Stewart, explains it this way: "The amount of money you spend on getting a friend or a family a gift is dependent on three major factors, namely: the gift type, the gift quality and your closeness to the person."
Make Your Money Work for You
Americans tend to spend more on the people they feel closest to, which is most commonly family members. "The level of purchase depends on how close you are to the specific person," agreed Sam Willis, finance expert and founder of Raincatcher. "Coworkers would each receive chocolates or a scarf, which could cost about $20 each… For friends and family, the present usually depends on what the other person gives you each year. I don't expect anything in return, but my siblings are very generous in giving my children gadgets and clothes, so I am obliged to return the favor. For gifts like perfumes, shoes, or home decor, you must keep aside $50 or more for each."
Alternative Gifts
If you're not able to afford gifts for everyone on your list this year, don't fret. There are a lot of gift alternatives you can give instead that'll save you money and still show you care.
Sometimes, a holiday card is more than enough to show someone your appreciation. Or "you can schedule to spend time with them to celebrate instead of investing in getting gifts," says Tom Koesternen, a CFA with theguaranteedloans.com. For more ideas, check out our list of alternatives to traditional gift-giving.
Make Your Money Work for You
More From GOBankingRates
Make Your Money Work for You