6 Best Celebrity Vodkas for Under $48 on National Vodka Day
Party like celebrities by enjoying their favorite vodka brands.
National Vodka Day is Oct. 4, so you're pretty much obliged to pour yourself a cocktail or enjoy a night out on this boozy holiday. And if you want to drink like a rapper, reality television star or famous actor, that won't be hard, as there are plenty of celebrity-endorsed products on the market.
From creating their own signature wines and liquors to publicly backing specific alcohol companies, there's no shortage of celebrity endorsements in the adult beverage category. Find out which celebrity vodka brands top the charts.
Find Out: 7 Surprising Ways Money Affects Your Love Life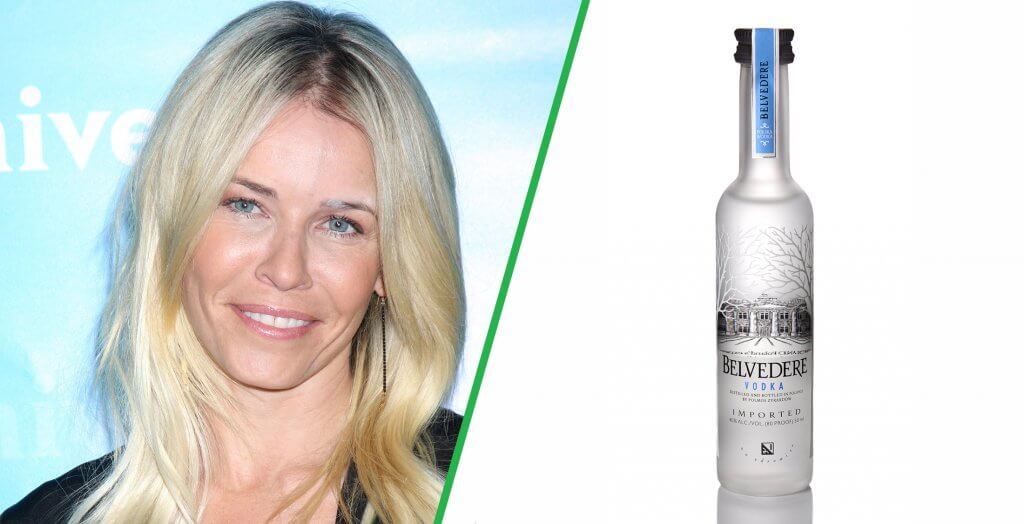 1. Chelsea Handler — Belvedere Vodka
Chelsea Handler loves vodka so much she wrote a book titled, "Are You There, Vodka? It's Me, Chelsea," back in 2008. At the time, the comedian-author had a strong allegiance to Grey Goose, but a few years later, she switched her loyalty to Belvedere.
In fact, Belvedere sponsored Handler's 21-city "Chelsea Chelsea Bang Bang" tour and book launch in 2010. Additionally, the brand hosted private tour after-parties, during which she helped promote its new Belvedere Bloody Mary vodka.
Despite speculation that she only supported the brand for its endorsement, Handler told Ad Age that she truly likes the vodka. She said her decision to switch from Grey Goose was based on the healthier ingredients in Belvedere.
It's no bacon vodka, but if you'd like to give Handler's vodka of choice a try, you can purchase a 750-milliliter bottle of Belvedere for $40.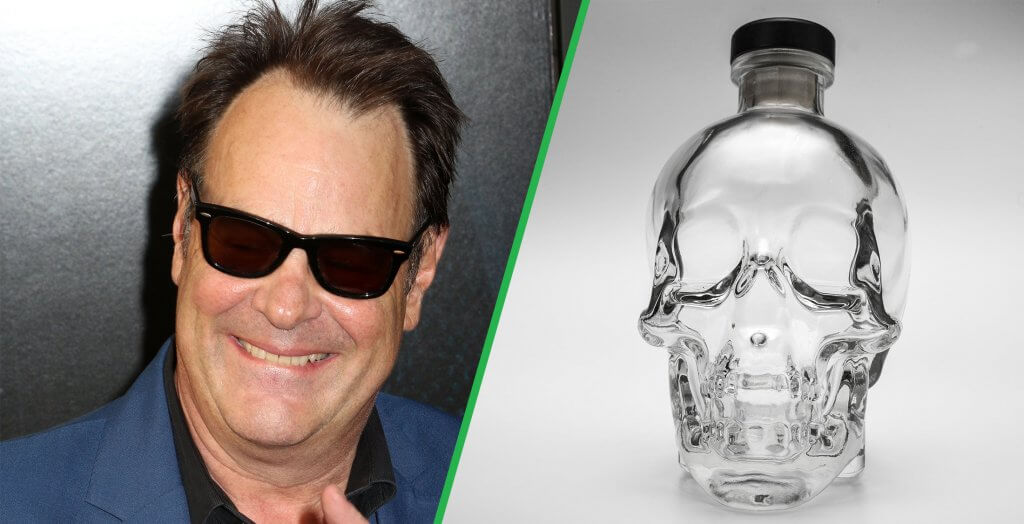 2. Dan Aykroyd — Crystal Head Vodka
In 2007, "Saturday Night Live" alum and former Blues Brother Dan Aykroyd entered the spirits industry with his Crystal Head Vodka. Co-founded with his painter friend John Alexander, the beverage is marketed as "one of the world's purest vodkas," with no additives to mask the taste.
True to its name, the vodka is bottled in a crystal head-shaped container, designed by Alexander. Produced at one of the few remaining government-owned distilleries in the world, the vodka hails from St. John's, Newfoundland, and is filtered through Herkimer diamonds.
Specific sales numbers have not been released since 2011 — when more than one million bottles were sold, totaling more than $55 million in sales — but it seems safe to assume the business is thriving, as the company released its new vodka, Aurora, in 2016. A spicier version of the classic Crystal Head, this new product is similarly packaged in skull-shaped bones bearing iridescent designs.
Aykroyd remains involved in his company, serving as a loud and proud champion of the premium vodka. If you want to try it for yourself, you can pick up a 750-milliliter bottle of Crystal Head Vodka for $48.
Beer Lover? Enjoy an Epic Oktoberfest Across the U.S. for Under $20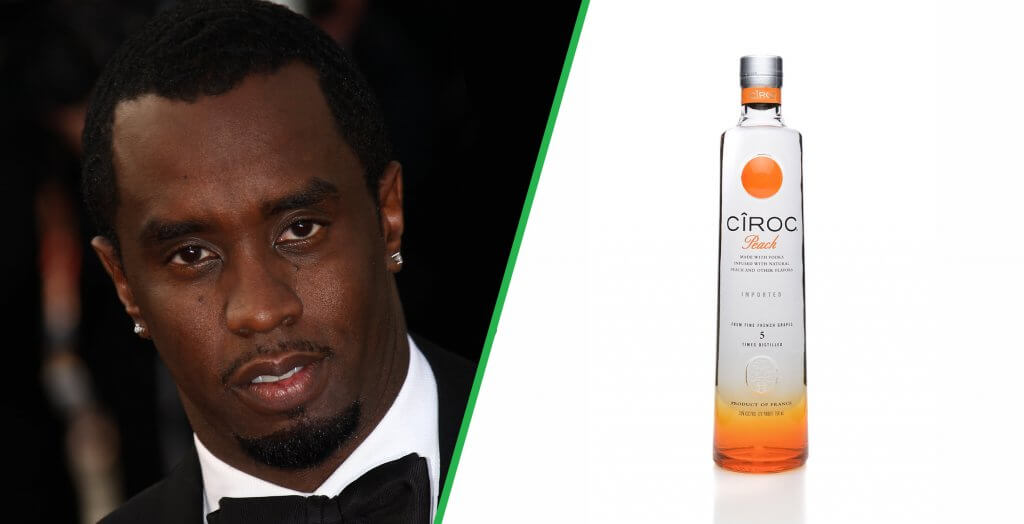 3. Puff Daddy — Cîroc Vodka
In 2007, Puff Daddy — also known as P. Diddy and Sean Combs — teamed up with beverage maker Diageo to reinvent its Cîroc brand. The two became 50-50 partners and, within 14 months, the brand went from selling 40,000 cases per year to 1 million.
By 2015, Cîroc was the second-largest ultra-premium brand in the U.S., selling 2 million cases a year. Additionally, the company entered a multi-year marketing agreement with the NBA in 2013 and served as the official vodka of the Grammy Awards in 2016 for the second consecutive year.
The rapper and man behind the Bad Boy Reunion Tour boasts an estimated $750 million net worth, according to Forbes. He remains heavily involved with Cîroc, even dubbing himself Cîroc Obama. While his annual salary from the brand has not been publicly disclosed, Forbes put the rapper's 2015 earnings at $60 million.
The Cîroc portfolio currently contains eight different flavors of vodka. A 750-milliliter bottle of Cîroc Snap Frost Vodka costs approximately $29.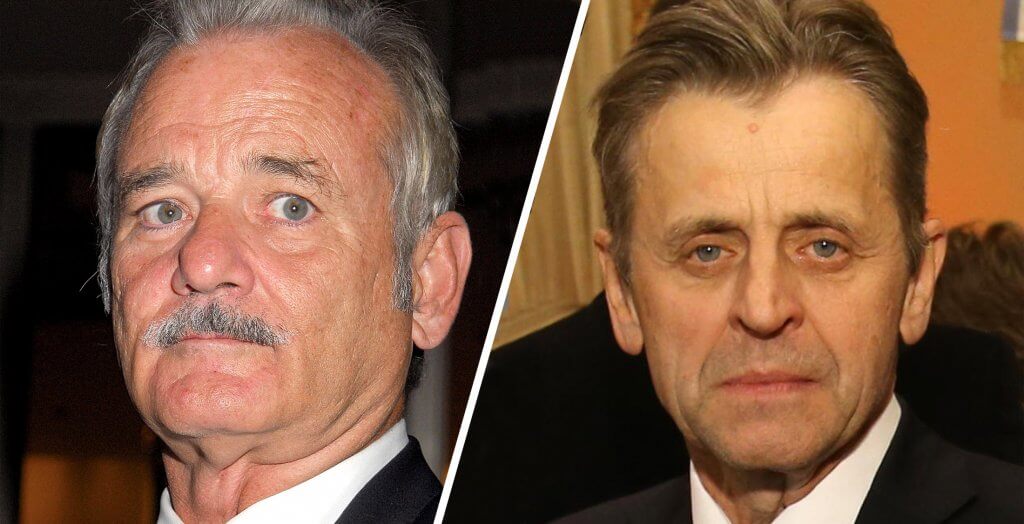 4. Bill Murray and Mikhail Baryshnikov — Slovenia Vodka
Although best known for their work in the entertainment industry, in 2013 Bill Murray and Mikhail Baryshnikov added another section to their resumes — Slovenia Vodka investors. Developed by Chef Peter X. Kelly, owner of several restaurants in New York's Hudson Valley, the vodka was officially launched in 2012.
Since joining the Slovenia team, the two famous investor-ambassadors have promoted the vodka in magazine interviews and television commercials. They also personally attend promotional events. Various bars have created cocktails incorporating the vodka, and in September 2016, Murray served as a guest bartender for his son's Brooklyn, N.Y., restaurant, pouring none other than Slovenia Vodka for patrons.
If you don't trust the former Ghostbuster's ringing endorsement of Slovenia Vodka, the brand's numerous awards should solidify its growing popularity. Among others, it received the gold medal at The Fifty Best Imported Vodkas Competition in May 2015.
A 750-milliliter bottle of Slovenia Vodka costs $37.99. Of course, if you really want to get the full Murray experience, you'll need to drink it from an ice luge.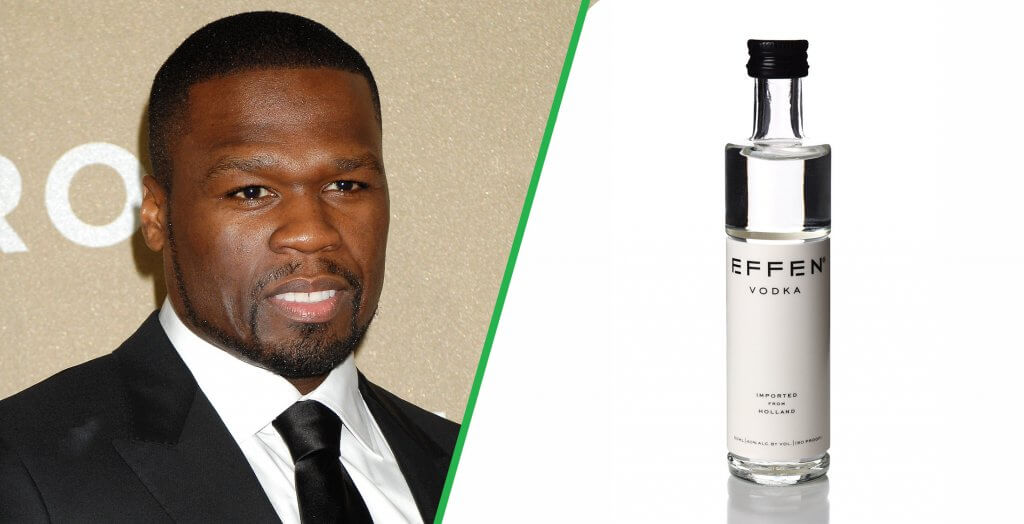 5. 50 Cent — Effen Vodka
Once upon a time, 50 Cent — Curtis James Jackson, III — encouraged fans to sip Bacardi "In da Club," but these days the rapper is getting paid to drink Effen Vodka instead. The celebrity brand ambassador worked hard to keep his earnings out of the public eye during his recent bankruptcy hearings, but before his financial woes surfaced in 2015, Forbes estimated his net worth at $155 million.
Having his name attached to the brand has likely been both an asset and a detriment to the beverage company. After 50 Cent mocked a man with disabilities at an airport in May 2016, the brand received some serious backlash, with certain Cincinnati outlets boycotting Effen.
Of course, the rapper's star power is also a significant draw, and he regularly promotes the brand on his social media accounts and takes part in events. In fact, an April 2015 appearance at a Syracuse, N.Y., liquor store resulted in sales of 13 bottles of Effen per minute, reaching a whopping 277 gallons of vodka for the day.
Effen Vodka comes in original and a variety of other flavors. One 750-milliliter bottle of classic Effen Vodka costs $29.99.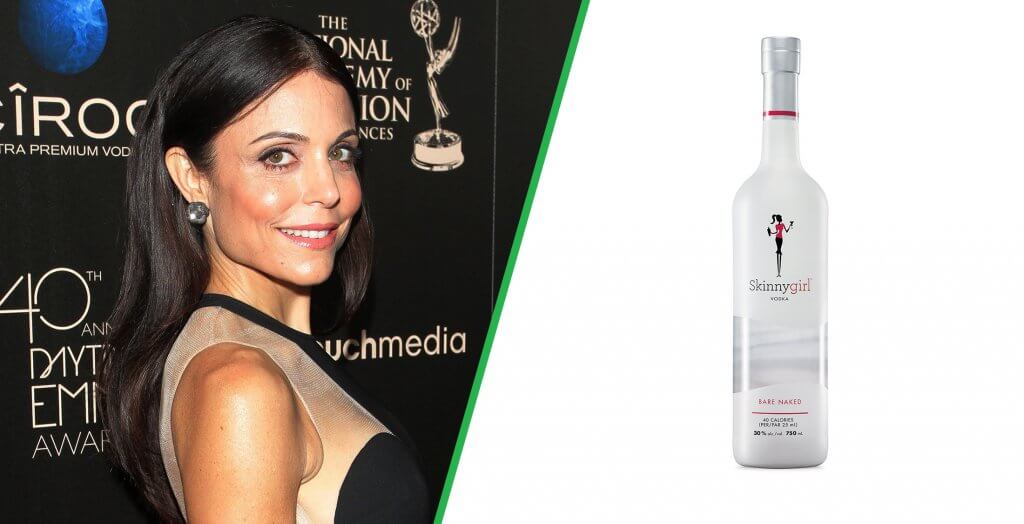 6. Bethenny Frankel — Skinnygirl
"The Real Housewives of New York City" star Bethenny Frankel's Skinnygirl empire includes everything from salad dressing and shapewear to a slew of alcoholic beverages — including vodka. The collection features an original Bare Naked flavor, along with options Tangerine and Cucumber.
The low-calorie beverage market has proven incredibly lucrative for Frankel, as she sold her Skinnygirl cocktail brand to Beam Global for a significant sum in 2011. Under the terms of the sale, she still owns the rights to the brand and can continue using the Skinnygirl name for non-alcohol products. She also appears to remain heavily involved in marketing the brand.
In fact, Frankel regularly uses "The Real Housewives" as a marketing platform for Skinnygirl goods. The finale of the show's eighth season even featured a party promoting the new Skinnygirl Watermelon Lime Margarita.
A 750-milliliter bottle of Skinnygirl Bare Naked Vodka costs approximately $17.99.