60 Cheap Stocking Stuffer Ideas For Him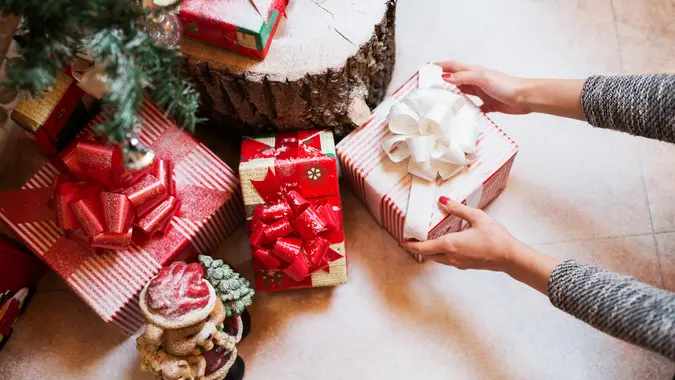 dusanpetkovic / Getty Images/iStockphoto
When shopping for the men in your life it is easy to overthink it. Just remember everyone is just a big kid at heart when it comes to Christmas morning, so keep it simple and don't go into debt when so many affordable and fun options are available. After the tree is trimmed and the lights are twinkling, it is time to purchase some affordable presents. 
Read: If Your Credit Score is Under 740, Make These 4 Moves Now
60 Cheap Stocking Stuffer Ideas for the Men in Your Life
Boys may love their toys, but they also love their gadgets, games and general supplies they need for everyday life. The saying that the key to a man's heart is through his stomach should also be considered when choosing how to stuff his stockings. Here are 60 cheap stocking stuffer ideas for men that cannot be beaten and will keep you on budget.
Air freshener: These sweet-smelling items are great for the gym bag, car or around the house. You can get some in his favorite scent and in varying fun themes. 
Baked goods: Everyone loves homemade baked goods, but you can personalize them by making his favorite or making something his family traditionally made over the holidays. You could also give a portioned-out mix of brownies or cookies, and then bake them together later.
Batteries: So many Christmas gifts are battery-operated, so to ensure they can use their gifts straight away get them a variety of batteries in their stocking. 
BBQ accessories: For the griller in your life you can stuff their stocking with tongs, spatulas or scrapers. All of these look great sticking out of a stocking with a bow on them. 
Books: Books are great for over the holidays, especially with a few days off to dig into a new crime-thriller or science-fiction saga. 
Bottle opener: Nothing is worse than when you cannot locate a bottle opener, give them out this year as stocking stuffers as they come in all shapes, sizes and colors. You can even find some the size of a credit card to fit in his wallet.
Boxers or Briefs: Not to be scandalous but these are a great way to spice up a stocking. Get some holiday-themed or comedically designed underwear guaranteed to put a smile on his face. 
Candy: Easy, inexpensive and delicious fillers for any stocking would be his favorite candy. You can even make it a variety pack to give him sweet options. 
Clip-on camera lens for cellphones: Everyone uses their phone to take pictures these days, but a nice way to elevate photography is to add a clip-on camera lens. They are affordable and will make his snaps look professional.
Cocktail ice molds: Mixologists for the home bar love an ice mold. You can grab a large ice mold for whiskey or funny-shaped molds that will entertain in an array of beverages.
Coffee beans: Christmas morning is an early one, especially if you have children, so give the gift of caffeine to perk him up.
Coffee grinder: You can get a decent coffee grinder for under $13 at stores such as Amazon or Target.
Computer decals: Decals are just stickers for adults, and are a great way to personalize his laptop.
Dry rubs: Dry rubs or seasoning mixes are a great way to spice up a meal and will pack some flavor into his stocking.
Earbuds: You can get good quality earbuds for not a ton of money. He most likely uses them every day, and it's always great to have backup pair. 
External battery charger: This year, give the gift of eternal battery life. Having a backup charger will save him from the scary notion of his phone dying.
Flashlights: Let there be light. Great to have in toolboxes, cars or around the house, flashlights come in handy more often than not.
Fruit: If your guy is more health-conscious or even more traditional, fruit is a time-honored stocking filler. In olden times, oranges were considered a gift of gold and proof that St. Nicholas had visited. This is why you will still find them in stockings today.
Gag gifts: Novelty glasses, temporary tattoos and more are a silly way to say Merry Christmas.
Gift cards: If the man you are shopping for is particular, get him a gift card. This way you can set a reasonable price, and let him pick out something he really likes. 
Hair products: Sometimes your man needs a little help sprucing up, or sometimes they know exactly what waxes, gels or oils they want, either way, these are great and cost-effective stocking stuffers in actual or travel size. 
Hand sanitizer: Always great for him to have in his travel bag or car, hand sanitizer is a great small gift in general, but has definitely increased in popularity over the last few years. 
Hats: Baseball caps or beanies are a great way to keep his head warm while supporting his favorite team.
Holiday mug: Nothing says the holiday season like a novelty Christmas mug. Fill it with candy as an added treat. 
Hot cocoa: These packets are perfect for a stocking and will keep him cozy over the holidays. 
Hot honey: You can make your own hot honey or buy some from brands such as Mike's Hot Honey or Bees Knees Spicy Honey. It is a perfect topper for pizza or is lovely on a cheese board. 
Hot sauce: If he is someone who always needs a little added heat a bottle of hot sauce to his preferred spice level would be a surefire hit. 
Key locator: This little gadget will ensure he gets out the door promptly when heading out for work.
Knife sharpener: There are turkeys to be trimmed and hams to be carved around this time, so make sure his knives are sharp.
Marinades: Some artisanal marinades will bring the flavors of a meal together without having to put in much effort. 
Money clip: These cash organizers will help keep a streamlined wallet, and you can even add his initials for a personalized touch. 
Movie tickets: A great way to set up a date night over the holidays is to surprise him with tickets to a show at your local theater. 
Notebook: Get the writer in your family a useful way to take notes all day. Find one that fits in a pocket for added convenience. 
Novelty necktie: Nothing says gifts for the dad in your life like a novelty necktie. The photo ops alone make this gift worth it. 
Nutcracker: Classic and festive, nutcrackers are a wonderful present for the nut and legume lover you know. 
Nuts: Traditionally, nuts used to be found in most stockings. It started during the depression era when nuts such as walnuts were considered a luxury if you could get them. 
Office supplies: Notepads, push-pins, staplers and more are all functional stocking stuffers that he will use. 
Ornaments: Decorations such as ornaments are a great way to commemorate the current holiday and decorate with for the next one. 
Pedometer: If he is not someone that takes his phone with him everywhere, but is someone that wants to track his steps, a pedometer is a great inexpensive gift. 
Pens: A good fountain pen will class up a desk, but also nice ink pens are a staple of any office. 
Phone accessories: Phone cases, chargers, cord organizers and more all serve as stocking stuffers he will use every day.
Pocket knife: Guys love knives, and a pocket knife is a useful gift. Just be sure to not give it if he has to fly home and isn't checking a bag as airport security will confiscate it.
Pocket multi-tool: For the handyman on the go, a pocket multi-tool has everything he needs.
Portable first aid kit: These kits are good to have around the house, in the car or for him to take to jobs where he is prone to knicks and cuts. 
Reusable straw: Cutting back on plastic use is easy with these portable and reusable drinking straws. They come in different materials and colors and have their own convenient case. 
Shaving supplies: From beard oils to aftershave, to vintage brushes or razors, shaving supplies make for inexpensive yet considerate stocking stuffers.
Shoelaces: Sometimes new shoelaces are a quick way to give an old shoe a new spruced-up look. 
Smartphone mount: These mounts can be for his bike or his car and make any type of travel a lot easier.
Soap: Keep the men in your life smelling fresh and clean. Get them scents they'll love for their travel bag or gym bag. 
Socks: Cozy socks, slipper socks or even holiday socks are an essential part of stuffing a stocking. 
Sunglasses: Even in winter, the glare of the snow can be bright so make sure he's got a pair of cheap sunglasses in his stocking. 
Toiletries: Pack him a ditty bag filled with travel essentials like toothpaste, floss, deodorant and more so he's ready to make all the holiday stops. 
Tools: New hammers, wrenches or screwdrivers always come in handy around the holidays, especially with new presents to assemble. 
Touchscreen gloves: Keep his hands warm even when he won't get off the phone with these gloves he can wear while still using his smartphone. 
Tumbler: These convenient thermal cups are great for coffee or tea drinkers on the go, and come in a variety of sizes and designs. 
Undershirts: These wardrobe staples often need to be updated so Christmas time is a perfect time to do so. 
Water bottle: Cut down on plastic water bottles by getting him his own glass or metal water bottle to take with him everywhere. 
Video games: Popular and perfectly sized for a stocking, video games are a crowd pleaser.
Vintage toys: Bring out his inner child with vintage toys such as Rubik's Cubes, mini Lego sets or old-school Gameboys.
Vitamins: With all the traveling and family time, give him some immune system boosters such as Emergen-C or Airborne packets or supplements. 
Final Thoughts
It may sound cliché, but it truly is the thought that counts. That doesn't mean any item will do, but people can tell when you have put thought into something, and it will reflect in your gift-giving. You don't have to spend an arm and a leg to let someone know you care. 
Make Your Money Work for You
FAQ
What can I put in a man's stocking?

Great ideas for men's stocking stuffers include baked goods, games, toys, tools, accessories or toiletries. These can all be purchased inexpensively as well.

What can I put in a Christmas stocking for men?

There is no shortage of options for what you can put in Christmas stockings for men. Some ideas include tumblers, socks, ties, soaps and more.

What goes in a teenage boy's stocking?

If you are worried about what to stuff a teenage boy's stocking with you cannot go wrong with a gift card. This way you can set the limit and they can choose what they want. Video games, candy or phone accessories are usually also huge hits.

What should I get my girlfriend as a stocking stuffer?

Here are some fun ideas for what to put in your girlfriend's stocking this Christmas:

Art supplies
Bath bombs
Bluetooth shower speaker
Books
Candles
Candy
Cookies
Cookie cutters
Framed photos
Hair accessories
Hand sanitizer
Hats
Holiday mug
Homemade treats
Hot cocoa mix
Jewelry
Lip balms
Lotion
Magnets
Mittens
Movie tickets
Ornaments
Phone case
Pumpkin pie spice
Reusable beeswax wraps
Reusable straw
Scarf
Soap
Socks
Stress ball
Sunglasses
Tea
Zodiac accessories
Information is accurate as of Nov. 28, 2022. 
Make Your Money Work for You