Spoil Your Sweetheart This Valentine's Day Without Emptying Your Wallet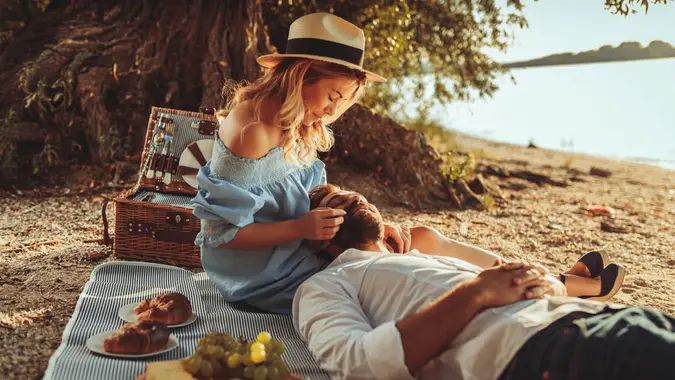 bernardbodo / Getty Images/iStockphoto
Money can cause a lot of stress, and that's especially true during Hallmark holidays like Mother's Day, your anniversary and, of course, Valentine's Day. The holiday is all about celebrating love — but that comes with a price.
Between flowers, jewelry, candy and other gifts, consumers spent an estimated $18.2 billion on Valentine's Day in 2017, according to the National Retail Federation and that number is estimated to increase to $19.6 billion in 2019. But with a few affordable ideas, you don't have to drop hundreds of dollars to prove your love.
Homemade Chocolate Truffles
Chocolate-dipped strawberries are a classic Valentine's Day gift. But if you have the time, homemade chocolate truffles are a unique and delicious dessert to gift. That's one gift Ashley Marcin, founder of lifestyle blog (never)homemaker, was happy to receive.
She said her husband never makes dessert, "So, when he handed me a tiny box filled with dark chocolate truffles he had rolled from scratch — I was floored," she said.
Click through for more chocolate-dipped treats to give your sweetie this Valentine's Day.
Cards With Handwritten Memories
One year, personal finance writer Louis DeNicola said his girlfriend made him a deck of cards filled with her 52 favorite memories from the previous year.
"Each card was themed, and every week I can flip to a new one and it puts a smile on my face," he said.
Envelopes Filled With Date Ideas
David Carlson of Young Adult Money received a unique gift from his wife: twelve envelopes filled with different date ideas. Each month he opened one envelope, and he and his wife would do whatever the card said.
Make Your Money Work for You
For your own gift, opt for low-cost or free date ideas, like going to the museum on free museum day or building blanket forts at home and "camping."
Treasure Hunt Across Town
For a gift that lasts all day, put together a treasure hunt that takes you and your loved one across town to visit low-cost attractions, like local parks.
That's what William Charles, an investment banker and owner of Doctor of Credit, received one year. "It's really a day about spending time with the person you love, and this was a great opportunity for us to do this without spending a lot," he said.
Quiet Time
It might sound odd, but if your loved one has kids, a bit of quiet time can be the perfect gift. "Not only does it cost nothing — at least financially, it's definitely hard work wrangling your kids by yourself — it gives her a much-needed break," said J. Money of Budgets Are Sexy and Rockstar Finance. "I've never once heard a mother turning that down."
Party of One: 8 Times When Your Wallet Benefits From Being Single
Vintage Clothes
You don't need to spend a lot on clothes if that's what you plan to gift this year. Charles said he once bought his girlfriend a vintage dress from a thrift store for $5.
"My girlfriend loved it, and after wearing it for several months she eventually sold it — with my blessing — on eBay for $80," he said.
Need Clothing Gift Ideas? Here Are 30 Items Every Working Woman Needs
Craft Beer
"My wife and I really don't exchange much when it comes to Valentine's Day as we tend to be pretty frugal," said John Schmoll, founder of Frugal Rules. He said his wife once gifted him a six-pack of different craft beers, which he adored and only costs between $10 and $15.
Make Your Money Work for You
Custom Mug
To pair with beer and to keep costs low, try gifting a custom mug. Glen Stephenson of Monster Piggy Bank received a beer mug with his favorite football team's logo stamped on it, and he still uses it, he said.
A Private 'Restaurant' Experience
Tiffany "The Budgetnista" Aliche once decorated her boyfriend's dorm room with dollar store finds. She said she thumbtacked curtains to the ceiling to create a canopy, bought scented tea light candles, a red tablecloth, candy and balloons.
"I used all of these things to create an inexpensive, private romantic 'restaurant' that I dubbed Chateau Le Me," she said.
Treat Your Sweetie: Best High-End Restaurants in 50 US Cities
An Afternoon Picnic
If weather permits, plan an afternoon picnic. Stephenson said he put together a homemade lunch and visited a natural reserve.
"The spot was amazing," he said. "It overlooks the ocean on one side and the countryside on the other. The food was hardly Jamie Oliver quality, but it was probably the best Valentine's Day I've had, and it was certainly one I remember well."
Click through to read more about extravagant Valentine's Day gifts only the ultra-rich can afford.
More on Saving Money
We make money easy. Get weekly email updates, including expert advice to help you Live Richer™.