10 Christmas Decorations You Didn't Know You Could Get at Dollar Tree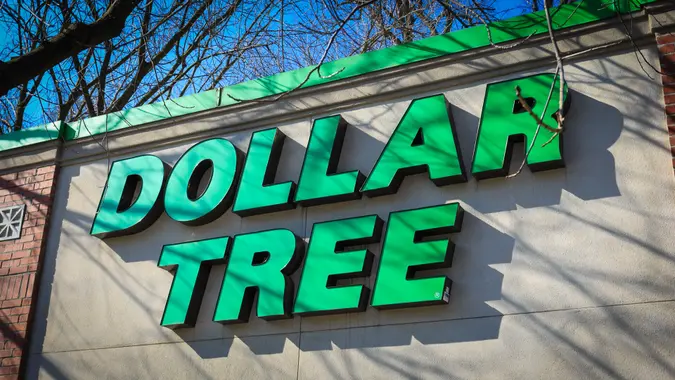 Cassiohabib / Shutterstock.com
The leftovers are gone. The temperature is dropping. Mariah Carey is playing around the clock. It must be time to do some Christmas decorating!
Take a Look Back: 2022 Year in Review
Learn: 3 Easy Tips To Turn Your Credit Woes Into Wows
But while it might be time to deck the halls with all sorts of fun and festive decorations, that doesn't mean it's time to empty your wallet. One place that has great discounts on winter items is Dollar Tree. The bargain retailer is one of the best places to purchase some boughs of holly and more for the ho-ho-holiday season.
Here are 10 Christmas decorations you didn't know you could get at Dollar Tree.
Light-Up Iron Christmas Tree
Can you ever really have too many Christmas lights? Answer: no. Why not make your home shine brightly with these 11-inch light-up iron Christmas trees for $5 each? These little lights of wonder come in white and green options — perfect for illuminating the spirit of the season or gifting as stocking stuffers to your loved ones.
Make Your Money Work for You
Christmas Santa Figurine
This time of year, everyone's waiting for the man with the bag. Honestly, what's Christmas without Santa? Add a 12×7-inch figurine of jolly old Saint Nick to your bag and have him be the centerpiece of your Christmas mantel or window. At $5 per piece and in varieties of red and gray, you'll be saving some green in the process.
Winter Wonderland Fairy Garden Set
Create a magical Christmas landscape in your very own home with the Winter Wonderland Fairy Garden Set. Dollar Tree describes this 33-piece set as "an online exclusive and is sure to add that festive touch of whimsy to your holiday."
The set includes "four fairy houses, three fairy doors, eight fairyland accessories and 18 figurines and small accessories." There are limited quantities currently available only online and at $26.25 for the entire set, they are sure to go fast!
Christmas Icons Decorative Inflatables
Dollar Tree has these Christmas Icons Decorative Inflatables for $5 apiece, whether you are choosing a Santa, nutcracker or snowman amongst numerous options. According to the description, these fun characters feature: "bright colors and holiday icons…inflatables are made to stand out and draw attention to your display."
Make Your Money Work for You
Stockings
Are they fun decorations or a festive way of wrapping presents? Why not both! From classic, old-fashioned stockings to nontraditional, more customized stockings, Dollar Tree has you covered. No matter what your style is, except to pay about $1.25 per stocking.
And how about what to put in the stockings? Palmer Rudolph The Red Nosed Reindeer Themed Christmas Chocolates are one of many sweet treats also for $1.25 that you can stuff yourself and your stockings full of. Also, they make for a great snack as you hang them by the fire with care.
Green Table-Top Artificial Christmas Tree
While we'd probably all love to have Christmas in a huge house with gigantic ceilings, the reality is that many of us live in smaller spaces. Doesn't mean you can't have a Christmas tree from Dollar Tree, though!
These green table-top trees are just 18 inches each, which makes them ideal to put on a counter, desk or table in your apartment, condo, office, bedroom or anywhere else you'd like. At $1.25 each, you'll have enough money left over to buy some lights and ornaments to hang on its branches.
Make Your Money Work for You
Christmas Plush Gnomes
Move over, elf on a shelf! The Christmas gnomes are here. For $3 each, you can decorate your shelves and mantels with a variety of gnomes in different holiday colors and outfits. 
How to best care for your Christmas gnome? According to Dollar Tree: "Do not bop the gnome on the nose, they do not appreciate that. They do appreciate belly rubs so feel free." Now you're in the gnome.
Christmas Porch Leaner
Don't forget to decorate the outside of your house while you're at it. And what could be more fitting than a Christmas porch leaner from Dollar Tree? The best part is that you don't have to go up on a ladder or the roof to set these festive 48-inch plaques up.
Simply choose from one of four holiday sentiments – "welcome," "home for the holidays," "Christmas trees" and "joy to the world" – and you're done. For $5 each, they are some of the most inexpensive and least hassle-inducing decor you can add to your home.
Warm Cozy Holiday Lanterns
While the weather outside might be frightful, you might not be able to have a fire, so to speak. But you can mosey on up to the Warm Cozy Holiday Lanterns that are perfect for creating the festive glow of Christmas.
What they might lack in heat, they make up for at an unbeatable price of $5 each. Add one to your office desk or dining room for some extra holiday ambiance.
Pine Berry Wreath
Right now, Dollar Tree has Pine Berry Wreaths in greenery, berry and eucalyptus for just $5 per wreath. "Each wreath measures 18x18x4-inches and features either pine, snowy-pine, eucalyptus leaves and berries," according to the product description.
These are the perfect decorations for the wintery welcoming of friends, family and Christmas itself into your home.
More From GOBankingRates
Make Your Money Work for You