Halloween Costumes: Is It Cheaper To Buy Or DIY?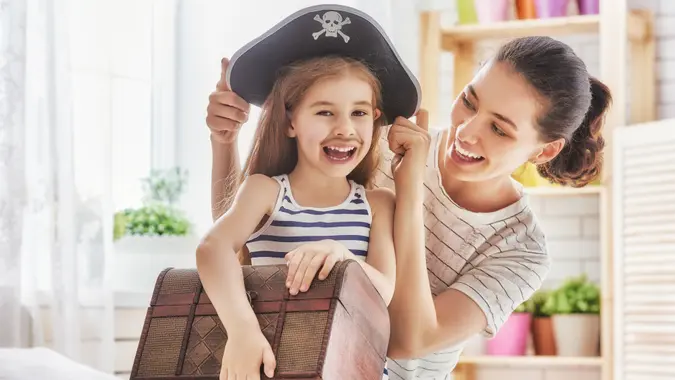 Choreograph / Getty Images
With Halloween approaching, and if you're inclined to celebrate, you undoubtedly have started to think about a costume for yourself and the kids. And if you've priced them, you probably have some sticker shock. Buying a ready-made costume could set you back $30 or much, much more.
But what about buying one secondhand or even making one yourself? To give you an idea of some easy-to-create costumes – and their cost – we came up with three options and priced what you'd pay for them new, if you made it yourself, and used. You'd be surprised by what a great costume you could have with a bit of creativity, minimal crafting skills and less than $20. Here's to celebrating fall fun without breaking the bank.
Fred Flintstone Kids' Costume
Fred Flintstone is a timeless character who many kids know today, introduced to the Stone Age rock quarry employee by parents and grandparents. All your child needs to do is start practicing the phrase "Yabba dabba doo" to get into character.
Buy New: $44.99 and up
Fred Flintstone is a simple dresser – just an orange tunic with black spots and a blue tie. (You'll want to add shoes and shorts or pants, of course). Despite his uncomplicated wardrobe, dressing like Fred isn't cheap. A size medium youth costume is $44.99 at HalloweenCostumes.com and $46.99, plus $6 shipping, from a third-party vendor on Amazon.
Make: $15 or less
Making a Fred Flintstone costume requires limited effort and cost. Head to the T-shirt aisle at your local Michaels store and grab an oversized orange one. You're worrying more about the length than the width at this point. Then, put a container of black fabric ink to splatter on the shirt in your cart. For the tie, you have lots of options. You might have an old light blue men's dress shirt in your giveaway bag that can be cut up and crafted into a tie. You could find a remnant at a local fabric store. Of, if you want one-stop shopping, just buy a blue T-shirt at Michaels to cut up for a tie.
Make Your Money Work for You
Cut off the sleeves of the orange T-shirt, Fred-style. Then, turn the T-shirt inside out and gather up enough fabric on each side to form a better fit. Pin it, then use a simple basting stitch to hold the fabric together. Safety pins also would do the trick if you are a non-sewer. No sewing machine required.
Supply cost: T-shirts, $4.99, and fabric ink, $4.49, both at Michaels. If you don't have something at home to use for the tie and buy a second shirt instead, your costume will cost about $15. The Michaels website frequently offers coupons or discount codes that would bring down the price.
Buy Secondhand: $20 and up
Sellers on eBay have used costumes for sale, starting at about $20, including shipping.
The Verdict: Buying the costume is the most expensive option, and more than double the cost of buying secondhand or making it yourself.
Bat Costume
Do you Halloween tastes tend toward the spooky? Not much is scarier than a bat. Or easier to make.
Buy New: $42.99
At Amazon, you can find the Spooktacular Creations Woman's Black Bat Zip Hoodie costume, a creepy all-black costume paired with black stockings, which aren't included.
Make: About $23, but could cost much less, depending on your supplies on hand
Look through your closet, and you might have what you need: a black hooded sweatshirt and some kind of black pants – sweats, joggers, yoga pants or leggings would do just fine. (We'll assume you have black pants.) If you need to purchase a sweatshirt, Walmart stocks one in the women's department for about $15. To make the wings, you'll need a black umbrella. If you don't have a broken one lying around, like many of us do, Walmart sells them for $6, but your local Dollar Tree could have one on hand for $1.25. Use an old cardboard box to cut ears and wrap them in black electrical tape (80 cents at Walmart). Fold them at the bottom and use heavy-duty safety pins or a hot glue gun to attach them to your hood.
Make Your Money Work for You
Cut your umbrella in half and use your electrical tape around the hinges to keep the umbrella spokes open. Safety pin each half to the sides and arms of the sweatshirt to create your wings.
Buy Secondhand: $30
eBay has a variety of bat costumes for women available, some as low as $10, but they don't reach the level of the Spooktacular costume or our imitation. The Spooktacular costume is listed for $30 on eBay on a recent check.
The Verdict: Again, buying the costume is the most expensive option, but this is an easy knock off to create. No need to buy new.
'The Bachelor' Costume
Want to glam it up and dress like the leading man from "The Bachelor"? You have some options.
Buy New: $69
Amazon currently has a zip-up tuxedo with a $63 price, down from $80. You don't need to worry about suit measurement or exact pant size. This is a onesie version of a tuxedo. Just step in, and zip it up. Add a long-stemmed red rose from your local florist for about $6, or an artificial variety from Hobby Lobby for $3 or less.
Make: $10 or less
The bachelor doesn't usually dress in a tux. Grab your best suit out of the closet and spend $3 to have your best shirt pressed. Accessorize with a tie or go with the open-collar look, depending on the shirt. Add your rose, and you still won't spend more than $10.
Make Your Money Work for You
Buy Secondhand: $31 to $41
You might be able to put together a decent-looking ensemble at a thrift store for $25 to $35, but you are dependent on finding a suit and shirt in your size. And that could be tough. Don't forget to add the rose.
The Verdict: Raid your own closet for this one and have a great time at the Halloween party. Maybe you'll even give out that "first impression" rose you're carrying around at the end of the night.
More From GOBankingRates
Cynthia Measom contributed to the reporting for this article.