The Cost of Halloween in the US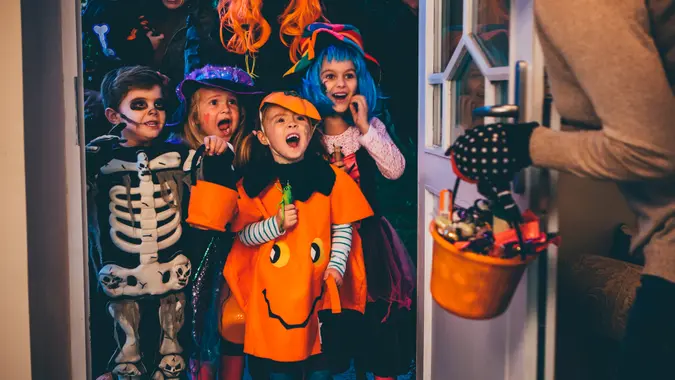 SolStock / Getty Images
It's hard to imagine that a bunch of candy and costumes adds up to much in retail sales, but Halloween is a big profit maker for retailers, typically in the arena of multi-billions of dollars. That's right, billions! There's just something about costumes and candy that is appealing to kids and adults alike. While pandemic restrictions put a temporary damper on sales in 2020, keeping many kids from trick-or-treating, and adults from throwing big Halloween parties, which retailers felt when consumers spent spent $200,000 less on Halloween in 2020 than they spent in 2019, the spending trend has had an upward swing.
There was a huge rebound in Halloween sales in 2021, as people not only felt safe enough to celebrate, but made up for a lost year. Halloween spending in 2021 exceeded its pre-pandemic baseline, netting $10.1 billion, according to Forbes. While that number was considered a record high, 2022 is projected to knock 2021's socks off, according to the National Retail Federation's latest survey, with consumers expected to spend a collective $10.6 billion.
Individually, Americans are anticipated to spend an average of $98 on Halloween this year. What exactly are Americans spending on for Halloween in 2022 and how can they stand to save a few bucks? GOBankingRates looked at survey results from The National Retail Federation.

Total Expected Spending 
Americans tend to spend their Halloween bucks in four key areas: They'll spend more than half a billion on greeting cards, $0.6 billion to be exact. Candy takes another big chunk at $3.1 billion. However, people spend even more than that to spook up their homes, to the tune of $3.4 billion. The biggest expenditure, unsurprisingly, comes in dressing up. People spend a collective $3.6 billion playing make believe.
Make Your Money Work for You
What Consumers Are Spending On 
If we break this spending down at the individual level, we find that most Americans are spending an average of just about $100 on all their creepy Halloween goodies. About $5 goes to greeting cards, $29 goes to filling those bowls with candy to give out to darling and devilish children, $31 to make your house look like a graveyard or a ghost town, and $33 to step into another's skin for a night in costumes.
Costume Spending By Category 
It wouldn't be Halloween without costumes, so it's no surprise that people spend a lot of money to look like Eleven from "Stranger Things," the spooky clown from "IT" or one of the witches from the rebooted "Hocus Pocus" movies, which are some of the most popular costumes of 2022, according to Billboard. [x] Of the survey respondents, 33.33% of the costume spending goes to children's costumes, understandably, but another 19.44% is for people dressing up Fido and Mitzie, too. That's right, people spend almost as much on dressing up their pets as they do their kids. And lest you think Halloween is just for kids, 47.22% of costume spending is for the grown-ups!
How People Are Celebrating
Everyone celebrates Halloween differently. The biggest chunk of survey respondents will hand out candy-67%. More than half of folks surveyed plan to put some effort into the ambience of the season by decorating-51%. Nearly half of the respondents plan to pretend to be someone else for the night by dressing up-47% and at least 28% of folks dedicated to making Halloween memories plan to carve a pumpkin.
How to Save Money on Halloween
Just because many people plan to spend around $100 on Halloween, doesn't mean you do. It's still possible to enjoy Halloween to the fullest without shelling out so much. Some ways to save money, according to MoneyUnder30.com, include:
Buying your candy just before, or even on Halloween. Those big bags go on sale pretty quickly as the day approaches.
DIY your own costume instead of buying one. Your closet, a Google search, or a Pinterest account are all you need to come up with a ton of easy to make, cobble together, or wing costume ideas.
Purchase your Halloween decorations at your local Dollar Store/Dollar Tree/Family Dollar, where you know you can afford what you need.
Make Your Money Work for You
More From GOBankingRates
Nicole Spector contributed to the reporting for this article.