7 Deals To Avoid on Cyber Monday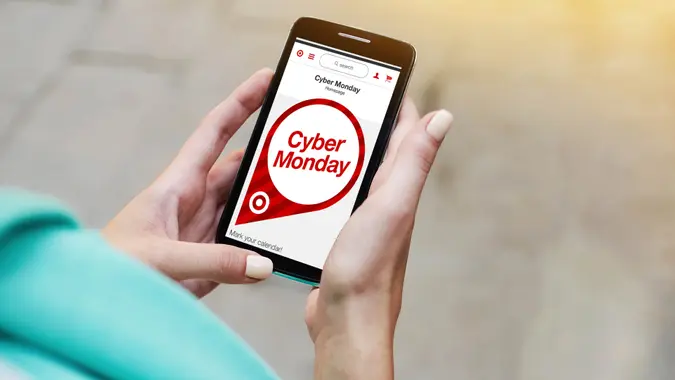 GaudiLab / Shutterstock.com
Cyber Monday is nearly upon us and retailers are already drumming up hype across a variety of categories. But inflation likely will hinder the "holiday." A recent GOBankingRates survey found that about a third of all shoppers will be buying fewer items this year due to rising costs.  
Holiday Spending: Get Top Holiday Shopping and Savings Tips
Discover: Costco Black Friday Deals You Shouldn't Pass Up
With consumers budgeting extra aggressively this year, the pressure is on retailers to turn out the most value-packed sales. Unfortunately, not all retailers will rise to the occasion on Cyber Monday, and quite a few dud deals will be floating around out there. 
Here's a look at which types of sales to avoid shopping this Cyber Monday.
Bedding 
"Historically, one of the worst deals you'll find on Cyber Mondays is on bedding," said Grace Baena, director of brand at Kaiyo. "This category of home goods is typically a better buy in January or February, when retailers have post-holiday white sales. Unless you are planning to buy new bedding as a holiday gift for someone, save this purchase until the New Year."
Make Your Money Work for You
Take Our Poll: How Has Inflation Impacted Your Holiday Shopping Plans?
Winter Clothing
"We'll see some deals on coats and jackets; but, unless you need one right now, you're better off waiting until January to shop for these items," said Julie Ramhold, consumer analyst at DealNews.com. 
Exercise Equipment
"This isn't a category we see discounted a lot for Cyber Monday anyway; but, if there are deals, they likely won't be worth shopping," Ramhold said. "Instead, hold off until the end of December or early January in order to find better savings."
Cheap TVs
Retailers love to lure consumers with rock-bottom prices on HD TVs, but usually the cream of the crop sells out on Black Friday, leaving only "meh" TVs in stock by the time Cyber Monday rolls in. A better time to purchase a TV is on Black Friday (if you can pounce on the great deals in time), Super Bowl season and early spring, when new models hit the market and older ones are discounted. 
Gaming Consoles 
The newest and shiniest consoles on the market, such as the latest Xbox and PlayStation, are still tough to get one's hands on, so you certainly won't find any discounts there. RetailMeNot predicts some possible savings in the ballpark of $10 on Nintendo Switch Lite, but that's hardly enough to splurge over. According to Engadget, the best time to buy a new console is in January, two to three years after the system has launched.
Make Your Money Work for You
Furniture 
Another category that will be seeing some sales activity this November is furniture. But RetailMeNot's experts are not impressed with the savings that are likely to be circulating. A better time to buy furniture is on Presidents Day and on Labor Day weekend. 
Some Gift Cards
"There are certain gift cards that will be in place during Cyber Monday, but just waiting a few days to December will see a huge jump in the number of offers we see," Ramhold said. "Very often these run for the whole month of December, or at least through Christmas, so you should have plenty of time to shop for gift cards and bonus offers from your favorite restaurants and retailers."
More From GOBankingRates
Make Your Money Work for You