7 December-Specific Ways To Save Money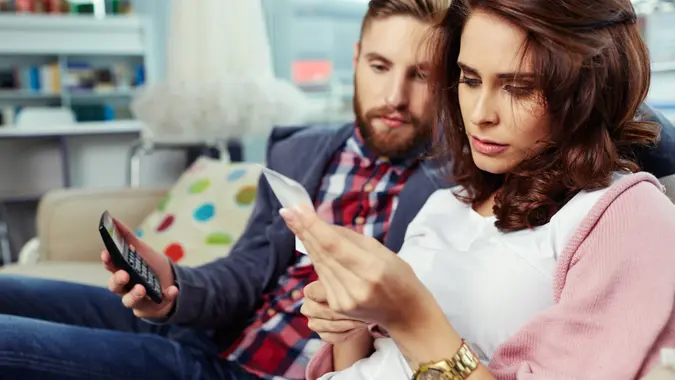 baranq / Shutterstock.com
As 2021 is winding down, it's the perfect time to take advantage of some savings opportunities that don't have anything to do with fulfilling this year's gift list. Instead, it's about mostly thinking ahead about how you can benefit in the new year or, in some cases, even further in the future.
See: 10 Easy Ways To Save $400 Every Month
Read: 9 Money Moves To Make Now — If You Have $1,000 in Your Account
Here are seven ways you can reap some savings this December and possibly slash some of your expenses for next holiday season.
Buy for Next Year
If your holiday decor has lost some of its sparkle, end-of-the-year sales are a perfect opportunity to pick new ones at huge discounts.
"After the holidays are over, stores will put holiday decorations on clearance," said personal finance expert Brittany Kline of The Savvy Couple. "This is the perfect time to pick up a discounted artificial tree, gift wrap, ornaments, lights, and other decor. Plus, you can shop without the hassle of holiday crowds."
Make Your Money Work for You
See: 37 Life Hacks That Will Save You Money
Buy Gifts for Next Year
While it may seem too early to think about your gift list for next year, you can save big by shopping post-holiday sales. Just make sure you have a good hiding place if you plan to buy things for your immediate family. Also, heed this advice from Julie Ramhold, consumer analyst with DealNews. "Be careful though and make sure you're actually getting a good deal — if not, you won't end up saving anything by shopping early."
Tips: 19 Effective Ways To Tackle Your Budget
Stock Up on Nonperishable Goods on Sale
Take advantage of after-holiday sales at your favorite grocery store or wholesale clubs and stock up on food, beverage and other items that are shelf-stable. Goods that are considered nonperishable that may be on sale in December include the following:
Seasonal hard liquors
Champagne
Cake, brownie and muffin mixes
Soup mixes or canned soups
Holiday-themed frosting
Canned pumpkin
Canned cranberry sauce
Hard candy
Teas and coffees
Hot cocoa mix
Make Your Money Work for You
You can also save on food storage containers; holiday paper plates, cups and napkins; and holiday cookie cutters and candy molds.
Discover: Shopping Mistakes You're Making and How To Stop
Buy Turkeys on Sale
Although turkeys aren't nonperishable, here's an idea that could make buying one (or more) on sale worthwhile.
"During December, many stores are still offering excellent sales on turkeys, as it's also a popular Christmas dish," said Tanya Peterson, vice president of brand with Freedom Financial Network. "Consider buying an extra, cook, carve and freeze in smaller packages. You can then take out what you need for several meals during — or after — the holiday season."
If having turkey during the holidays is enough, you could also use this idea for large holiday hams.
Helpful: Tips To Keep Your Finances in Order Without Sacrificing What You Want
Invest Your Holiday Bonus (or at Least Part of It)
"Holiday bonuses are something that many consumers may receive from their employers, so it's a good idea to invest at least part of it if you're able," Ramhold said. "And if you don't receive a bonus but are entitled to holiday pay, consider taking the extra from your paycheck and investing it."
Make Your Money Work for You
If you've already made plans to spend your bonus or additional holiday pay this year, consider investing the extra money next year. You could even alternate years — save it one year and spend it the next — if it makes it easier to follow through.
Make Extra 401(k) Contributions
The deadline to contribute to your 401(k) for the year is Dec. 31. So if you haven't made the maximum contribution of $19,500 for 2021 — or if you're 50 or older and eligible for the catch-up contribution of $6,500 — contribute as soon as you can. Each dollar you contribute will reduce your overall tax bill and save you money in 2022.
Read More: The 37 Mistakes We Make When Shopping at Costco, Amazon, Target and Walmart 
Refill Your Prescription Drugs
"One of the best things that people can do in December is to look at their prescription drugs — are any due for a refill?" asked Kari Lorz, a certified financial education instructor, and founder at Money for the Mamas. Or can you get into your doctor before the 31st? Most medical coverages start over in the new year, so if you've met your prescription deductible for 2021, then you basically get your meds for cheap or even free. But remember, once January 1st hits, your premium starts over, which means you'll pay full price again."
This money-saving strategy also holds true for any medical appointments you've been putting off. If you've met your deductible for the year, get medical needs taken care of before the year is out and save.
More From GOBankingRates
Make Your Money Work for You