Use These Delivery Secrets If You Miss the Holiday Shipping Deadline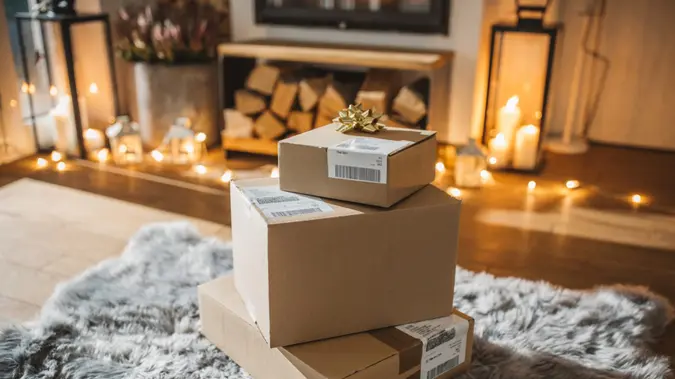 svetikd / Getty Images
The holidays are rapidly approaching, and if you need to order a gift for delivery — or send it yourself to family or friends across the United States, your shopping and shipping days are dwindling. If you insist on pushing the envelope, however, you'll have to strategize — and know the best ways for your presents to reach their destination.
Holiday Spending: Get Top Holiday Shopping and Savings Tips
Learn: 3 Easy Tips To Turn Your Credit Woes Into Wows
Have a Procrastinator's Plan in Place
The best solution when it comes to shipping is to ship early. You can — and should — get your packages in the mail well before the standard mid-month cutoff that the major carriers impose. But procrastinators are going to do the only thing they can do — wait until the last minute. If you're among them, you should know the following:
Dec. 17 is the last day for USPS Retail Ground Service if you want delivery before Dec. 25, but that isn't your only option. You have three other chances to beat the clock:
First-Class Mail Service by Dec. 17
Priority Mail Service by Dec. 19 (Dec. 17 for Alaska and Hawaii addresses)
Priority Mail Express Service by Dec. 23 (Dec. 21 for Alaska and Hawaii addresses
Make Your Money Work for You
For UPS, you can still get it there by Christmas Eve if you ship:
3 Day Select by Dec. 20
2nd Day Air by Dec. 21
Next Day Air by Dec. 22
Of the big three shipping companies, FedEx is the only one that offers same-day delivery during Christmas week. If you miss the FedEx Ground and Home Delivery deadline of Dec. 14, you can get it there on time by shipping with:
Express Saver by Dec. 20
FedEx 2Day by Dec. 21
Standard Overnight, Priority Overnight or First Overnight by Dec. 22
FedEx Same Day by Dec. 23
Obviously, procrastinators can expect to pay a whole lot more to send their packages by tossing them into the mix in the frantic days just before Christmas.
Take Our Poll: How Long Do You Think It Will Take You To Pay Off Your Credit Card Debt?
Use Your Memberships
Amazon Prime, and its biggest competitors, have spoiled much of the American public with their free and fast shipping. A 2022 study by X Delivery, in conjunction with the Retail Management Institute at Santa Clara University, showed that 55% of U.S. online shoppers have an Amazon Prime membership in their household. Among online shoppers, another 28% subscribe to Walmart+ and 21% hold Target RedCard memberships, the study reported, adding only 12% of U.S. households don't belong to a paid retail membership program.
Make Your Money Work for You
If you have any of these memberships – or are a member of other programs – it's time to use the benefits.
Amazon Prime members receive free one- or two-shipping, with no minimum spend. Qualifying orders over $25 are eligible for same-day delivery in some cities. Target RedCard holders get free two-day shipping without a minimum purchase; non-members must spend $35. While Walmart+ doesn't specify the speed of delivery, it generally is fast and without a spending threshold for members. Walmart+ offers a free 30-day trial.
Other retailers also are offering free shipping this season – a key to continued business, X Delivery's study showed.
"As Amazon doubles down on making one-day shipping the default service level for Prime members, every online retailer must wake up to the fact that the days of treating expedited delivery options as an expensive paid add-on for affluent buyers are rapidly fading," reads the report.
Make Your Money Work for You
Retailers offering free shipping include:
Nordstrom: Free standard shipping on all items if ordered by 8 p.m. Eastern time on Dec. 17.
Home Depot: Free two-day shipping with $45 order of qualified items.
Lowe's: Free standard shipping with a $45 order of qualified items. Members of MyLowes.com will receive their items in one to four business days.
Best Buy: Next-day delivery or free standard shipping with a $35 minimum purchase on qualifying products. No minimum required for Best Buy Totaltech members.
CVS: CarePass members receive free one- to two-day shipping when the order contains at least one eligible item.
Let Them Deal With It: Go Curbside
Finally, most major retailers offer contactless curbside delivery, and you could order your gift online for pickup at the recipient's closest store location. This option only works, of course, if your recipients are willing to pick up their gifts themselves and don't mind not being surprised, but it's a great option if you're sending gifts to kids whose parents planned to hit the stores anyway. (Maybe those parents will wrap the gift, too!)
More From GOBankingRates
Andrew Lisa contributed to the reporting for this article.
Make Your Money Work for You