Dia de los Muertos 2016: 5 DIY Costume Ideas Under $20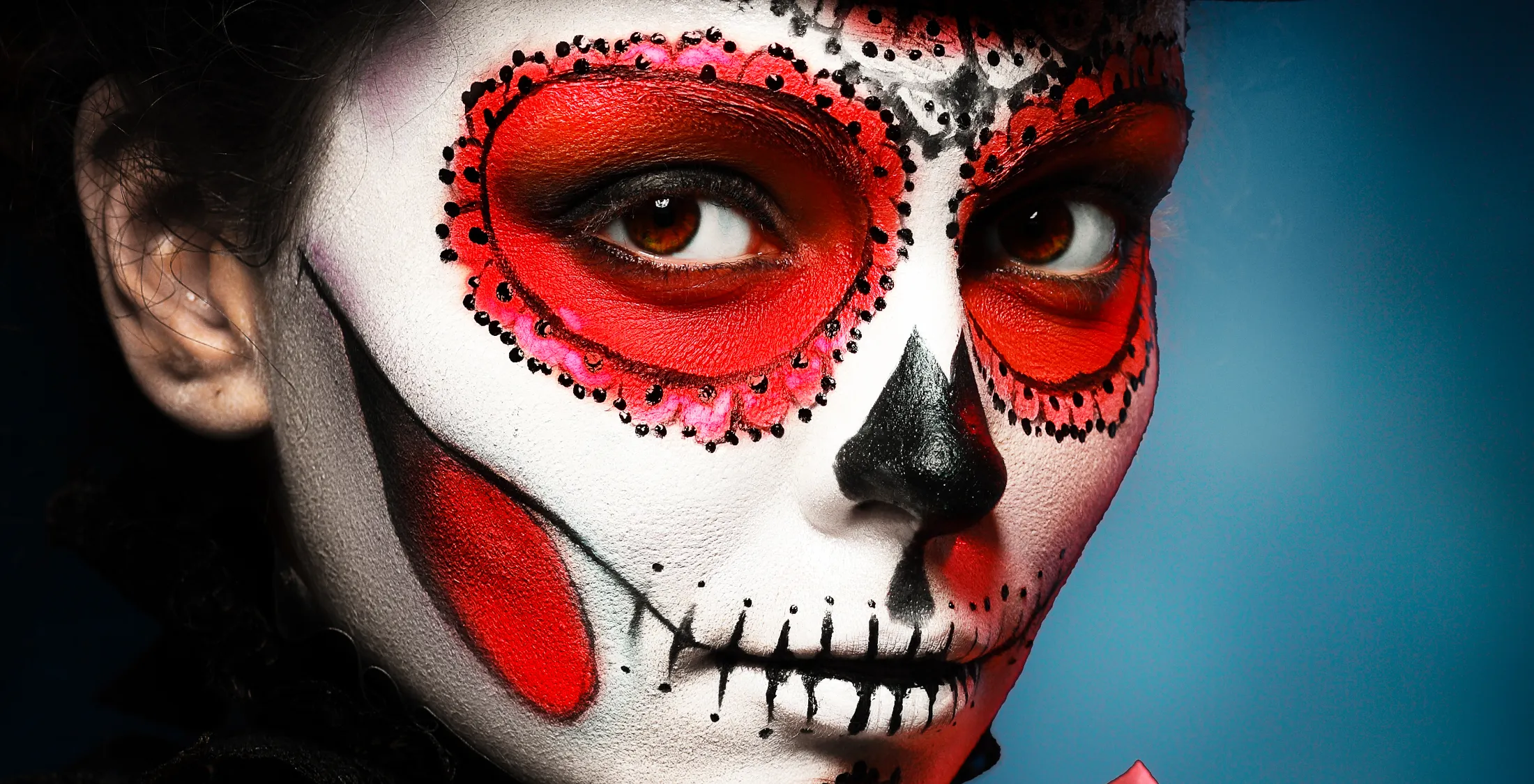 One reason dressing up for Halloween is so fun is because the following days, there's a chance to do it all over again with Dia de los Muertos costumes. This Mexican holiday, known as the Day of the Dead, honors the memories of deceased loved ones through candlelight vigils and offerings of gifts, flowers and sweet treats. "Sugar skull" treats are baked to replicate calavera, the colorful skeleton iconography synonymous with Dia de los Muertos.
If you're prone to getting carried away with your costume on Halloween, you might have scared your savings out of using any more money to observe Dia de los Muertos. These DIY costume ideas, however, are just what you need. Check out these five cheap costume ideas that will have you getting into character for Halloween and Dia de los Muertos without costing you a fortune.
1. Calaca: Sugar Skull Face
A skeleton face is the first thing any Day of the Dead costume needs. These are not your dark, horror-tinged skulls of Halloween — for Dia de los Muertos, everything is vibrant in color. If your budget restricts you from spending any money on a costume, all you'll need is some darker clothes out of your own wardrobe. Some novelty retailers even offer skull and bones T-shirts for cheap if you want to add flair. Next, you'll need to paint your face or a mask, which is cheap and easy to do.
If you opt for painting a mask, start with a basic white masquerade mask from Party City or similar store for under $5. To save money on an expensive makeup kit, see how much you've got left over from Halloween. If there's not enough, Goodwill recommends a combination of cold cream, cornstarch and food coloring for a homemade makeup recipe.
Get inspired by Dia de los Muertos skull face pictures on the web, and get creative with your mask — don't forget to adorn the eyes and mouth with skeleton features, and add dots, flowers and other colorful swirls as you see fit.
If you'd like to be more authentic and paint your face, you'll need the same supplies, plus a mirror. It's suggested to paint your arms as well if they will not be completely covered. This is a simple, basic Dia de los Muertos costume that will make an impression.
Make Your Money Work for You
2. La Catrina: The Skeleton Lady
There are so many ways to put a unique spin on any Day of the Dead costume that it's hard to give them names — but most women's costumes can be associated with some version of La Catrina. Mexican legend tells the story of La Catrina, a wicked, greedy woman who refused to help the poor. The holiday, in part, mocks her selfishness.
A simple La Catrina costume can consist of a dress — or skirt or top — from your closet or from a thrift store. Look for a gauzy material in black, red or white, and paint your face like the image above. The money you save here can be better spent on accessories. Look online for scarves, hats and other headgear to complement your look: lace gloves, a collapsing fan, an Aztec serape or silk flowers from the local dollar store. Use them in your hair, pin them to your costume or attach them to the fabric.
Altogether, this costume should cost no more than $15 to $20 with about a two-hour prep time. Don't feel like face painting? World Market and other stores carry handheld, paper calavera masks for less than $5.
3. El Senor: The Skeleton Man
Gentlemen, don't feel pressured to go all out for your Day of the Dead costume. A quick Google search and it's easy to see how any one of the sequined, tailored mariachi or gunslinger-styled outfits can cost an arm and a leg. But for this skeleton man costume, all you'll need is a simple black suit — to start. If you don't own one of your own, a local thrift or consignment shop should carry a basic men's suit in your size for $20 or less. Can't find a full suit under that price? Buy just the jacket and pair it with your own pair of black pants.
Since your suit won't be as decorative as others, opt for a bold contrast to offset the monochrome. Find a bright red shirt or tie, and pair that with the black. Like La Catrina, shop online for a black top hat — or a sombrero if you like — and your outfit is complete. If you can't afford a pair of creepers, or don't want to paint skulls on your plain black shoes, pick up a pair at the thrift store, if possible. However, special shoes aren't a must.
Make Your Money Work for You
4. Skeleton Wedding Couple
Couple and group costumes are perfect for Day of the Dead, just as they are for Halloween, and they don't need to be all black. All white gives a ghostly appearance, and in pairs, makes quite the impression. A skeleton bride and groom costume is easy to create. One blogger wrote about finding an old wedding dress at a thrift store and making some slight modifications to it — a few strategic snips and cuts, flowers fastened on for some color and a white scarf or silk flowers sourced from the dollar store are perfect hair accessories.
For men, if a white suit isn't available or affordable, you can get away with a plain pair of white pants and shirt. Like that black suit, neither should cost you more than $20 at your thrift store. Concentrate on finding a camp shirt with some unique Aztec or Latin-inspired designs, and a hat to complete the look. Makeup on both costumes is important. Emphasize black faces, arms and legs as a base, and use your white to paint bones.
5. Paper Mache Skull Heads
This costume idea isn't as expensive as it is time consuming, so start on it now to have it ready for Dia de los Muertos. It can also be worn with a full costume — or just with your regular clothes. This big, sugar skull-inspired, paper mache skull will definitely turn heads. One group of friends created their custom heads with some chicken wire, newspaper, glue and acrylic paint. Newspapers, if lying around your house or someone else's, are free. The glue and paint can be picked up at any arts and crafts store for about $10. The chicken wire, however, you will have to find at a home improvement store for just under $10.
To make this paper mache head big enough to wear, first take the chicken wire and mold it into a frame to fit around your head. Then, find as many newspapers as you can and begin gluing the pages around the framework — paper glued on top of paper will make for a sturdier head. When everything has dried, paint your DIY paper mache head with any Day of the Dead skull designs you want.
This Day of the Dead costume is not expensive — it should only come to about $20 or less. Keep in mind, however, that this can be a very time-consuming project that you can't complete the night of your costume party. But the work is well worth it, since your skull head can later be displayed as a work of art.
Remember that saving money on your Day of the Dead costume owes a lot to your creativity. The more inventive you can get with your face paint, costume and accessories, the less you'll need to spend. Because the Dia de los Muertos persona you create comes from you, it could turn out more unique than anything you could ever have purchased at full price in a store — giving you a costume that allows you to express yourself and save money.

BEFORE YOU GO
See Today's Best
Banking Offers