7 Dollar Tree Items You Need for the Fourth of July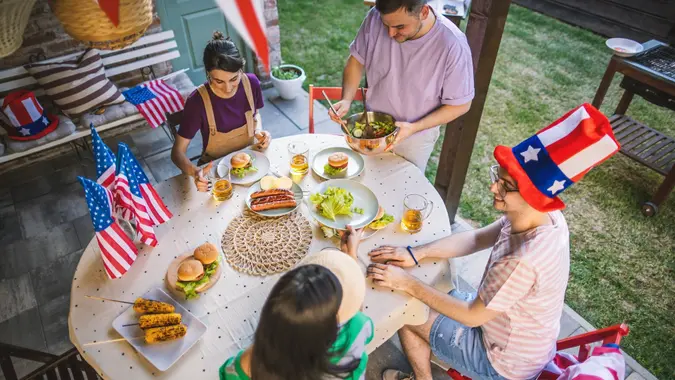 MilosStankovic / iStock.com
The Fourth of July is right around the corner. How will you celebrate our nation's independence?
Many families will spend a day at the beach or gather in the backyard for a cookout. But no matter where you party, the day's festivities can get expensive.
According to the National Retail Federation, Americans plan to spend $93 per person on food for Independence Day festivities. More than 30% of consumers will also purchase other patriotic items for the event.
Fortunately, you can save a lot of money by shopping at discount retailers like Dollar Tree. Here are seven Dollar Tree items you need for your July 4th get-together.
Red Plastic Dessert Plates
Your guests need sturdy plates to accommodate their cake, pie, ice cream or other treats. Dollar Tree's red, seven-inch plates are leak-proof and festive to boot. You'll get a pack of 12 for $1.25.
Plastic Serving Bowls
If you want to dress up your party's buffet table, check out Dollar Tree's plastic serving bowls. They come in red or white and are large enough to hold your famous potato salad. Each bowl costs $1.25.
American Flags
An American flag is a Fourth of July staple. Dollar Tree offers mini flags on 12-inch sticks so you can line your walkway, feature them as table centerpieces, or hand them out for every guest to wave. Made of poly-cotton, the $1.25 flags are durable and attractive.
Make Your Money Work for You
Glow Wands
Glow wands are a fun and safe alternative to sparklers. Dollar Tree's 12-inch plastic glow wands feature six strands. The $1.25 novelty glows in red, white and blue.
Assorted Decor
Dollar Tree can help you decorate for your shindig on a budget. While the selection might vary by store, you may be able to find festive:
Wreaths
Balloons
Centerpieces
Garland
Bows
Tablecloths and table covers
Buntings
Banners
Bouquets
You might also see decor you can stake into the ground or hang on your wall. Items are priced at either $1.25 or $5 each.
Condiments
Everyone likes to jazz up their barbecue plate differently. That means you need to have an assortment of condiments on hand to please each palate. At $1.25 per bottle, you can pick up one of every ketchup, mustard, barbecue sauce and salad dressing in the store without breaking the bank.
Snacks
No celebration is complete without snacks! But, like condiments, your guests likely won't agree on what they like to munch on. Fortunately, you can purchase a wide variety of chips, pretzels, popcorn, crackers and candy for $1.25 each.
Bonus Tip: Shopping at Dollar Tree This Summer
July and August are prime months to take a week or two off and travel. Dollar Tree offers many affordable items you can take on vacation, such as toothbrush cases, luggage tags, water bottles and antibacterial wipes.
Dollar Tree also offers many other summer essentials at budget-friendly prices. For example, your local store can help you stock up on freeze pops, ice cube trays, beverage pitchers and grilling supplies. Shopping at the discount retailer leaves more money in your pocket for fun summer activities.
Make Your Money Work for You
Day to day, our Dollar Tree insider told shoppers to visit the store in person to find hidden treasures. They also reminded consumers to shop the retailer for craft supplies and take advantage of the rewards program.
More From GOBankingRates